Each week on Inside Survivor we will be awarding one castaway from the current season the title of Player of the Week. After watching the latest episode fans can vote for which player impressed them the most with their social skills, strategic prowess, craftiness, and creativity. We will keep a tally throughout the season so that we can keep track of who is impressing the most.
Tally
Week 1: Jason (14.7%)
Week 2: Caleb (40%)
Week 3: Debbie (42.4%)
Week 4: Caleb (67.8%)
Week 5: Scot (29%)
Week 6: Julia (37.1%)
Week 7: N/A
Week 8: Cydney (74.4%)
Week 9: Aubry (33.5%)
Week 10: Aubry (73.5%)
On Thursday we opened up a fan poll for the Inside Survivor readers to vote for their player of the week for Episode 11 of Survivor: Kaôh Rōng – Brains vs. Beauty vs. Brawn. The winner of that poll and Player of the Week is…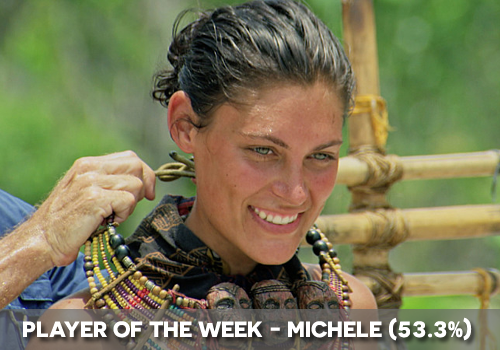 Michele had her breakout episode this week, and it has brought her her first Player of the Week title of the season. After being on the wrong side of the vote at the previous tribal council, Michele had to work her way back into the majority. She used her strong social connections to prove herself trustworthy to both Aubry and Cydney – her choice to bring Aubry on the reward was a very smart decision and she worked it to her benefit. Not only that but her willingness to cut Julia to advance herself showed just how much focus Michele has on her game. There has been a lot of talk on and off-screen from players thinking that they controlled Michele, yet Michele has voted those players out of the game. Making people believe they control you is a very valid strategy and one that Michele has used to great effect throughout the season, whether people recognize it or not. On top of that, her number memorizing challenge win this week was very impressive.
Michele continues to use her social game to get ahead, and that coupled with a strong immunity challenge win has earned her Player of the Week.

Full Results:
Michele
424
53.3 %
Aubry
155
19.5 %
Cydney
114
14.3 %
Tai
38
4.8 %
Jason
37
4.6 %
Julia
23
2.9 %
Joe
5
0.6 %
---
Written by