Each week on Inside Survivor we will be awarding one castaway from the current season the title of Player of the Week. After watching the latest episode fans can vote for which player impressed them the most with their social skills, strategic prowess, craftiness, and creativity. We will keep a tally throughout the season so that we can keep track of who is impressing the most.
Yesterday we opened up a fan poll for the Inside Survivor readers to vote on their player of the week for Episode 1 of Survivor: Kaôh Rōng – Brains vs. Beauty vs. Brawn. The winner of that poll and Player of the Week is…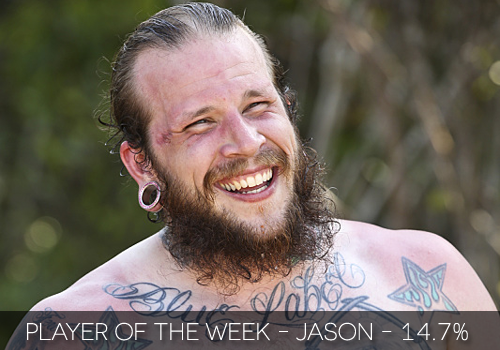 Jason, the Bounty Hunter from Detroit, Michigan, quickly emerged as a power player on the Brawn tribe. He formed a quick bond with former NBA star Scot and construction worker Jennifer. He even had what seemed like a side-alliance with bodybuilder Cydney. In terms of gathering early numbers, Jason did everything right. The most interesting part of his strategy came from an early confessional when he talked about being open to multiple alliances and how those alliances could change depending on his own personal needs. This kind of open-minded, go with the flow strategy could pay huge dividends for Jason going forward.
Seemingly in a comfortable position with numbers on his side, it is no surprise to see Jason voted as the Player of the Week.
Full Results:
| | | | |
| --- | --- | --- | --- |
| Jason | 155 | 14.7 % | |
| Anna | 131 | 12.4 % | |
| Aubry | 114 | 10.8 % | |
| Jennifer | 113 | 10.7 % | |
| Scot | 105 | 9.9 % | |
| Caleb | 91 | 8.6 % | |
| Tai | 71 | 6.7 % | |
| Alecia | 67 | 6.3 % | |
| Michele | 54 | 5.1 % | |
| Liz | 48 | 4.5 % | |
| Julia | 29 | 2.7 % | |
| Cydney | 25 | 2.4 % | |
| Neal | 20 | 1.9 % | |
| Debbie | 14 | 1.3 % | |
| Nick | 7 | 0.7 % | |
| Darnell | 7 | 0.7 % | |
| Joseph | 4 | 0.4 % | |
| Peter | 2 | 0.2 % | |
---
Written by