The Inside Survivor team recently came together to give our initial thoughts on each Survivor: Millennials vs. Gen X cast member and our predictions on how they will do in the game. These opinions are formed mainly from the CBS cast bios and videos, as well as pre-season press interviews conducted by Gordon Holmes and Josh Wigler. Over the next several days, we will post our thoughts on each Millennials vs. Gen X castaway.
Last time we looked at Millennials tribe member Michelle Schubert, today we assess…
LUCY HUANG
42, Diamond Bar, CA, Dietician, (Takali aka Gen X tribe)
JACOB:
First Impression: Ay! Another female bodybuilder! It looks like we have a new archetype.
Deeper Thoughts: I get the feeling it might happen, but I hope she isn't tricked into playing abrasively through the theme. She's the type who hears all of Probst's Millennial v. Gen X build up and then starts to look down on the younger generation. Initially, though, I have no clue how she'll interact with her tribe. She could be super relaxed and playful, or she could be a frustrated momma bear and irritate everyone. After reading her bio, I wonder how well she knows the game. Is she going to try to scare people into working with her? If she finds another "controlling" player or two to cooperate with, she might be in a good spot. If not, she's out early.
Potential Allies: More commanding presences like Chris or maybe Bret? She's going to be polarizing for sure.
Prediction: Late pre-merge.
SHAWN:
First Impression: Well it looks like casting really liked the female bodybuilder (Cydney) archetype
Deeper Thoughts: I really like Lucy. I think she brings the right amount of sheer strength and determination to not completely flop. That said, her being a dietician worries me. The combination of a dietician and bodybuilder means that she will be very perceptive and analytical of what she is(n't) eating and all of the ailments that present in a game like Survivor. Will she be too worried about not getting her macros that she forgets to build a solid alliance? I don't think so, but I do wonder that in two heavily self-reliant professions, she will assume people will come to her for alliances.
Potential Allies: She'll be an iron sharpens iron type person. I see her aligning with Chris and Ken.
Prediction: I really want her to succeed. I put her mid-merge after rocking a few individual challenges.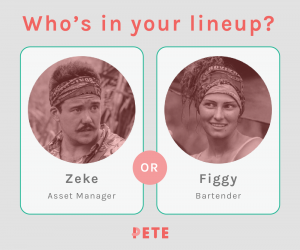 ALICE:
First Impression: This girl could tear her enemies down.
Deeper Thoughts: Dietician. Bodybuilder. Mother. I think Lucy comes from a well-rounded background – she grew up working hard, and there's nothing she says that makes me think she has ever stopped. She seems hard working and disciplined. She's focused on the win. I don't see too much that suggests she has the social or strategic smarts to push her through the game. She will 100% be a challenge asset. I think she may have trouble working with wishy-washy allies (or people that flip back and forth) given her tight focus, and having to charm and convince others may not be her strong suit.
Potential Allies: Maybe Jessica – they are both A-type personalities so they could clash or go together like a dream.
Prediction: Just before the jury. Might not sink her claws deep enough into an alliance to be spared, particularly since she'll be an immunity challenge threat.
MARTIN:
First Impression: She might murder someone in the first three days.
Deeper Thoughts: I'm worried for Lucy. She seems tough, both mentally and physically, but I'm not sure if she's suited for Survivor. She describes herself as stubborn and controlling- and that to me reads like she'll be trying to take charge off the bat and criticizing people's shelter building techniques. Her pet peeves are lazy people and people with no common sense- I'm sure she'll have to deal with a lot of that out on the island. Despite her accomplishments, I just see her getting seriously pissed off with people on her tribe early and alienating herself.
Potential Allies: I'm guessing not Rachel and Mari, seeing as she told Josh Wigler she wants to be "….the last Asian standing. It's going to be me!" I'm not sure who she'll gravitate towards on Gen X; I see her clashing with the alpha types like Chris and Paul. Maybe she'll take David under her wing? Or partner up with Sunday?
Prediction: I hate to say it, but I'm getting first boot vibes. Pre-merge for sure.

A mixed bag of predictions for Lucy, merge, late-pre-merge, and even first boot from Martin. How do you think Lucy will do? Let us know in the comments below.
Survivor: Millennials vs. Gen X premieres Wednesday 21 September at 8:00 pm on CBS.
---
Written by