The Inside Survivor team recently came together to give our initial thoughts on each Survivor: Millennials vs. Gen X cast member and our predictions on how they will do in the game. These opinions are formed mainly from the CBS cast bios and videos, as well as pre-season press interviews conducted by Gordon Holmes and Josh Wigler. Over the next several days, we will post our thoughts on each Millennials vs. Gen X castaway.
Last time we looked at Gen X tribe member Ken McNickle, today we assess…
MICHELLE SCHUBERT
28, Yakima, WA, Missionary Recruiter, (Vanua aka Millennials tribe)
JACOB:
First Impression: Michelle bothers me a tad. I'm both concerned and bored when I listen to her? In her video, she talks about women being the downfall of many a powerful biblical man as a comparison to what she intends to do in the game. I don't know if she actually knows how to flirt, I think she just knows what flirting is.
Deeper Thoughts: I watched her video before I read her bio, and I really wish I had done in the other way around. She's got some charm somewhere in there. Perhaps the producers just kept asking her religion questions for the interview. Whatever, unless she makes some solid bible buddies, I get the feeling Michelle is going to get pulled into some alliance that uses her until she's expendable.
Potential Allies: Sunday, Will, Adam, maybe Zeke?
Prediction: Early post-merge if not late pre-merge.
MARTIN:
First Impression: Reach out and touch faith!
Deeper Thoughts: Oh, Michelle. She is certainly… quirky. Not in a Hannah Shapiro way. In a David Koresh kinda way. She came across a little bit shy and awkward in her video, but that made me warm to her. It's better than acting phony and over the top. She said that she has an advantage over the other players because they all left their loved ones behind but her loved one is with her always- no, she hasn't chopped off a lock of her boyfriend's hair and brought it as her luxury item. She means God. She's talked a lot about God; I mean, a lot. Like Jacob said, maybe the producers just kept asking about it. I don't have a problem with people having faith, but I just fear it dominating the narrative like in Survivor: South Pacific when it became really sinister. Michelle is interesting though because she has a slight devious side. She said she'll flirt and wants to be the downfall of the men in the game.
Potential Allies: Despite her awkwardness, I think she has many potential allies here. She could play the flirt card with the bros. She has the religious connection with Will and Michaela and many of the Gen Xers. I think she could get into a tight group.
Prediction: Michelle's success in the game will depend on which side of her personality she pushes out of the gate. She's obviously super pretty, but if she comes in trying to play the flirt game, it might backfire, similarly if she pushes the faith angle. Her best bet is to find a balance and perhaps let people come to her. She's also an accomplished college track and field athlete, so she'll probably be decent in challenges which could help her early on. I say she makes the merge.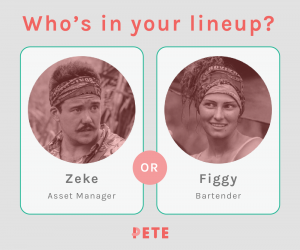 SHAWN:
First Impression: As a Christian, her level of Bible thumping annoys me. Now everything she says is annoying.
Deeper Thoughts: I have very little information to go off of, but something about Michelle just irks me. I think it's her "I love and abide in God, yet want to be a complete flirt" which is creating mixed signals for me. I'm very scared that she's going to go full South Pacific and try to hide every decision behind the guise of spirituality. This is entirely fine for internal logic, but I don't think Survivor is the right venue for veiled excuses. Her athletic experience, however, gives her the ability to avoid votes solely on challenge potential.
Potential Allies: She'll gravitate towards anyone who prays before a meal or challenge. The likeliest two are Will and Michaela.
Prediction: She could prove to be the most loyal of goats or flame out early. This guess is a complete shot in the dark. I'm going to say end-game with no chance of winning.
ALICE:
First Thoughts: Seems like a sweetheart.
Deeper Thoughts: Michelle is kind of confusing me. She talks a lot about her faith (like others in their videos), and she works as a missionary, so it's obviously very important to her. The way she's talking though makes her seem kind of naive, but I can't put my finger on why. I'm glad she has something to keep her feeling strong while she's on the island but I hope it doesn't cloud her ability to make allies or strategic moves. Lots of what Michelle has written down in her bio, and what I read from her interview with Josh Wigler, makes her seem really cute and goofy. She likes dragons, and the three words to describe her are hungry, hungry hippo. There is also a bit of a strategic side (she likes to play Settlers of Catan; she likes to research things before she decides her opinion on them). For the initial part of her video I thought she came across kind of stoic and not very engaging. Her bio screams outgoing and adventurous, but she seems withdrawn and shy in person. I'm glad she's open to flirting as a strategy, but I'm not convinced she will be able to make it work – she seems a little too modest for it – although it would be amazing to see her bring down a major threat.
Potential Allies: Early on I think she could be drawn into an alliance with the 'bros' or the girls as a number – I think she'll be likable in that way. The Christian connection with Will and possibly Michaela could be a good one for her too.
Placement: Hmm hard to say – if she gets into a strong alliance she could get to Final 4, if not she could be an easy boot early in the game.

The Inside Survivor team is very undecided on Michelle, most of us can see her going deep but just easily being an early boot. How do you think Michelle will do? Let us know in the comments below.
Survivor: Millennials vs. Gen X premieres Wednesday 21 September at 8:00 pm on CBS.
---
Written by