The Inside Survivor team recently came together to give our initial thoughts on each Survivor: Millennials vs. Gen X cast member and our predictions on how they will do in the game. These opinions are formed mainly from the CBS cast bios and videos, as well as pre-season press interviews conducted by Gordon Holmes and Josh Wigler. Over the next several days, we will post our thoughts on each Millennials vs. Gen X castaway.
Last time we looked at Millennials tribe member Michaela Bradshaw, today we assess…
KEN MCNICKLE
33, Denver, CO, Model, (Takali aka Gen X tribe)
JACOB:
First Impression: Reckless. Experienced. Charming. Boneheaded. Everybody loves a reformed bad boy.
Deeper Thoughts: Unless those muscles are just cosmetic, Ken is bound to be a physical asset to whichever tribe he is on. On top of that, his video makes him out to be a somewhat soft-spoken, intimate conversationalist. If he is capable of making those around him comfortable while supporting the cause in challenges and working around camp, he is absolutely going to make it far in the game. His ability to understand the strategic game is what will determine his fate when push comes to shove.
Potential Allies: Pretty people attract pretty people, no? On his original tribe, Ken and Rachel are going to link up instantly. Later, he'll probably act as a liaison to players like Mari and Michelle and Figgy.
Prediction: Absolutely post-merge. I'm going to bet he makes it to the top 8.
SHAWN:
First Impression: Ah, there's the mactor.
Deeper Thoughts: He's a model, does he have any deep thoughts? I really wanted to leave my assessment at those two smaller phrases, but that's doing him an injustice… If I can write a ton on the oh-so-leathery Sunday, I can muster a few sentences on Ken. Ken's rugged history could prove incredibly useful in a tribe that is built to be bullheaded and stubborn. I really like Ken and his chances in this game, but struggle to see him becoming truly cutthroat. I see everyone else waiting for Ken to finally realize how much of a threat he can be and vote for him long before that happens. I really do want to see him succeed though.
Potential Allies: Rachel, Chris.
Prediction: Pre-merge, after a swap.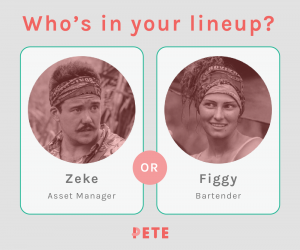 ALICE:
First Impression: Looks like every other male model. Also like a Ken doll.
Deeper Thoughts: Ken is smoother than smooth peanut butter. He lived the dream off the grid in Hawaii being a hedonist and embracing pleasure but had to embrace reality when he found out he had a daughter and came back to mainland USA. How does one avoid knowing they have a daughter for four and a half years? It's beside the point. Ken says he was snake growing up (to beat his brothers in monopoly games), but I'm not convinced that experience will carry over to Survivor. Ken may think he's going to play a big game, but I'll believe it when I see it. He could be a better fit with the Millennials so a tribe swap may be his saving grace.
Potential Allies: Ken is screaming out to bro down with Chris (and Taylor and Jay), but I think he'll be quite malleable and go wherever his vote is needed
Prediction: It really depends on how his tribe does. I think he'll get to the merge but not by much.
MARTIN:
First Impression: The Hawaiin Hedonist.
Deeper Thoughts: I get a slight Vytas vibe from him; reformed bad-boy who left behind his selfish pleasures to raise his daughter. Although, his pleasures seemed to be teaching football to kids in Hawaii, not heroin. On paper Ken certainly sounds perfect. He's good looking, in shape, a caring dad, involved in charity work- his inspiration is the Dalai Lama! But is it all a little too good to be true? Does that hedonistic side to him still exist? I want to believe what I'm reading because I got a good vibe from Ken in his video. And I enjoyed that slight Hawaiin twang to his accent that he's picked up. He seems to have it all together, and looks athletic, so he shouldn't be in immediate danger.
Potential Allies: Ken is only 33, so there's a great chance for him to crossover between both tribes. I think he'll be able to get on with everyone. I actually see him and David connecting in a sort of brains and brawn alliance.
Prediction: He should get to the merge. It then depends on how much of a challenge threat he is which will determine how deep he goes beyond that.

The Inside Survivor team have some concerns regarding Ken but most of us have him reaching the merge, except for Shawn who sees him getting voted out post-swap. How do you think Ken will do? Let us know in the comments below.
Survivor: Millennials vs. Gen X premieres Wednesday 21 September at 8:00 pm on CBS.
---
Written by