The Inside Survivor team recently came together to give our initial thoughts on each Survivor: Millennials vs. Gen X cast member and our predictions on how they will do in the game. These opinions are formed mainly from the CBS cast bios and videos, as well as pre-season press interviews conducted by Gordon Holmes and Josh Wigler. Over the next several days, we will post our thoughts on each Millennials vs. Gen X castaway.
Last time we looked at Gen X tribe member Jessica Lewis, today we assess…
MICHAELA BRADSHAW
25, Fort Worth, TX, Vacation Club Sales, (Vanua aka Millennials tribe)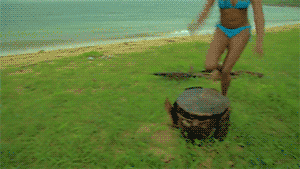 ALICE:
First Impression: Going to kill it or flame out. Selling vacations? That's a thing?
Deeper Thoughts: Works in marketing. Seems like a hard worker. In touch with her faith which could be useful for alliances. She was all about her tough upbringing and how that will make her strong. She listed three recent females as the person she's most like (Tasha Fox x Kelley Wentworth x Natalie Anderson) which makes me think she's not a long time fan. I think she just chose the females who did well in Season 31 and the last female winner before Kaoh Rong. Those players are quite diverse too I'm not convinced she knows much about them. She says she is a 'not compromise' person, which makes me think she could be difficult to get along with. I do not really love her, but I think she could surprise me a la Cydney.
Potential Allies: The faith crew (Michelle, Will, Sunday if she gets that far).
Prediction: Out before the merge. I'm not sure she's bringing much to the table.
JACOB:
First Impression: She's got a level head and strength she doesn't need to explain to you. So many people need to talk about how strong they are, but Michaela doesn't.
Deeper Thoughts: She's not gonna take any nonsense from the douchebags on her tribe, she's gonna use them to her advantage. On top of that, she seems physically tough and charming enough to be wanted by her tribe in the early game. Michaela is one of the players in this cast who has some serious potential to go all the way, and she knows it. I think her placement will come down to the strength of the relationships she forges with her alliances. I don't know why, but my primary concern for Michaela is her balancing of relationships.
Potential Allies: I think she'll get along with most people. As for tighter alliances, I can see her working closely with Will, Mari, and Adam.
Prediction: Michaela is definitely Top 8 material. Hell, she could go all the way if she sets herself up well post-merge.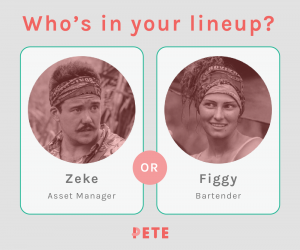 SHAWN:
First Impression: She's a no-nonsense adult in a tribe built to be full of kids.
Deeper Thoughts: Mature beyond her years, but quick to tell you all about it. Same situation with how hard she will be playing. I can easily see her being the vocal leader of the Millennial tribe, which I think will be well received. I think she'll be cold and cutthroat, and her closest ally isn't safe.
Potential Allies: Taylor, Jay, Figgy, Mari, Michelle.
Prediction: Mid-merge.
MARTIN:
First Impression: Started from the bottom now she's here.
Deeper Thoughts: I really like her. She has a go get 'em attitude and determination which is admirable. A lot of these castaways talked about their faith, but Michaela was the one that spoke about it in an intelligent, logical way. She said that a lot of people with faith (and also people here age) believe they deserve things, rather than actually going out and putting in the work to get it. That to me sounds like Michaela will be a mover and shaker in this game, rather than expecting things to come her way. She compared herself to a mix of Tasha, Wentworth, and Natalie Anderson, and gave good reasons for each one. Although it is slightly worrying that all her pet peeves basically translate as – Survivor.
Potential Allies: On the Millennials tribe I see her clicking more with the Adam and Zeke types as opposed to Figgy and the bros.
Prediction: I think Michaela is smart enough not to come out swinging, she'll bide her time and then make her moves when the opportunity suits her best. Merge at least.

The Inside Survivor team have high hopes for Michaela, except for Alice who sees her leaving pre-merge. How do you think Michaela will do? Let us know in the comments below.
Survivor: Millennials vs. Gen X premieres Wednesday 21 September at 8:00 pm on CBS.
---
Written by