The Inside Survivor team recently came together to give our initial thoughts on each Survivor: Millennials vs. Gen X cast member and our predictions on how they will do in the game. These opinions are formed mainly from the CBS cast bios and videos, as well as pre-season press interviews conducted by Gordon Holmes and Josh Wigler. Over the next several days, we will post our thoughts on each Millennials vs. Gen X castaway.
Last time we looked at Millennials tribe member Mari Takahashi, today we assess…
JESSICA LEWIS
37, Albany, NY, Attorney, (Takali aka Gen X tribe)

JACOB:
First Impression: Didn't really leave an impression on me. She mentioned her growing up on a dairy farm. Entails hard work, but I question whether that begets the "farm toughness" we tend to think of when we meet a farmer.
Deeper Thoughts: She's obviously very smart and hard-willed, I just question whether she has the kind of charisma necessary to make moves in Survivor like she might in the courtroom. In her bio, she answered the "pet peeves" question with, "People who blew others for their own misery." Woof. This is not a lady who wants to deal with your s**t. I both love it and see it getting her in trouble when she needs to manage some kid's emotions. She could low-key it to the end or find difficulty fitting in right at the top. Not totally sure.
Potential Allies: I don't know. Chris? He's in the same field, no? And she and Michaela have similar "no bulls**t" attitudes, so maybe they'll mesh if they end up together.
Prediction: She'll either be out early or make it to the late-merge under the radar.
SHAWN:
First Impression: She makes Julia Landauer look like Rocky Road with sprinkles and a cherry on top.
Deeper Thoughts: We've had far more memorable farmer's daughters (Andrea) and lawyers (literally anyone else) on this show. For some reason, Jessica just isn't jumping off of the screen as someone that is memorable. This is, unfortunately, perfect for her game. If she just sits back, works hard, doesn't ruffle feathers, she'll probably do well. Now, is the person who talks about the jury giving them a round of applause going to do that? Of course not. Jessica will probably land in the minority and face elimination the first time that Gen X goes to tribal. Also, don't think I didn't notice that you brought four things there too, Jessica. Just because Champagne and Chips start with C, doesn't mean you get to package them together. You know what else starts with C? Cookies! And that Angie moment will probably be more entertaining than your entire time in the game.
Potential Allies: David, CeCe, Bret.
Prediction: Early boot.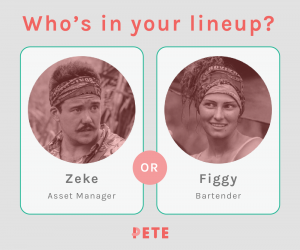 MARTIN:
First Impression: Farm girl turned assistant DA is a good movie idea. *takes note*
Deeper Thoughts: Ah Jessica. I really want to like her. She compared herself to Cirie Fields, and she referenced the movie Labyrinth in her bio. Labyrinth! I mean, that automatically gets you some cool points from me. But her video was pretty dull. I'm not sure she'll be a great confessionalist like Cirie was. I'm not sure if it's just nerves in front of the camera or whatever, but much like Chris, she didn't pop off the screen. I'm hoping that she'll come to life more when interacting with her tribemates. She has an interesting background and has achieved a lot in life. No doubt she can get s**t done. She'll probably be a loyal number to an alliance but I'm not sure she'll be a big mover and shaker.
Potential Allies: Chris seems the go-to choice. I think she'll be able to get into whatever the majority alliance is on Gen X.
Prediction: She should make the merge.
ALICE:
First Impression: Type A Personality to the extreme.
Deeper Thoughts: Type A Personality to the extreme. I know I just said that but as she describes herself her life has been achievement after achievement. In her videos, she is speaking eloquently in all her answers, but I'm just missing a hint of personality. So much potential on paper but the reality is just a bit blah. She's smiling in the B-roll and her cast photo but most of the time she seems kind of stoic, and I think we're going to see a whole lot of courtroom Jessica. I'm not sure how that will fly with her social game. I want to adore her because she's all about working with the elderly and her family, but she seems kind of one-note to me. Game wise I think she could flame out by playing too hard too fast, but if she plays cool calm collected she could go far.
Potential Allies: Lucy is another Type A mother and the two could be an unstoppable force (or a rivalry). Teaming up with the other lawyer Chris is a no-brainer.
Prediction: There are others on both tribes who could be more irritating than Jessica, but I think the combo of lawyer and strategic prowess could make her an early threat. What the heck, I'm predicting she'll get past the merge (although I've deleted and rewritten my prediction for her several times).

Lots of indecision when it comes to predicting Jessica's chances. A mixture of merge and pre-merge. How do you think Jessica will do? Let us know in the comments below.
Survivor: Millennials vs. Gen X premieres Wednesday 21 September at 8:00 pm on CBS.
---
Written by