The Inside Survivor team recently came together to give our initial thoughts on each Survivor: Millennials vs. Gen X cast member and our predictions on how they will do in the game. These opinions are formed mainly from the CBS cast bios and videos, as well as pre-season press interviews conducted by Gordon Holmes and Josh Wigler. Over the next several days, we will post our thoughts on each Millennials vs. Gen X castaway.
Last time we looked at Gen X tribe member David Wright, today we assess…
MARI TAKAHASHI
31, Los Angeles, CA, Pro-Gamer/YouTube Star, (Vanua aka Millennials tribe)
ALICE:
First Impression: You play video games? Awesome. You're awesome.
Deeper Thoughts: There is a lot to like about Mari (At least for me). She's a YouTube gamer/ballerina. That's kinda cool. If you're a nerd like me, it's really cool. Whereas Hannah is the nerdy girl you see in cartoons, I think Mari is the type of nerdy girl people actually want to be. She's selling herself as a challenge threat with her dancing skills – dancers are more athletic and strong than they let on; I think she'll be an asset for challenges pre-merge and a threat individually. She must be a fan – not many people would come up with a cool hybrid of Yul Kwon x Kelley Wentworth as the player they're most like. She says she is chameleon, but we'll wait and see. She seems likable in her video and profile. She wants to win which is always a good start. There's just this 1% of me that is worried she's presenting her YouTube personality, and we'll get something different on the island. Just 1% though.
Potential allies: I think she'd work well with anyone. I can see her getting along with Figgy and Taylor in a physical challenge focused alliance. I can see her getting Survivor nerdy with Adam and Zeke. The only potential clash I could see would be Michaela.
Prediction: She'll get to the merge. I think she'll get to Final 4 then voted out as a threat.
JACOB:
First Impression: This is so freaking hilarious, especially considering that one of her coworkers was on the first season of King of the Nerds. Mari is wacky and funny and smart and surprisingly adept for Survivor challenges with the dance background. (Note: as I was typing this, she confirmed that she feels like ballet prepped her for the challenges!)
Deeper Thoughts: I enjoy Mari a lot, I think she's a great Internet personality, and it makes me happy that she knows the game enough to throw Yul & Kelley the respect they deserve in her bio. I have no clue how she's going to do strategically, though. I can see Mari getting out there and deciding to stir up trouble from the get-go for the sake of starting up drama, or I can see her being friendly and likable and becoming a tribe favorite.
Potential Allies: I think Mari is going to be most attracted to working with people in her age range. Zeke, Michelle, maybe Michaela.
Prediction: Mari is kind of a big question mark for me when it comes to placement. I don't really know what she's going to do gameplay wise. I think she's socially adept enough to survive the pre-merge, but what if she decides to bring out her devilish side? I don't know how that would go down. My guess for Mari is early post-merge.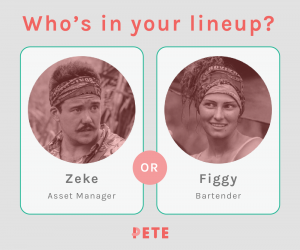 SHAWN:
First Impression: Am I supposed to know who she is?
Deeper Thoughts: I'm not too proud to admit that I had absolutely no idea who Mari or Smosh was before the cast reveal. Kenny Hoang from Gabon is the closest thing I know to a professional video game player. Honestly, for that reason, I didn't expect to like Mari; I expected her to be another of the classic nerd archetype portrayed by Skinny Ryan, Kenny, and so many others. However, I was very pleasantly surprised by her and how she played to other parts of her life, namely ballet. She seems very likable and sociable. I think she will be very unexpected in how others perceive her, which will make her someone that people will be endeared to. Also, if she wasn't involved with video games, there's no way that she'd be on the Millennial tribe.
Potential Allies: Zeke, Figgy, Jay.
Prediction: Post-merge.
MARTIN:
First Thoughts: That's not how I imagine the average video game player to look like.
Deeper Thoughts: She seems like a cool chick. And she's hung out with The New Day and Sasha Banks, so as a big time wrestling nerd, that makes me insanely jealous. She was obviously recruited and is a recent fan, but it seems like she's done her research. She referenced Yul Kwon as one of her players she's most like. The fact she has a background in ballet is going to be a huge benefit, especially as balance is often a significant factor in many Survivor challenges. She described herself as a chameleon, and I can definitely see her fitting into different groups and changing her personality when necessary. Also, she used an Abi-Maria line, "Villains have more fun." So make of that what you will!
Potential Allies: I think the board is wide open for Mari. If she wants to link up with the nerdier, quirkier types like Hannah, Zeke and Adam then I think she could. But I could just as easily see her clicking with the "popular" kids.
Prediction: I'm digging Mari, and I think she has great upside. However, I think people are going to peg her as a gamer (especially if she admits that's what she does for a living!). I just see her getting targetted post-swap when people start to see her as a potential threat down the line. I hope I'm wrong, but I'm saying Mari goes just before the merge.

The Inside Survivor team are all liking Mari and have her making the merge, except for Martin who sees her getting clipped just before the merge arrives. How do you think Mari will do? Let us know in the comments below.
Survivor: Millennials vs. Gen X premieres Wednesday 21 September at 8:00 pm on CBS.
---
Written by