The Inside Survivor team recently came together to give our initial thoughts on each Survivor: Millennials vs. Gen X cast member and our predictions on how they will do in the game. These opinions are formed mainly from the CBS cast bios and videos, as well as pre-season press interviews conducted by Gordon Holmes and Josh Wigler. Over the next several days, we will post our thoughts on each Millennials vs. Gen X castaway.
Last time we looked at Millennials tribe member Justin "Jay" Starrett, today we assess…
DAVID WRIGHT
42, Los Angeles, CA, TV Writer, (Takali aka Gen X tribe)
JACOB:
First Impression: Articulate, goofy, funny, clever, relatable… but I don't know if Survivor is the way to boost your confidence. David might find himself rather uncomfortable right at the start and get eliminated before he has a chance to bolster up the courage to play how he wants.
Deeper Thoughts: It's impossible not to root for David. He's every single one of us geeks sitting in our living rooms dying to get out and play Survivor with absolutely none of the basic "survival" credentials. Love him; frightened for him.
Potential Allies: David's going to get along better with people from the other tribe. Players like Hannah, Adam, Will and Zeke for sure. We'll see if he gets to a point where he gets to work with them.
Prediction: I want David to make it to the merge because I think he could shine in the individual game. I worry he might be taken out earlier due to challenge strength. For simply my own amusement, I'm gonna say post-merge.
SHAWN:
First Impression: He seems incredibly self-aware to the point of it being detrimental.
Deeper Thoughts: I really want to like David, but I feel like he will shoot himself in the foot by not believing in himself. I'm scared that he doesn't think he will fit in with certain people, so he won't attempt to align with them. He'll box himself into a group and then not have the opportunity to rewrite the first impression. Luckily, he seems funny which could buy him back into the good graces of his tribe
Potential Allies: CeCe, Sunday.
Prediction: He'll squeak into a swap, the fresh start with the younger people will save his game. He goes far.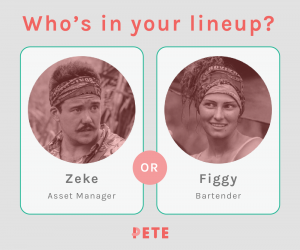 MARTIN:
First Impression: David is me but 14 years older and bald.
Deeper Thoughts: I like him. I relate to him. He's a writer; he has anxieties; he has no business being out in the wild. The difference is I would never have the balls to go on Survivor. So I respect David for putting himself out there. He describes himself as OCD, nervous and paranoid. Sometimes paranoia can be a blessing in this game because it means you're hyper aware of everything that is going on around you. The dangerous thing is when that paranoia becomes a delusion. If David starts accusing people of lying or trying to backstab him when they aren't (Abi-Maria style), then that could be his downfall. Those first few days are going to be the biggest hurdle; that is when he will be at his most awkward and uncomfortable (kind of like Aubry last season). If he can survivor the early game, and even scrape by a tribal council, I think it will give him a major confidence boost going forward.
Potential Allies: Like a few of the Gen Xers, I see David having better allies on the Millennials tribe. The quirkier, creative types like Hannah and Zeke are probably more on his level. On Gen X, I think hiding behind some meat-shields could benefit him short-term.
Prediction: Although on paper he looks like an early boot waiting to happen, I think David will take to this game better than he's anticipating. Once he finds his footing, he'll do well. I say he makes the merge.
ALICE:
First Impression: Awkward but self-aware.
Deeper Thoughts: David seems Survivor savvy. He adores the game. He's getting over all sorts of concerns to play Survivor. Good on him, kind of like a Cirie Fields getting off the couch to play except less sass. David says he has low self-esteem, no confidence, anxiety etc. David says he is unlikeable but like Gordon Holmes I'm not really getting it – I don't think there's anything inherently off-putting about him. Here lies my concern – if David is convinced of things such as that he is bad in social situations he could end up writing his own self-fulfilling prophecy where his constant concern about anxiety ends up irritating his tribe mates. We've seen paranoia do this before to others, and I wouldn't put it past David to end up going down a path like that. That being said, it wouldn't surprise me in the least if he was a Survivor mastermind and out-Cochraned Caramoan Cochran.
Potential Allies: I think David is a blank canvas here. He'll go with who he is comfortable with and I'm not sure who that would be.
Prediction: Again, the script is blank. He could paranoia himself out of the game early or scheme his way into the finals.

The Inside Survivor team have confidence in David even if he doesn't have much of it himself. All of us see his potential to the make the merge, although Alice also sees how his paranoia could lead to an early exit. How do you think David will do? Let us know in the comments below.
Survivor: Millennials vs. Gen X premieres Wednesday 21 September at 8:00 pm on CBS.
---
Written by