The Inside Survivor team recently came together to give our initial thoughts on each Survivor: Millennials vs. Gen X cast member and our predictions on how they will do in the game. These opinions are formed mainly from the CBS cast bios and videos, as well as pre-season press interviews conducted by Gordon Holmes and Josh Wigler. Over the next several days, we will post our thoughts on each Millennials vs. Gen X castaway.
Last time we looked at Gen X tribe member Lucy Huang, today we assess…
TAYLOR STOCKER
24, Post Falls, ID, Snowboard Instructor, (Vanua aka Millennials tribe)
JACOB:
First Impression: I don't think he knows how to compose sentences with more than a couple words. "…some people would say 'the grass is greener on the other side' is like a negative thing to do, but for me, it always is greener on the other side because I enjoy jumping from new things." Good God, man.
Deeper Thoughts: If you told me the Erik necklace situation from Micronesia was going to happen again this season, I'd bet it happens to Taylor. He doesn't seem like a bad guy; I think his tribemates will like him, and he'll be a serious asset physically. I just don't expect him to be especially clever or game savvy. I think he's going to kind of blend into the background, stick around for awhile playing as he's told, doing well in challenges, until the post-merge game when he's simply another person in the way of someone else's game.
Potential Allies: I'm sure he'll link up with Figgy and Jay early on, maybe Mari too. I think he'll find camaraderie in Ken later on.
Prediction: Post-merge, maybe around 8 or 7.
MARTIN:
First Impression: Most likely recruited at a hot dog stand (or whatever the winter equivalent is – ice-cream stand!).
Deeper Thoughts: Taylor is the Millennial mascot. He's the guy that is completely going all-in with this theme, with his sicky sicky gnar-gnar bulls**t (although one of his pet peeves is "selfies," which goes against the gimmick). He compares himself to Woo, which I can see, but I get more of a Fabio flavor (which I'm pretty sure is now a brand of marijuana). He'd like to bring a banjo to the island- that's just asking to get voted out. He presents himself as this chill dude, but in his interview with Josh Wigler, he talked about how he'd pour out the rice if his tribe pissed him off. Maybe he was just joking- I hope for everyone's sake he was.
Potential Allies: He has a fellow bro in Jay. Possible flirtmance with Figgy or maybe even Michelle.
Prediction: Even though I think casting see Jay as the new Joe, I actually think it'll be Taylor. Jay will end up overplaying where I see Taylor going with the flow and probably making a deep run. Top 8.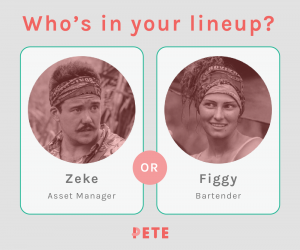 SHAWN:
First Impression: Brooooooooooooooooo. Taylor is the book you correctly judge by the cover, but nobody thinks enough to read the contents and learn there's more than meets the eye.
Deeper Thoughts: There are a few personal connections between my life and Taylor's so I keep finding myself rooting for him and expecting big things…which can be a very slippery slope. He seems the perfect mix of sociable, strong, and likable. I'll be really sad if he doesn't go far.
Potential Allies: I can see him getting along with anyone, but I wouldn't be surprised to see him end up with the "prettier" crowd.
Prediction: Taylor is my winner pick. I'm clearly biased in this, but I don't care.
ALICE:
First Impression: The second coming of Fabio.
Deeper Thoughts: Once I get past those dreamy blue eyes I think Taylor has a lot to offer. The key things I got out of his bio and video were easy going, relaxed, used to rolling with the punches. I think those qualities can take you places in a game like Survivor, and I like his mentality. He's very Woo-esque (zero surprise that's who he thinks he is most like) and has the most surfer turn of phrase I've ever seen (all around epic, super social, ultra spontaneous). The one major throw off is that he says he's a monster when he's "hangry" and joked about tipping out the rice (at least, I hope he was joking). He seems to have a pretty good sense of humor. I think he could surprise us; his life inspiration is a Scottish knight – I didn't see that one coming. I think he'll be okay at challenges too.
Potential Allies: If he doesn't bro-down with Jay I'll be super-ultra-all around surprised.
Prediction: I think Taylor could take it to the end if he gets in with the right people. That being said if the "hangry" monster is as bad as he says we could be seeing him go in an early vote.

The Inside Survivor team are positive about Taylor's chances, with all of us seeing him reaching the merge and Shawn going so far as to declare him as his winner pick. How do you think Taylor will do? Let us know in the comments below.
Survivor: Millennials vs. Gen X premieres Wednesday 21 September at 8:00 pm on CBS.
---
Written by