The Inside Survivor team recently came together to give our initial thoughts on each Survivor: Millennials vs. Gen X cast member and our predictions on how they will do in the game. These opinions are formed mainly from the CBS cast bios and videos, as well as pre-season press interviews conducted by Gordon Holmes and Josh Wigler. Over the next several days, we will post our thoughts on each Millennials vs. Gen X castaway.
Last time we looked at Millennials tribe member Taylor Stocker, today we assess…
PAUL WACHTER
52, Key West, FL, Boat Mechanic, (Takali aka Gen X tribe)
JACOB:
First Impression: Don't have a lot to say about Paul. He's probably going to annoy the hell out of a lot of people and get voted out early for being both a nuisance and a strategic troublemaker.
Deeper Thoughts: I mean, from what I can tell, the guy isn't very self-aware. Half his video is about how much he loves to talk.
Potential Allies: I genuinely don't know if anyone on his tribe is going to want to handle him. Bret, maybe? Chris could possibly use him.
Prediction: Early boot.
SHAWN:
First Impression: We haven't had a quintessential rocker like this since Billy Garcia. I only hope he's half as entertaining.
Deeper Thoughts: Paul, I honestly have no idea how to think. Did your wife not provide you with a conventional wedding ring to be worn on your ring finger? Why just bring the one for the thumb and pinky?! I seriously can't stop thinking about this answer and how you only chose to bring jewelry to the island. Like this answer, I find Paul to be a bit confusing, yet endearing. He seems like he knows exactly who he is and doesn't shy away from it. Often, however, this comes across as abrasive and not endearing. Unless he finds his clique quickly, I don't see him thriving.
Potential Allies: David, but only because he finds Paul fascinating. Maybe Chris if they bond if their mutual love of odd trinkets.
Prediction: Pre-merge.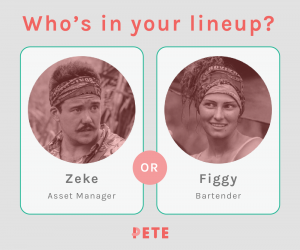 ALICE:
First Impression: Rupert meets Rock.
Deeper Thoughts: I feel bad for Paul because I think he's stunt casting. He's someone you don't see much on the show – a free-spirited rocker with long hair and a beard – and I'm not sure they chose him for his strategic prowess. I'd love for him to prove me wrong, though. He told Josh Wigler he got called seasons after his initial application video to see if he was still keen and to confirm that he still looked the way he did and that he was still in a rock band. Paul does seem to have a cool life story, though, homeschooling his primary aged kids, living in a motor home and treasure hunting for possessions Spring Breakers leave behind in Florida. My concerns are that he doesn't like narrow-minded people (hello, this is Survivor, they look for narrow-minded people) and that he can't shut up. Both these things could lead to an ugly showing from Paul. We'll see what happens.
Potential allies: Hmm it's difficult to say exactly where Paul fits – maybe in a 'tough guy alliance' with Chris and Bret. Maybe nowhere at all.
Prediction: I'm not confident with Paul, but he could surprise me. I think he'll go out pre-merge.
MARTIN:
First Impression: Glam-rock Rupert.
Deeper Thoughts: Paul, Paul, Paul. He sings in a rock band. He hunts for treasure. Describes himself as intimidating. Listed jewelry items for each of his three things. And his inspiration in life is David Lee Roth. Something tells me Paul isn't going to fit in with either tribe. He's the oldest on the Gen X tribe and is almost three times the age of the youngest Millennial, Will. There isn't anyone else on this cast quite like him, and while that should make him an interesting character, I don't see him forming great relationships out there. I see him telling debaucherous rock n roll tales on the first night and offending everyone in his tribe.
Potential Allies: Yeesh. Who knows? I'd say he's more inclined to go with the guys, so maybe Chris and Bret? There was a few people, Rachel especially, that talked about someone pissing them off pre-game, and while no names were mentioned, it sounded like they were talking about Paul.
Prediction: Paul could turn out to be a big surprise, but right now, I don't see him rocking out on the island for very long. Early boot.

The Inside Survivor team don't have high hopes for rockstar Paul, with all of us seeing him as an early casualty. How do you think Paul will do? Let us know in the comments below.
Survivor: Millennials vs. Gen X premieres Wednesday 21 September at 8:00 pm on CBS.
---
Written by