Over the coming months, Inside Survivor is undertaking its biggest list ranking yet, as we count down the 100 best episodes of Survivor ever. As always with these kinds of lists, it's entirely subjective, and we're sure many fans will have different opinions. This is simply Inside Survivor's ranking. Join us each weekday for a new entry.
Season: Cambodia
Episode: "Second Chance" (Episode 1)
Originally Aired: September 23, 2015

Get exclusive content and features by supporting Inside Survivor on Patreon.
OVERVIEW
After thirty seasons, Survivor needed a boost. Choosing from 32 one-time players, fans were able to vote for the 20 players they deemed worthy of a second chance to win the money and the coveted title of Sole Survivor. As it was the first time fans were actively involved in who played, expectations were high for an epic season, and the players had high expectations too, as they wanted to show what they were made of. The beginning of Survivor: Cambodia certainly lives up to this hype.
When Jeff Probst announces the chosen 20 players at the live finale of Worlds Apart (leaving the other unlucky 12 players with their packed bags behind), they are directly flown to Cambodia to start one of Survivor's most ambitious seasons to date. It makes for an adrenaline-pumping opening as these Survivor faces of past and present arrive in Cambodia, taking a walk through the ancient temples of Siem Reap. The various confessionals complemented by the trek through the ruins beautifully plays into the theme of rebirth and second chances. And as the cast finally makes it to Jeff, there is a palpable excitement in the air.
All Survivor eras are represented here, with old-school and new-school alliances demonstrating how the game has evolved over the last fifteen years. Seeing the likes of Kelly Wiglesworth, Kimmi Kappenberg, Andrew Savage, Peih-Gee Law, and Terry Dietz is like a warm hug of nostalgia. The current players like Spencer Bledsoe, Jeremy Collins, Kass McQuillen, Ciera Eastin, and Abi-Maria Gomes help bridge together the different generations. It's like a Survivor fan-fiction come to life.
Seeing all these different castaways interacting with each other as they reminisce about their trajectories is the kind of thing that can make returnee seasons so special. And yet, on the other hand, there is also that foreboding of seeing which of these Survivor icons will fall first. After the weeks of campaigning, the live vote reveal, and the long journey to Cambodia, somebody's second chance was about to be over in a matter of days. That feeling of dread just added to the intensity of this premiere episode.
Both the Bayon and Ta Keo tribes have an exciting mix of old and new school gameplay representatives. However, it is pretty evident how differently Wiglesworth and Spencer, for instance, approach the game, as their methods are complete opposites. The Ta Keo tribe quickly breaks down into an "old school" versus "new school" mindset, with the likes of Spencer, Kelley Wentworth, Abi, and Shirin Oskooi being seen as the "strategists" and Wiglesworth, Terry, Vytas Baskauskas, and Woo Hwang more the "worker bees" of the tribe. This leaves Jeff Varner and Peih-Gee caught in the middle.
There are also plenty of laughs and edge of your seat moments. Stephen Fishbach becomes the "Fishbach out of water" on Bayon with a misguided idol hunt. Vytas puts off the women of his tribe with some awkward yoga moves. And Wentworth provides a historic first in Survivor when she has to retrieve an idol amidst an ongoing Immunity challenge. The transition of watching Wentworth acquiring the idol while the 19 other cast members are immersed in the challenge is a nail-biting, heart-stopping experience that really cements this premiere as an all-time great.
Speaking of the Immunity challenge, the iconic first-ever challenge in Survivor, "Quest for Fire," is brought back in all of its glory, with the Bayon tribe taking the win and leaving the Ta Keo tribe to go straight to Tribal Council. With no time to scramble, Ta Keo seems split between voting out Abi-Maria (who had previously stirred the pot by accusing Peih-Gee of stealing her bracelet) and Vytas (who many on the tribe perceived as smarmy). Ultimately, Varner and Peih-Gee side with the new-schoolers, promptly blindsiding Vytas and leaving a divided tribe in his wake.
This season was a whole new level of gameplay that many fans had been craving, with each episode leaving us excited and nervous for what was to come next. Adding the culture and beauty of Kaoh Rong to the multi-layered and fast-evolving game of Survivor: Cambodia, the season's premiere is one for the books, bringing us a captivating mix of nostalgia, gameplay, and drama.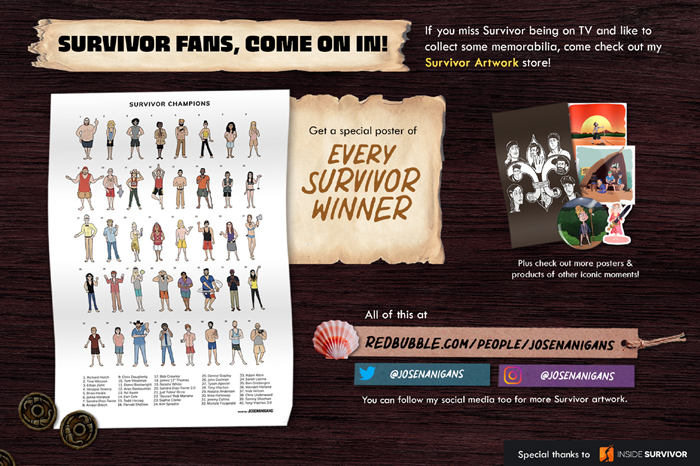 Check back tomorrow when we reveal which episode placed at number 55. You can check out the previous entries here.
---
Written by