The Inside Survivor team recently came together to give our initial thoughts on each Survivor: Millennials vs. Gen X cast member and our predictions on how they will do in the game. These opinions are formed mainly from the CBS cast bios and videos, as well as pre-season press interviews conducted by Gordon Holmes and Josh Wigler. Over the next several days, we will post our thoughts on each Millennials vs. Gen X castaway.
Last time we looked at Millennials tribe member Zeke Smith, today we assess our final contestant…
SUNDAY BURQUEST
45, Otsego, MN, Youth Pastor, (Takali aka Gen X tribe)
JACOB:
First Impression: Erm. She had some moments of likability in her video, but I don't know how she's going to cope with a bunch of 20 and 30-somethings going full throttle around her once the tribes aren't so clean cut by age. She loves the show, but I don't know if she understands it.
Deeper Thoughts: The only thing Sunday really has going for her is the fact that religion looks like it might play a notable part in the season. Being a pastor could get her in with a few fellow Jesus fans, and there are several in the season. She does note in her profile that she sees a lot of herself in Lisa Whelchel. It was the same thought I had before reading the profile. I don't know if she'll be able to recover from an early game breakdown like Lisa did.
Potential Allies: Will, Michelle, maybe CeCe or Adam?
Prediction: I don't see Sunday lasting long enough to forge those potential connections, to be honest. I'm going to guess she's an early boot.
SHAWN:
First Impression: I bet she thinks she's the "cool" mom. At least she picked the right profession for her name.
Deeper Thoughts: If she goes thrift shopping for the "thrill," I'm genuinely scared for how she'll handle the game. I give her credit for calling a spade a spade and saying that she's the most like Lisa, but I'm hard-pressed to remember a time where Lisa was truly maternal for anyone in the Philippines. If her bio is any indication of anything, she will not be able to shut her mouth. I wouldn't be surprised if she gets into an alliance and then spills the beans, prompting said alliance to turn on her for being too forthcoming.
Potential Allies: She'll take to those that talk more. Something tells me that will be Rachel, Bret, and Paul.
Prediction: Pre-merge.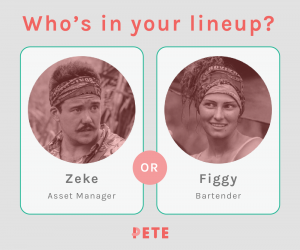 ALICE:
First Impression: Could be a hot mess. Could be a dark horse.
Deeper Thoughts: If her name didn't point to it enough this woman is religious through and through. It's her job. She thanks God for surviving breast cancer. I don't have anything against it, but I feel like this is a player whose faith could hinder her in the game. In an interview, she said she would have trouble reconciling game and faith so I'm not sure she'll be able to deceive and lie successfully. She's very family oriented and thinks her work with young people will be an advantage. It certainly won't hurt, but I'm not sure the young people she works with are going to be like the ones she meets on Survivor. I don't think there's anything to dislike about Sunday, but I'm not convinced she'll be a great asset challenge wise for her tribe or strategy wise for her own game.
Potential Allies: I think she'd do better with the Millennial tribe, but she also says she wants to hide behind alpha males – on that point, she could work with Chris or Ken. I can see her pairing up with Will if she gets far enough to meet him in the game.
Prediction: I'm not confident in Sunday – I think she'll go before the merge for being 'the weakest link.' At most, we might see her early in the merge.
MARTIN:
First Impression: I like her so much I'm considering finding God.
Deeper Thoughts: Seriously. I think she's great. She seems sweet but also has a drive in her where I think she can become cutthroat when necessary. She says she is most like Lisa (which I get), but I'm also getting a slight Tina Wesson vibe. She's this sweet mom on the exterior, but I can sense a feisty determination that others might not recognize until it's too late. I also really liked her answer about what it means to be Gen X; she talked about how older people can sometimes be stuck in their ways and could learn a lot if they listened to the younger generation and ran with their new ideas. That shows me she is going to be able to adapt. If she can make it to a swap/merge, I can see her getting along with the younger crowd.
Potential Allies: I see her strongest allies coming from the Millennials tribe – Adam, Will, Michelle. She just needs to get to those people. On the Gen X tribe, as long as she doesn't come on too strong (she described herself as bossy), I think she'll be okay with Chris, Bret, even Rachel and Jessica. She'll probably clash with Paul.
Prediction: I have much more faith than you guys. I think people are expecting a Debbie, but we're going to get a Dawn (with hopefully fewer tears). I can see her reaching FTC; then it just depends if she can get over the mom stereotype and be awarded the win. What the hell? She's my winner pick! Sign me up for Sunday School!

The Inside Survivor team aren't feeling the Sunday love, except for Martin who has declared her this season's winner. Everyone else has her leaving pre-merge. How do you think Sunday will do? Let us know in the comments below.
Survivor: Millennials vs. Gen X premieres Wednesday 21 September at 8:00 pm on CBS.
---
Written by