Recap In Brief

After Michelle was voted out 9-4, Jay, Taylor, and Will returned to Vinaka knowing they were on the outs. Despite the Misfits and Gen X teaming up for the last vote, cracks were apparent within the group. Noting the original hierarchy at Gen X, Sunday wanted to target Jessica instead of Jay, her friend from Ikabula. Similarly, Adam's position in the majority was still questioned by the rest of the Misfits, Zeke in particular. Sunday, Bret, Chris, David, Taylor, and Ken won reward, consisting of a pool party, a feast, and beer/cocktails. In an immunity challenge that gave castaways the chance to sit out and feast instead of competing, Ken narrowly outlasted Taylor, who would be voted out 7-4-1 after a wild tribal.
How's the view from up there?
The strategy this season has revolved around a set hierarchy, where everyone knows who was on the top and on the bottom. Despite this, those on the bottom have never truly been powerless, as cracks and paranoia have played a part in blindsiding many a majority member.
This episode was no different, as the events of the last tribal left Taylor, Will, and Jay at the bottom of the pecking order. If anything, this cast has shown a never-say-die attitude, maybe with the exception of the original Rachel vote, where no one plans on lying down and taking it. When viewing this season as a whole, it's clear that the status quo is constantly changing. The nine in the majority cannot all make the final tribal, and this isn't a fact that's lost on them either.
Honestly, it's a refreshing thing – people are willing to claw for their spot in the game. Taylor, arguably the least strategically minded person left in the game, got voted out, leaving eleven individuals who can easily change the course of the game.
Girl Fight
Back in the days of Gen X, we rarely heard anything from a female member of the tribe, shy for a few comments about a legacy advantage. Remember the rise and fall of Purple Lucy, who spent three episodes with no more than a "Shh," before she was villainized as a dictator in a one-episode onslaught?
Arguably the most important thing that took place in Gen X pre-merge, however, was David's idol play that saved Jessica. The original fracture between Jessica and Sunday, built on the ashes of Paul's game, seemed a distant thought until this episode, where Sunday proclaimed her lack of trust in Jessica. Sadly, Sunday's increased screentime and visibility made me think of ways she would be voted out this episode. Of the remaining players, only three are females. In a season highlighted by a very high rate of minority and female boots on the front end, it definitely doesn't help that the girls are targeting each other behind the scenes.
Sports Captain
I, for one, am a huge proponent of schoolyard picks for tribes and challenges. I think it brings an additional layer into the game that reveals the nuances of the pecking order, while also making people choose between loyalty and optimizing their chance of winning.
I look back to one of my favorite seasons, Survivor: Palau, and see Caryn's choice of Willard as obvious, but as one far more strategic than people think. Not only does Caryn gain an ally in choosing Willard, she eliminates Jonathan as a number to the younger, prettier crowd, while also putting a safety blanket on her game. Willard would always be voted out over Caryn, so her choosing Willard means she automatically survives Koror's first tribal council. This, thanks to Koror's challenge prowess, gets her to the merge and jury.
Hannah's choice of team during the reward challenge is an example of captain's choice gone wrong. In trying to optimize her team for strategy, she admittedly failed to choose on strength, the obvious crux of the challenge. At the same time, however, Hannah's team, regardless of win or loss, would be together without the majority of Gen X.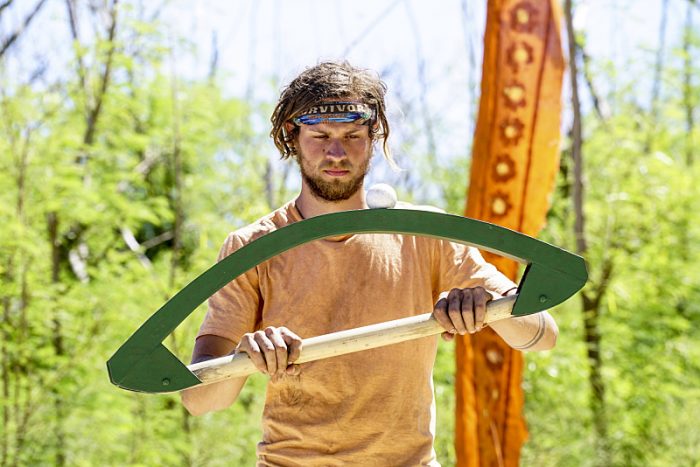 I'm Good With Mason Jars
Oh, Taylor. At the start of the season, Taylor was my winner pick, armed with the confidence to present some social prowess to match an easy-going personality. I was hoping for Fabio 2.0, but instead, we got Taylor 1.0, who was original in how aloof one person could truly be in terms of self-awareness and perception.
Taylor's hiding food away is an incredibly risky maneuver that, honestly, I'm not going to knock him for. If he was far more covert with the amount and timing of his pilfering AND in the majority, he has food stores that can easily be the difference in a final immunity challenge. This is exactly what production had in mind with Will Sims' auction dilemma in Survivor: World's Apart, but it was shared among the tribe instead. Thirty-six or so days into the game, the difference between winning and losing could easily be the energy gained by dried fruit.
All the fixins?
At the immunity challenge, castaways were presented with the option of sitting out and feasting on grilled sandwiches, potato chips, beer… and soft drinks. More on that ellipses later. Interestingly, of the twelve, Zeke and Will were the only two to choose to sit out. Situations like these have given us great moments in Survivor history, such as "burgers elapsed" and Shane's devouring of a burger as his time also ran out.
Normally, I'm all for sitting out and eating, as long as it's not utterly necessary, as you prove others to be bigger targets. This season, however, the theme is entirely built around generational connotations, one of which is the idea of free handouts for Millennials. Interestingly, two Millennials opted out, while the remaining Gen X members, who were basically guaranteed safety, chose to participate. While this isn't exactly a free handout, it is funny how this little moment continued to play into this season's theme, which has proven to be a ratings hit for CBS.
What's my age again?
A few seasons back, in a season that I often hope to forget – Survivor: Redemption Island, Natalie Tenerelli was reminded by Jeff Probst that she couldn't' drink due to her being underage. The deep-voiced, milk loving Will Wahl found himself in the same situation. Jeff made multiple mentions of Will's age and the presence of soft drinks for his consumption instead of beer.
Despite its hilarity, one significant fact is often overlooked. In both Nicaragua (where Natalie played) and Fiji, the legal drinking age is indeed 18. Even though both could technically drink, it's a massive legal blunder by CBS if they serve someone who is legally underage in the US. So, while we find these scenes hilarious (because they are), this is CBS 100% covering their asses while remaining lighthearted.
Live From Tribal Council
Earlier in the season, it was remarked, "tribal council is live." I, for one, am not a fan of the phrase, but I cannot deny it was ringing true again for this episode. The feud between Adam and Taylor regarding food and advantages made for yet another classic tribal council in a season filled with "live" tribals. While it seems that the actual votes didn't radically change because of this spat, it does prove that tribal council can dramatically affect that status of the game. It's incredibly likely that because of information revealed at tribal, Adam's position in the game became much more vulnerable.

Secrets, secrets
Normally, I leave out comments on the "scenes from the next episode" and leave that to my companion, Jacob Derwin. This time, however, I'll chime in. If you didn't watch that little snippet and get excited, shame on you. Including the double tribal episode in Survivor: Gabon, this could potentially be the most entertaining "scenes from" in the show's history. I can't wait to see how the idol paranoia plays out in a double tribal episode.
For Redmond's Episode Recap Check Out Yahoo TV.
---
Written by