The Inside Survivor team recently came together to give our initial thoughts on each Survivor: Millennials vs. Gen X cast member and our predictions on how they will do in the game. These opinions are formed mainly from the CBS cast bios and videos, as well as pre-season press interviews conducted by Gordon Holmes and Josh Wigler. Over the next several days, we will post our thoughts on each Millennials vs. Gen X castaway.
Yesterday we looked at Millennial tribe member Adam Klein, today we assess…
BRET LABELLE
42, Boston, MA, Police Sergeant, (Takali aka Gen X tribe)
JACOB:
First Impression: Honestly, the thing that stands out to me in the bio is that he likes improv. If he's good at that and good at reading people, he has a pretty solid set of skills to rock the social/strategic game. But then I see him call Penner "easygoing" and I worry that he doesn't pick up certain obvious cues too well.
Deeper Thoughts: He's a superfan and aware that he can't come out guns-a-blazing if he wants to last despite being a big personality. I dig his sense of humor, and the Bostonian charm has proven successful as of late. As long as he can keep himself mellow, I see him making it far.
Potential Allies: I see him meshing with his New England mutuals like Hannah and maybe Jessica. He could even work with Lucy.
Prediction: Bret is one of those out early or all-the-way guys to me. His tribe could see him as a gamer right off the bat and freak out, or he could organize some solid connections and work them to the end. I've got faith in him, so I'm gonna make him one of my final tribal council picks.
MARTIN:
First Impression: Cut-price Tony.
Deeper Thoughts: Remember when Sarah Lacina said that cops just have a certain look? Well, Bret looks like a cop and if people in the game pick up on that he's screwed – no matter if he tells them he's a construction worker or a doorman or a part-time balloon artist. He says his pet peeve is religion talk at Thanksgiving – I wonder if he likes it on Survivor because I'm pretty sure he'll be getting it with this cast. He seems down to earth and relatable, so that could be to his benefit. As long as he doesn't come on too strong at the beginning, he could do well. Also, he described himself as "gregarious", carrying on Caleb's tradition from last year. Good man.
Potential Allies: On the Gen X tribe I can see him gravitating towards Chris and maybe Jessica. He does improv, so if he makes it to a swap/merge, then perhaps he'll find common ground with Hannah and Zeke.
Prediction: My worry for Bret is not so much what he does, but how the others will perceive him. The slightest whiff of "cop" and I think people will immediately peg him as the new Tony and try and get him out. Unfortunately, I'm thinking pre-merge, post-swap.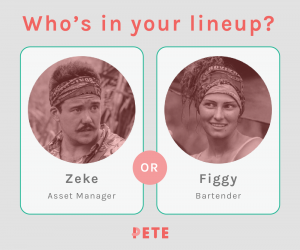 SHAWN:
First Thoughts: If you ever use the word Gregarious in your "3 words" I will instantly hate you…Bret is no exception.
Deeper Thoughts: Bret has so many other things to hate apart from recycling "Gregarious" in an attempt to seem intelligent. Like actually using four words to describe himself when explicitly told to use three. Using a slash is no excuse to break the rules of society there, Bret. Also, fun fact, a toothbrush is the key to healthy teeth, not a healthy life. Unless teeth = life, but then I'd imagine that you would be a dentist and not a cop. You better have the pearliest of whites after a statement like that. All to be said, Bret's probably going to overestimate his physical abilities and flame out.
Potential Allies: He's going to be a loud and abrasive wannabe alpha male. You get Paul.
Prediction: First boot.
ALICE:
First Impressions: An unfunny Tony Vlachos.
Deeper Thoughts: Did Survivor decide they want a Tony x Boston Rob hybrid? Bret talks a lot about being a cop. Being a cop can be good because you deal with a variety of people, and you learn to work in a team. It can also be bad because cops don't have a great reputation on Survivor. Bret knows that though, he's going to tell people he's a funeral director. Bret says he reads people really well and can be a human lie detector. Plenty of people claim that prior to playing Survivor but few actually deliver. I was a little put off when he first said he was competitive but then said you never know who you might be playing with. I think you need to be ultra competitive to win Survivor, and the people you play with don't make a difference. I hope that Bret doesn't make excuses like that when he's playing.
Potential Allies: Looking at my list… I think he could get along with some of the guys; Chris is a possibility, as is Paul. He could get a little bossy and tick people off.
Prediction: Depending on how well he does in challenges I think he'll go out a few episodes into the merge.

Predictions across the board for Bret! From first boot to final tribal council. How do you think Bret will do? Let us know in the comments below.
Survivor: Millennials vs. Gen X premieres Wednesday 21 September at 8:00 pm on CBS.
---
Written by