A new season of Survivor is almost upon us (just 16 days away!), but before we get there, we must assess the new cast and their chances. Twenty brand new castaways will take part in Survivor: Millennials vs. Gen X, all hoping to outwit, outplay and outlast the competition in their quest for a million dollars and the title of Sole Survivor.
The Inside Survivor team recently came together to give our initial thoughts on each cast member and our predictions on how they will do in the game. These opinions are formed mainly from the CBS cast bios and videos, as well as pre-season press interviews conducted by Gordon Holmes and Josh Wigler. Over the next 16 days, we will post our thoughts on each Millennials vs. Gen X castaway.
ADAM KLEIN
25, San Francisco, CA, Homeless Shelter Manager (Vanua aka Millennials tribe)
JACOB:
First Impression: Genius, likable, does great work that anyone would admire, great, emotional story. Absolutely heartbreaking knowing his mom passed away. [Note: On the day of the official cast release, Adam shared a message on Instagram about his Survivor journey and the passing of his mother.]
Deeper Thoughts: He's got an unbelievably attractive energy to him. He's the kind of guy everyone's gonna like. As long as he doesn't overdo it and go too hard from the start of the game (like I'm sure he wants to), he could be a contender to win it all. Honestly, I just WANT Adam to win. The guy's just unbelievably likable outside of already being super intelligent. This advantage could just as easily be his downfall, though – being seen as a threat because nobody has a beef with you.
Potential Allies: Gosh… everyone? All the 20-somethings probably wanna hang out with him, and all the moms and dads probably want him as a son. Maybe his charitable career will get him in tight with the religious folks like Sunday and Michelle in particular.
Prediction: Early merge – taken out for being too beloved.
MARTIN:
First Impression: Gonna need a lot of Kleenex. His story is going to be super sad.
Deeper Thoughts: He's probably the biggest Survivor fan on the cast. He's played ORGs and frequents Survivor Reddit. But he doesn't seem awkward like a lot of superfans can be. He comes across naturally likable, so I think he'll be able to pull off strategic and sociable. He's playing for his mother who at the time of filming had lung cancer (as Jacob mentioned, she since passed away, so this is going to be crazy emotional). He compared himself to Spencer and Hayden – definite Spencer vibes, both in looks and approach to the game, but maybe less cocky than Spencer 1.0. Maybe he's a little too clean-cut? He did say he wants to bring a razor because he hates mustaches with a fiery passion – so watch out Zeke!
Potential Allies: Adam seems super approachable so shouldn't have trouble making allies. Also, there are others on his tribe that talked about their strong relationships with their mothers – both Hannah and Figgy, and Jay too. I could see him working with any of them.
Prediction: Merge for sure. At least final ten. Then it just depends if his likability becomes too much of a threat.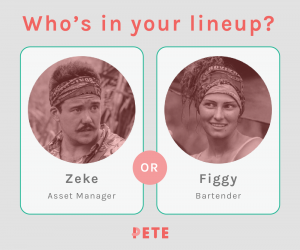 ALICE:
First Impression: Sweet, slightly awkward looking guy. Probably going to get screwed over.
Deeper Thoughts: This is a guy who is easy to invest in watching Survivor. He's well spoken; he seems really nice, he's a biggest nerd/life of the party hybrid who is working at a homeless shelter out of college and wants to show the world you can do meaningful work. His mother is sick, and he wants to win for her. Some people with this story make me roll my eyes and say 'next', but I'm really buying it from Adam. His favorite players are Spencer and Hayden – if I could see the hybrid Spaden I would be very happy, but I don't think Adam will bring it. Smart, yes. Social, yes. Strategic, maybe. I don't think he can bring it for the challenges. He's a Redditor which makes me like him more too. He's an all round good guy.
Potential Allies: Adam is a bit of blank slate for allies, I think he could fit in everywhere. I have him listed with Hannah and Zeke; I have him listed with the boys from his tribe, and I have him listed with Figgy. I think he has options.
Prediction: Out in the early merge. Too likable. Saving grace would be a strong duo that gets him to the end.
SHAWN:
First Impressions: He's got a good head on his shoulders…and he's not afraid to tell you all about it. It's clear that Adam is very intelligent, sociable, and intentional with everything he does. He'll be well liked by anyone that spends time with him. Physically, he seems like he should be able to carry his own weight. His story is endearing, and when told to the right people, it can be used to his advantage.
Deeper Thoughts: I get why there's a lot of hype surrounding Adam. On paper, he has a great set of qualifications (huge superfan, emotional backstory, very likable) but he is playing on arguably the slipperiest slope of anyone out there. Each of those traits presents the opportunity to gain allies, but also paint a target on his back. If he can get the "in" with people, he'll be fine, but there's a definite chance that he'll overplay his cards
Potential Allies: I fully expect Adam to make a lot of friends, but be very intentional on who he aligns with. He'll likely end up with the slightly older, more mature crowd. I expect him to heavily read into people's careers as well. For the sake of names, I say he ends up with Mari, Zeke, and Taylor.
Prediction: I think he has the makings to go far, but I also wouldn't be surprised to see him go early as a "bigger threat."  I'm going to go against the grain and say that Adam goes early, maybe 4th or 5th.

That's three for merge and one pre-merge prediction for Adam. How do you think the Homeless Shelter Manager from San Fran will do? Let us know in the comments below.
Survivor: Millennials vs. Gen X premieres Wednesday 21 September at 8:00 pm on CBS.
---
Written by