Hey guys, it's time for this week's Next Time on Survivor. Before I jump into looking at the previews for Episode 6, I wanted to check out the outcome of the predictions I made for the previous episode.
Previously on Survivor…
Okay, I can't be on top of things every week. My predictions last time were just as bad as Cole's social game with keeping secrets.
My first mistake was thinking that CBS wouldn't continue to be so obvious with their previews and basically show who was going to tribal, so I guessed Levu was going to lose, and everything went downhill from there. I predicted Levu would go to rocks, (if Soko went to tribal) Roark would be safe because Ryan would be smart enough not to make it a 2v2 split, and Mike would find the idol because he found a clue. A solid grade F effort.
This is why you play Survivor
Coming into this next episode, the 20-second preview focuses solely on Yawa. Ben talks about how Cole does nothing but eat and doesn't share with anyone else. Cole is a big guy and obviously is the most physical player to want on your tribe to win challenges. In the preview we see Cole collapse, and this is after talking about how there isn't enough food to eat, so I think Cole didn't prepare to play Survivor when it came to his diet.
I'm going to refer to Malcolm's article on why he chose to eat junk food instead of packing on meat and building muscle. If you check out Malcolm's article and scroll down a bit to where he talks about another contestant he played with, Carter, he says Carter was used to eating and running on 4,000 calories a day. The deeper he got into the game, the more his body began to shut down; this is probably happening to Cole as well. But luckily Cole couldn't have broken down on a better tribe, he has the sex doctor and nurse practitioner to help him.
This preview literally only focused on Yawa, so I'm led to believe that Cole, Jessica, and Mike finally attend their first tribal of the season.
Betrayal
Returning to camp after last weeks tribal, it's known that Ali got blindsided by the #1 guy she trusted on Soko beach. I was led to believe that Ryan would keep Roark because I couldn't understand why he would want to betray someone like Ali, who also has a good relationship to all past Hustlers. In the short 'Next Time' preview shown after the episode on Wednesday, Ali and Ryan get heated after tribal. Ali basically says Ryan screwed her voting Roark, but Ryan says she screwed him by voting Chrissy.
There's a short confessional with Ali crying because she probably assumes she is on the bottom, but I don't think Ryan would vote her out if they went back to tribal.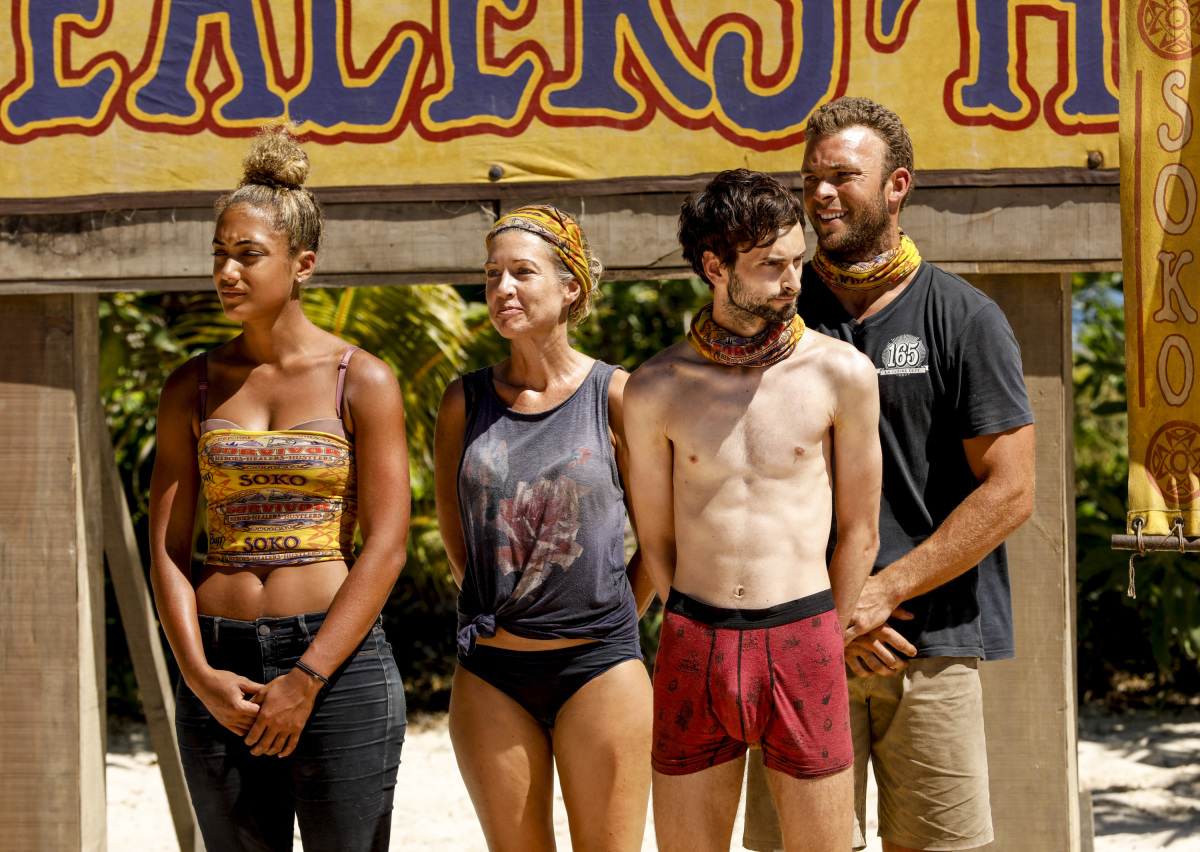 Predictions: 'Never being right about anything' – Jacob Derwin
I think after last week, my predictions can't get any worse, so we can only go up from here!
Who's going to tribal?
I think by the fact that this week's preview is 100% Yawa, I'm led to believe they are going to tribal. Also, CBS has had a reputation with revealing who's going to tribal in the previews, and the only tribe shown is Yawa, so there isn't a lot of room open to speculations beyond that.
Who's in trouble?
Every week I've brought up Lauren's name, and I'm not done yet! I think Lauren is in trouble this week. If Yawa goes to tribal, Mike, Cole, and Jessica are definitely voting together, and I think they would definitely keep Ben over Lauren. Especially after last week with Ben revealing about his PTSD, I think people like Jessica have a lot of respect for him. Lauren still just doesn't fit in either.
In case things take a turn in my predictions, if Soko manages to go back to tribal again this week, I think JP is in trouble. Ali thinks she is on the bottom, but I don't think Ryan would let a former Hustler go. Chrissy didn't have a great relationship with JP to begin with, so Ryan shouldn't have too hard of a time to get her vote.
If Levu goes to tribal, I still think they will go to rocks. So speculations are up in the air to who goes home. It could go multiple ways. In my opinion, the biggest threat over there is Joe, so if rocks were going to happen, it would be smart for Ashley and Devon to vote Desi to try and get Joe rocked out.

Winner prediction After Episode 5
Still riding the Ben train! Before this season began, he was towards the bottom on my list of contestants who would possibly win, so I'm pretty excited to see something different happening.
Ending this off, I read all of the comments from last weeks Next Time and I liked seeing everyone disagree with me and tell me why they thought I was wrong. Keep throwing them at me!
OTHER SURVIVOR CONTENT
Redmond's Episode 5 Recap at Yahoo TV
Episode 6 Press Photos
Episode 5 Edgic
---
Written by