I tried to do something fun for this week by asking all previously eliminated contestants their favorite non-aired moment to celebrate the merge, but nobody replied to me. 🙃 We'll try this again going into finale week.
Before I jump into looking at the previews for Episode 7, I wanted to check out the outcome of the predictions I made for the previous episode.
Previously on Survivor…
Last week's preview had me believing that Yawa was finally going to tribal council because they took center stage when it came to the preview. It literally only showed them. So it was exciting to finally see a preview that didn't make it obvious who was going to tribal. Unfortunately, we lost a player who became a fan favorite to a lot of people. I started watching this season thinking Ali had zero chance to win because I expected her to be one of those girls who does nothing around camp. But after watching her, I really enjoyed her this season, and I hope she comes back for a future Second Chance season.
As predicted, Cole passed out due to him not preparing physically for the game. He tweeted that he averaged an intake of roughly 8,000 calories a day before the game. During the game, you probably only get 400 calories. (1 serving of rice = 200 calories). So his body just shut down on him. He also tweeted that he didn't even remember stuttering after he fell down.
Officially Dateable
It's finally the merge! In the 20-second preview, we see Levu at camp before the merge announcement, and they are completely out of food. Imagine if Cole was a part of their tribe?
With the tribes finally merging it's always exciting to see who will get the numbers to take charge in the game. Looking at the remaining players, the original Healers alone still have five members. But the remaining Heroes and Hustlers have bonded a good bit since the swap, and if they decide to all work together, they would have the numbers advantage at seven members. Looking at the preview though, we see a scene where Ben is hammering the idea down to Mike that Cole is the biggest threat in the game. Then the preview skips to Joe talking to Cole saying that "he is going to flip on ya'll." He probably means that Mike is considering flipping. So coming into the merge, Mike has two ways he could move forward: with Ben and Lauren and their alliance or with the original Healers.
Joe and Mike both have idols. If Joe really feels threatened and can read Mike's face at tribal, he would probably play that idol for Cole. When it comes to Mike, I don't know whether he would play that idol for anyone else. Nobody knows that Joe has an idol either. I don't think both Joe and Mike will play an idol at this merge tribal because the preview would've probably ended with something along the lines of "…and it all comes down to a crazy tribal council that you don't want to miss!"
I think Joe will play his idol for Cole if it boils down to it, (and if Cole doesn't open his mouth to anyone), but I don't think Mike will play his idol for anyone this week.
Get to Gettin'
Looking more into the Next Time preview shown after the episode, Mike confronts Lauren to tell her "She's a huge threat." Who could he be talking about? Challenge-wise, Ashley could be a huge threat, but I don't think that is who Mike is talking about. Socially wise, there's Chrissy and Jessica who could be considered the huge threat. Considering that Cole is a target going into this episode, I think Mike is referring to Jessica since Cole and Jessica are a couple, and he may want to break them up.
Directly after this scene, Mike has a confessional saying "I expect a war." I really think Mike is going to flip to make a big move not realizing Joe has an idol.
"I analyzed JP" – Ben
If Cole is one target, who is the other? Why was JP's name randomly brought up while they were talking about Cole being the biggest target? JP is considered a pretty big target as well because he is great in challenges, but people like Ben and Chrissy have stressed that nobody ever knows where JP's head is at because he isn't social at all. That can become a liability. Going into tribal this week, I think it comes down to a bullfight, JP vs. Cole, the two most physical and worst players (socially) this season.
Do I think if Mike were to vote alongside JP, he would use the idol on him? No way.
I would be kinda surprised if JP were to become the second target. (In my opinion), social players can do a lot more damage then physical players can.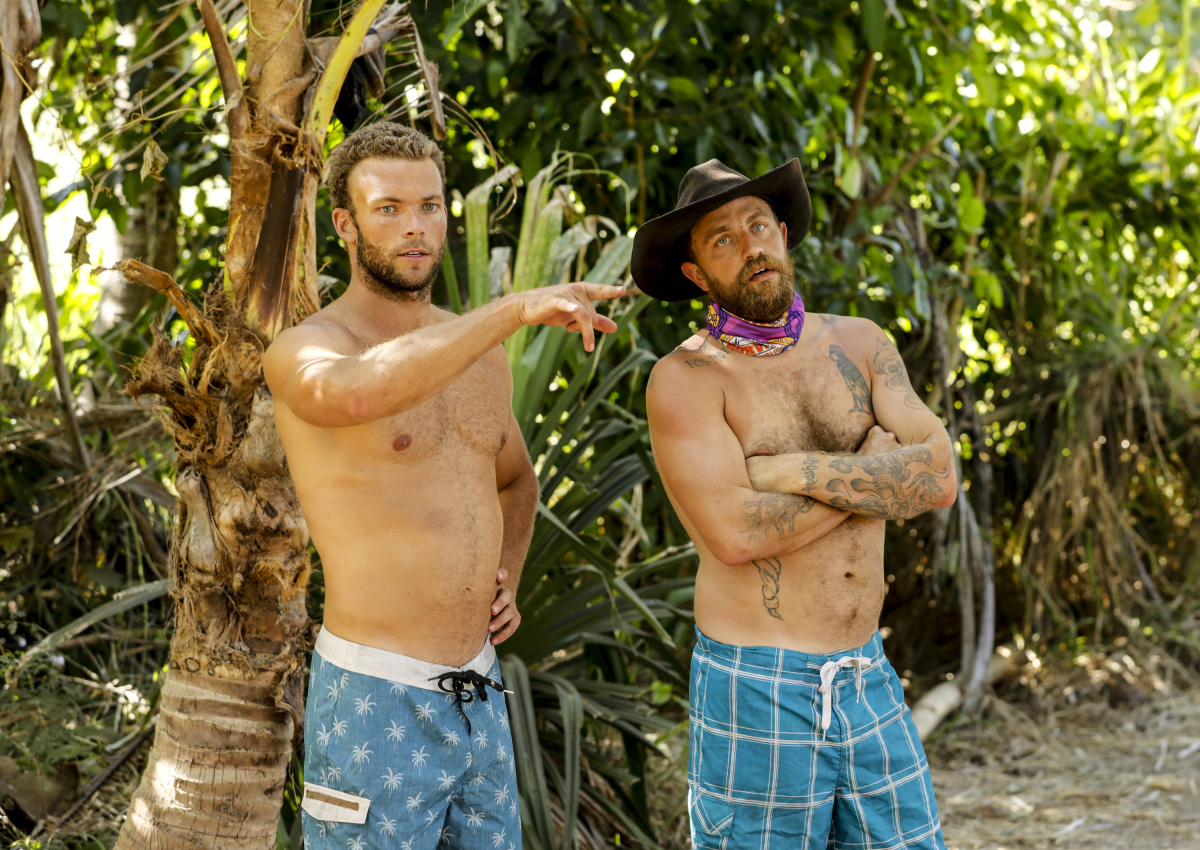 Predictions
Last week my predictions weren't too terrible, but I have room for improvement. Did I think Ryan would flip on Ali and send her home? Definitely not. I think it was a bad move for his game. I wonder how Devon and Lauren are going to react to seeing Ali gone?
Who will win immunity?
Looking at the challenge preview on YouTube, I think the biggest contenders to win will be Ashley, JP, Cole, Devon, Ben, and Joe. Considering Cole is the center of attention as the target in the preview, I think he loses. I'm gravitating over to thinking Devon may win this one. He's a surfer like Jay and does yoga like Joe. I think he has this challenge won.
Who's on the chopping block?
JP and Cole. Mike mentions a "she" to Lauren, so there's a possibility for a woman to be in trouble too, but the attention is set on Cole and JP.
Will an idol be played?
I really think Joe will play his idol to save Cole. He is extremely aware and can read peoples faces, and if he believes for one second that Mike voted Cole, he will probably play it for him.
Will an idol be found?
Looking at the merge feast, there's a random typewriter prop in the background behind JP, Cole, and Devon. Does anyone else think that a typewriter is a weird prop to have at an Outback Steakhouse feast? I expect a clue to be there, no doubt, and I think it may be written on that typewriter.

Winner Prediction After Episode 6
All aboard the Ben train, it's going to be a long ride! I'm kind of surprised that I'm still riding it. I like how the edit is being pretty open with a good number of remaining people who could potentially win.
Capping this off – I haven't forgotten about Lauren. I don't understand why everyone loves her. Someone (jokingly) told me to delete my Twitter account because I said I don't get her game. Do I think she's going to win? Not a chance. But I don't think she is going home this week. For once, I will say she is safe this week.
OTHER SURVIVOR CONTENT
Redmond's Episode 6 Recap at Yahoo TV
Episode 7 Press Photos
Episode 6 Edgic
---
Written by