With the season premiere of Survivor 45 heading our way next week, the Inside Survivor team got together to draft its teams and assess the (mostly) new crop of castaways about to battle it out for the $1 million prize and the title of Sole Survivor.
Taking turns in a snake draft, decided by random draw, the Inside Survivor contributors picked their winner candidates, big characters and personal favorites to assemble their teams. Read on to hear their first impressions and predictions for each castaway…
Get exclusive content and features by supporting Inside Survivor on Patreon.
CORY'S FIRST PICK
JAKE O'KANE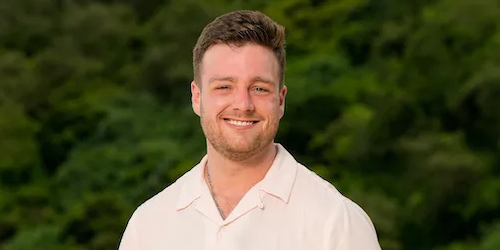 For the first pick of the draft, I have to go with Jake. Is it because he name-dropped Chris Daugherty of Survivor: Vanuatu fame as someone he's hoping to play like? Perhaps. Anyone wanting to emulate one of my favorite underrated winners gets many bonus points. But additionally, Jake just fits the mold of a player who absolutely kills it in the New Era.
An endearing larger-than-life personality? Check. Not threatening at first glance, but not giving any automatic goat energy? Check. He's just so disarming and fun, a guy you'd want to have a beer with even if you don't drink. That alone should take him a long ways in the game, but it's up to him to seal the deal.
But I still have reservations about Jake as a player. For one, if he's going to emulate Vanuatu's master bullshitter, he's playing the game on a tightrope. Lies go a long way, but the New Era casts have more so valued honesty and being upfront with your game when it's time to decide a winner. Even just sharing advantages with others has become commonplace, no matter how many people lose the game because of it.
So if Jake finds himself in a web of lies and gets busted at some point like most inexperienced players do, I'm curious to see where he'll go from there. Will he turn on that Boston charm and recover masterfully? Or will he weasel his way into a hot mess of a demise? I don't see much in between, but I'm betting on the former.
GIA'S FIRST PICK
BRUCE PERREAULT
It seems like just last season I was choosing Bruce for an Inside Survivor draft. That's right, Bruce is back, and so is my first pick for Season 45. He's the first returnee of the new era after his medical evacuation in 44 cut his game far too short.
At first, I thought it would be funny to just copy and paste my reasons for picking Bruce from last season, but his return is important to the greater context of 45. While Bruce never got the chance to play, it's hard to deny that the time he did have on 44 will impact his game in 45, for better and for worse.
Of course, all the original reasons I was excited for Bruce in 44 remain. His love for the game, his enthusiasm for trying new experiences, and his natural optimism are all factors that made him an obvious pick to return and, hopefully, an obvious pick for his tribemates to align with. Win or lose, I'm ecstatic that he is finally getting the chance to live out his dream.
ROB'S FIRST PICK
KENDRA MCQUARRIE
In season 43, Team Rob was LIVIN' with Cody, and this season we're WINGIN' IT with Kendra! After my first pick from Massachusetts was stolen from me (thanks Cory!), I had to pick my second-in-line player, who also just happens to be from Massachusetts. Kendra is a 30-year-old bartender originally from Massachusetts but now lives in Colorado. She describes herself as outgoing, determined, and enthusiastic, three great traits for someone wanting to do well on Survivor. All of these traits come across in her interviews as well.
She relates to former players like Amanda, Kim, and Michele, and I could see her playing a similar game to all three of those women. She has the athleticism that will carry her through the pre-merge and will be able to make the social bonds she needs with her fellow players. Unless she becomes a major threat, I could see her making it very deep into the game and even potentially coming out of the season $1M richer. I very much look forward to watching Kendra this season, and I have a feeling we'll be seeing a lot of her.
CHRISTINE'S FIRST PICK
BRANDON DONLON
Brandon is an internet friend of mine and was one of the first and most passionate supporters when I first started my Stanuatu podcast. Needless to say, I was stoked to see him on this cast, and even more stoked when he took the time to shout out Gia and me during his pre-season interviews in between his Mike White praise and digs at Joe Anglim.
First and foremost, this is a loyalty pick. I gotta pick my guy Brandon, especially after Carolyn was so brutally snatched out of my hands during last season's draft. Even if this is primarily a "hey, this person I know made it on Survivor!" choice, I have high hopes that Brandon will kill it this season. He's an incredibly engaging and enthusiastic person, with a quick wit to boot. He's someone on this cast that I could see forming a bond with just about anyone, regardless of background. I think he can charm his way through the early game with his sense of humor and make some genuine connections along the way.
Brandon is a superfan, which is both a blessing and a curse. He knows this game inside and out, and he's been applying since before he was even eligible to play. In terms of the game and strategy, he's one of the most well-prepared players out there. On the other hand, though, I imagine it will be hard for him to downplay his superfan status, which might make him more of a threat or more likely to be perceived as a "gamer" by his tribemates. He shouldn't hide his superfan-ness by any means, but he'll want to keep that potential perception in mind when approaching strategy talks. Brandon's best bet is to find a level-headed ride-or-die who can balance his admittedly anxious nature to help him dominate this crazy game he's dreamed about for so long.
MARTIN'S FIRST PICK
KATURAH TOPPS
First of all, what a fantastic name. That's the name of a winner right there. But seriously, I have high hopes for Katurah. Based on her pre-game interview with Parade's Mike Bloom, she comes off as very personable and down-to-earth. It should be easy for her to quickly make friends and allies on the beach.
Her career as a civil rights lawyer shows the kind of drive and determination that it takes to do well on Survivor. But I also like that she said she's doing the show for herself. She dedicates her life to helping others, so Survivor is her chance to let loose and have some fun. And that attitude could really serve her well in such a high-pressure game.
If there are any reservations, it could be her desire to play a cautious game. Her reasoning is totally understandable; as she pointed out herself, the only two-time first boot was also a Black female lawyer (Francesca Hogi). She doesn't want to repeat history. So, playing cautious early on and focusing on building bonds at camp is smart; I just hope she doesn't play too much of a safe game that her efforts won't be appreciated in the end.
STEPH'S FIRST PICK
KALEB GEBREWOLD
It was the colourful pants in his cast photo, and the answer of "golden retriever" when asked for words to describe himself, that led me to choose Kaleb as my first pick this season. You can just tell that the 29-year-old is going to be a fun presence by how excited he is and the way he (over-)shares about his life. He's confident in his street smarts, a hustler from a young age, and very well-travelled, having lived in 27 countries.
I'm always in awe of those who can uproot themselves for a new adventure, especially those who jump at the opportunity while working remotely. These experiences on the ground and starting fresh will come in handy for his social game, meeting people from different walks of life. On top of these skills, Kaleb also seems to be rather scrappy, hungry, and daring, which are definitely useful traits to have on Survivor.
I'm not too sure about his strategy to win going into Season 45, but sometimes, thinking less and responding well is the way to go. My sense is that this season is saturated with superfans who have overanalysed the game from tons of angles. Someone like Kaleb, who seems more reliant on his charisma and adaptability, may be able to pull through. I'll be rooting for him if he's able to balance his confidence and not rub people off the wrong way with his strong personality.
STEPH'S SECOND PICK
J. MAYA
My second pick for Season 45 is J. Maya, the 24-year-old singer-songwriter and social media content creator. Tiktok's a wild, wild place, and achieving her success on that platform tells me she's going to be an interesting character to watch this season. J. Maya shared that she turned down early admission to Harvard Law school to pursue a music career—I'm just anticipating this turning into a backstory cut scene about taking risks and going off the beaten path.
Cheese aside, the story does reveal a bold, enterprising attitude that sets her apart from the average young player. From her pre-season press answers, J. Maya sounds like she has a good grasp of Survivor or at least knows the basic theory of what it takes to win the game. I'm curious to see how she translates the ideas swimming in her head to her interactions with everyone else. My guess is that her biggest challenge will be getting the buy-ins from her fellow tribemates. Nonetheless, I'm excited to watch J. Maya on Season 45!
MARTIN'S SECOND PICK
DEE VALLADARES
There are a few similarities between Dee and my first pick, Katurah. Another killer name. They both started watching the show in 2020 and went on a binge-watch. And both intend to play cautious early on, choosing not to go on any potential trip to Summit Island. It will be interesting to see if their approaches take them both far or if it'll work out better for one more than the other.
What I like about Dee is that she is made for the environment of Survivor. As she said in her Parade interview, she is from Miami, so she's used to the beaches, the ocean, hot weather, palm trees, etc. But she also recognizes the perceptions of the "prissy" Miami girl, and breaking those preconceived notions could play in her favor. She has no qualms about getting dirty, making fire, and pushing herself in the challenges. If she can prove to be an asset to the tribe, she could become a valuable person to keep around.
The image she needs to shake is that of the salesperson. She recognizes this and has said she won't mention sales directly, simply telling the others she owns a backpack company. I'm not usually an advocate for lying about your job on Survivor, as it often adds unnecessary confusion to keep track of. But after what we saw on Survivor 43 with Justine Brennan, it's probably a good idea for Dee to avoid the "salesperson" tag.
CHRISTINE'S SECOND PICK
KELLIE NALBANDANIAN
In her intro video, Kellie commented that she couldn't believe a lesbian has never won Survivor. First of all, girl, same! Second of all, based on her pre-season press, Kellie could very easily be the first one to take the crown. The critical care nurse is no stranger to Fiji–she was an on-location alternate for Survivor 43 but ultimately had to wait another year for her big chance to play the game. This might give her a slight advantage over her competitors (sans Bruce). She's already been there, done that, to a certain extent, so hopefully that experience will help her keep a cool head as the game starts.
Kellie evokes Parvati as one of the players she wants to play like. She jokes about the "flirting" aspect of Parvati's game, but she also draws attention to Micronesia winner's ability to "be that person people feel drawn towards." Kellie says that in her own life, she feels like people are drawn to her not because of charisma but because she makes them "feel seen and heard." This really jumped out to me because I've always felt that one of the biggest strengths you can bring to Survivor is making people come to you with plans and ideas. Being that kind of person allows you to play a less obvious strategic game while still being "in the loop" and calling the shots.
If Kellie can channel that energy to stay under the radar while using the emotional intelligence she's gained through nursing to navigate the complexities of the game, she's a real contender to finally take home the win for the lesbians.
ROB'S SECOND PICK
NICHOLAS "SIFU" ALSUP
My second pick, and a steal if you ask me, is Nicholas "Sifu" Alsup, a 30-year-old Gym owner from Illinois. He radiates such good and positive energy, and from the pre-season press, it seems like the other players in his cast can see that as well. Sifu is outgoing, loving, and empowering, and he's been in martial arts since he was six. He says that he will also be adaptable, which is a big thing that needs to be a part of your arsenal in Survivor, especially in the new era where twists and advantages are given out like a game of Mario Party.
Sifu is super athletic but also a nerd, so he will probably be able to get on well with anybody he comes across. I can see him easily getting into alliances with other players and being a shot-caller when he needs to. All of Sifu's training in martial arts will be a huge help in the game as it is all about self-discipline, balance, and being in touch with yourself and your surroundings. He said that Tony is his favorite player and would like to emulate his way of playing, which is always appreciated as Tony is a fantastic character to watch. All in all, I think Sifu has what it takes to go far this season.
GIA'S SECOND PICK
AUSTIN LI COON
Everything about Austin screams a fan favorite in the making, and I'm so excited to see where this journey takes him. He emphasizes his adaptability and dedication to personal growth, which will definitely come in handy as he's looking for allies. However, it's clear that he had a competitive streak that could potentially maximize his threat level, especially if he makes it to the later stages of the game.
I can speculate all I want, but it doesn't deter me from all of Austin's positive qualities that led me to drafting him. As a former introvert turned extrovert myself, I can't help but feel drawn to his story and his perseverance at all stages in his life. Plus, I, too, hate banana-flavored candy and waste, so this just makes sense to me that he's a winner in the making.
CORY'S SECOND PICK
SEAN EDWARDS
So, prior to the actual cast reveal, back when all we had to work with were names and faces, I actually didn't think much of Sean. He seemed like a nice guy, but I could not get a solid read on him whatsoever. But reading and watching his interviews, I was blown away… for better or worse. But let's start with the better: he's a big personality and a very positive one too. The amount of joy he gave in his video interviews was infectious. I can easily see him charming his tribe in a similar fashion as their beacon of positivity and perhaps a de facto leader as someone used to dealing with a bunch of crazy kids. He's lived a life full of experiences and has a strong sense of self, and sometimes, that confidence is all a player needs to perform well.
But where I can see Sean going off the rails is if his personality is too much to handle. For as positive as he comes across, he can feel a bit intense, too. It shouldn't be an issue on a tribe like Lulu where there are somehow three other people even more intense than him (easy allies, perhaps?). But if he finds himself around more laid-back or introverted players and becomes an outlier, I could see him being an easy target. But as the oldest person in his tribe with a job all about leadership, I think he's got a lot of potential if he can build those early connections.
CORY'S FINAL PICK
SABIYAH BRODERICK
The minute I saw her occupation listed as "truck driver," I was a fan. We don't see enough badass blue-collar women on this show, so in the spirit of Sue Hawk, Twila Tanner, Lauren Rimmer, and many others who fell short of the money, I hope Sabiyah can take it home. But I'm a bit worried when it comes to her potential as a player in this particular cast. Even though she's young enough to fit with this group, she's in a cast stuffed to the brim with white-collar nerds she might have little in common with outside of loving Survivor. It could be very easy for her tribe to look around in a panic, see Sabiyah as the one person who doesn't fit in, and make her an easy first out to keep it simple.
But I have faith in Sabiyah's southern charm to save the day. Watching her interviews, I felt this magnetic energy from her. She's so easy to love after just a few seconds of hearing her talk, and it's the norm for the lovable southern player to be both gravitated to and underestimated by their competition for most of the game.
She's got the physical capabilities to survive, thanks to her history with the military, and her social game should be on point. So all that's left is whether or not she's got the killer strategic instinct to get to the end and win the money… and whether her presence in the endgame would be too threatening for her own good. You probably get cooked if you sit next to Sabiyah in the finals. And I think people are going to realize that early on.
GIA'S FINAL PICK
BRANDO MEYER
Brando owns the fact that he's going to be perceived as the stereotypical nerd (and to be fair, he has 44 seasons of Survivor to back this up). But Brando is far more of a class clown than a bookworm and plans to be the lovable liar every season needs.
That being said, Brando is a Survivor superfan and is planning his game accordingly. He wants an ally that makes up for his shortcomings but also someone that he'd be proud to see win in the event that he's betrayed. This last part scares me a little, as I'm worried that this could cloud his judgment within this era of epic betrayals. Then again, who's to say that Brando will be the one blindsided? If his instincts are as sharp as he says, he might just be the one stamping everyone else's tickets home.
ROB'S FINAL PICK
EMILY FLIPPEN
My final pick is Emily Flippen (and the best last name award goes to….). She's a 28-year-old Investment Analyst from Maryland, and she makes quite an impression in her pre-season press. Emily is the type of Survivor player who will either go very far in the game or crash and burn super early. She says she's direct, genuine, and aggressive, which are traits that I personally appreciate in a person, but I know isn't everyone's cup of tea. She also fully admits that she's not well equipped for the survival aspect of the show, which, to be fair, haven't really been a focal point of the show (firemaking aside) for a while now, so I don't see it being a huge issue for her. If anything, she'll be able to learn the things that she needs to while she's on the island.
She said she relates a lot to Kass, and I can totally see that comparison as Kass was that same type of person. I will say I absolutely LOVED that her reason for applying for Survivor was that she finished season 43 and was angry that Gabler won. SAME. I'm worried for her a bit because if she does play the game like Kass did, she could have a hard time ingratiating herself into her tribe and could be seen as a "villain". However, if she's able to bring out her fun, kooky side that comes across in her answers and video interviews, I could see her being a great addition to the Lulu tribe. And a final note: I have to root for the girl who rightfully recognizes that Sandra is the queen of Survivor.
CHRISTINE'S FINAL PICK
JULIE ALLEY
How can I not draft the single mom on a tribe named "Reba?!" It was just too perfect to pass up. In all seriousness, though, Julie is a real dark horse contender for a deep run into the game. She has a lot of life experience under her belt, having pursued two very different career paths and gone through some personal hardships. This is a very young cast aside from Julie and Bruce, and on paper, that might seemingly put the Tennessee attorney at a major disadvantage when it comes to establishing critical early relationships, given that she's nearly two decades older than her next-oldest tribemate.
When our starting tribes are this small, that potential disconnect could spell danger for her game. But Julie's energy, positivity, and sense of humor could be enough to help her get a foothold on her tribe if she plays her cards right. If she makes it to the merge, her age could be a real advantage if it means her competitors will underestimate her ability to play the game.
I generally think it's a bad idea for players to lie about their professions (people almost always figure it out), but in Julie's case, I think she could pull it off, and it would be beneficial for her to do so. The "older mom" vibe should hopefully disarm her competitors and make her appear less of a strategic threat, but the "lawyer" job title might have the opposite effect. I think it'd be in Julie's best interest to play up Sweet Southern Mom as much as possible and keep her late-in-life career change under wraps. Here's hoping she has the gentle hands AND the heart of a fighter needed to become the Sole Survivor!
MARTIN'S FINAL PICK
HANNAH ROSE
I'm excited to have Hannah on my draft team. She has tons of personality that will bounce off the screen. But I do have some worries. I see Hannah as one of those players who will either flame out bright and early or make it all the way to the finale. There is no in-between.
The reason I say this is because her pre-game interviews are completely unfiltered in the best way possible. But while this is sure to be entertaining TV, I'm concerned that she could rub her tribemates the wrong way, especially if she's with more lowkey personalities. I also worry about how she'll handle the elements, as she was already talking about the shock to her system in pre-game.
That said, if Hannah can find like-minded folk in the way that Carolyn found Yam Yam, for example, she could make a deep run. It will all depend on how she meshes with her tribemates in those first few days. Also, her story of getting sober shows she has a strong mindset to accomplish difficult goals, so I certainly wouldn't count her out.
STEPH'S FINAL PICK
DREW BASILE
I was left with Drew as my final pick. Honestly, prior to this draft, I hadn't looked at the Season 45 cast that intently, so I was very open to any player that remained. From looks, experience, and everything on paper, Drew was definitely cast as the nerd archetype we've seen before, a staple in the mix of players on plenty of seasons. And from pre-season interviews, he's really not overturning any expectations or changing any impressions that we would have gotten from his character archetype.
The 22-year-old English and Philosophy grad student plays Scrabble and participates in national trivia competitions—these are the model answers summing up the experiences of a stock nerd narrative. However, Drew is at least very aware that this will be how people will view him, and I hope he plays it to his advantage.
In terms of his chances in the game, I'm concerned that his lack of experience (most of his experience and accomplishments are related to school, a safe and contained space) will hinder him from succeeding. He needs to be careful not to overthink strategy and immobile himself from adapting socially to the other players. I can't say I'm too thrilled to have yet another geeky young guy on Survivor, but here's hoping Drew brings some fun moments to Season 45.
---
Written by