As previously revealed by Inside Survivor, two legendary Survivor castaways will be taking part in the upcoming reality game show, The Traitors, which is set to premiere on Peacock on January 12.
Cirie Fields and Stephenie LaGrossa-Kendrick are among the 20-person cast, which Peacock officially unveiled today, Wednesday, December 7. The former Survivor: Heroes vs. Villains tribemates are two of ten ex-reality stars who will participate in the show alongside ten regular everyday American citizens.
The show, hosted by actor Alan Cummings, sees the 20 contestants move into a castle, where they must work as a team to complete a series of missions to earn money for the prize pot. The twist? Three of the contestants are secretly playing as "traitors," who will deceive and manipulate their way to the prize by "killing off" the "faithful" players.
In addition to Cirie and Stephenie, the reality stars taking part in the competition are Big Brother alum Rachel Reilly and Cody Calafiore, The Bachelor's Arie Luyendyk Jr., Real Housewives star Brandi Glanville, Below Deck's Kate Chastain, Summer House's Kyle Cooke (Summer House), Shahs of Sunset's Reza Farahan, and Olympian and Dancing With The Stars alum, Ryan Lochte.
"Studio Lambert has truly captured lightning in a bottle with our latest competition series The Traitors. We can't wait for Peacock audiences to experience and play along in this epic game of manipulation and deceit, all while the iconic Alan Cumming pulls the strings of our incredible cast to create the ultimate 'whodunit'," said Corie Henson, EVP Entertainment Unscripted Content, NBCUniversal.
Check out the full cast below.
Cirie Fields
Occupation: Nurse and Reality TV Personality
Current City: Jersey City, NJ
Cirie Fields is a mother of 3, a nurse and reality TV personality. She is a fan favorite 4 time "Survivor" legend having competed on Panama, Micronesia, Heroes vs. Villains, and Game Changers. Cirie also appeared on "Snake in the Grass", "Guiding Light", and the "Price Is Right"
Stephenie LaGrossa
Occupation: Reality TV Personality
Current City: Dunedin, FL
Stephenie LaGrossa is best known as a 3 time "Survivor" star having played in Palau, Guatemala, and Heroes vs. Villains. She is considered one of the strongest and most popular female players to ever play the game. She also appeared in "Snake in the Grass" as the snake and "Guiding Light". She is married to former Philadelphia Phillies pitcher, Kyle Kendrick.
Brandi Glanville
Occupation: Reality TV Personality
Current City: Beverly Hills, CA
Brandi is most widely known for her role on Bravo TV's "The Real Housewives of Beverly Hills". She decided to expand into the podcast space with "What Else but Brandi Glanville Unfiltered" entering its 13th year. Since leaving Bravo's hit reality show, Brandi has gone on to appear in 13 other reality shows including "Celebrity Apprentice", "Celebrity Big Brother" both in the US and the UK, "My Kitchen Rules", and E's "Famously Single" to name a few. Currently, Brandi is starring on Bravo's "Ultimate Girls Trip" and recently released her first song. Brandi is a two time New York Times best selling author for her books "Drinking & Tweeting & Other Brandi Blunders" and "Drinking & Dating P.S Social Media is Ruining Romance". She has two sons and enjoys cooking, dancing, and pilates.
Arie Luyendyk Jr.
Occupation: Reality TV Personality and Real Estate Agent
Current City: Scottsdale, AZ
Arie Luyendyk Jr. is a reality television personality, luxury real estate agent, and former professional racecar driver. As the son of a two-time Indianapolis 500 champion, Arie began racing at a young age and first competed in the Indianapolis 500 in 2006. He was annually voted the "Most Popular Driver" and later served as a broadcast analyst for the NBC Sports Network. He appeared on FOX's "Hell's Kitchen", was the first runner-up ABC's "The Bachelorette" in 2012 and led season 22 of "The Bachelor" franchise in 2018 where he met his wife Lauren Luyendyk. Arie and Lauren currently reside in Scottsdale, Arizona and have three children. Arie also appeared on "The Bachelor: Winter Games", "The Bachelor Presents: Listen to Your Heart", and HGTV's "House Hunters."
Cody Calafiore
Occupation: Reality TV Personality and Actor
Current City: New York, NY
Born and raised in New Jersey, Cody Calafiore is an actor and reality TV personality making his debut on "Big Brother" season 16 making it to the final two. He later appeared on "Big Brother All Stars" in 2020 and won the season. His film credits include Joy & Hope and The Maltese Holiday on Amazon Prime Video.
Kate Chastain
Occupation: Reality TV Personality
Current City: Fort Lauderdale, FL
Kate Chastain, a Florida native, who is well-known and beloved for her role as Chief Stew on Bravo's "Below Deck," has jumped ship and retired from yachtie life after six seasons as a star and fan favorite on the show. Along with expanding her impressive career over international waters and being a Bravo household name, Kate is a celebrated author, philanthropist, podcaster, radio show host, and dog mom. Kate has also starred in Bravo's "Chat Room" and "Galley Talk".
Kyle Cooke
Occupation: Reality TV Personality and Entrepreneur
Current City: New York City
Kyle Cooke,entrepreneur and cast member of Bravo's hit reality series "Summer House" and "Winter House" is the founder of Loverboy, the premium adult beverage brand known for high-quality, low-calorie sparkling hard teas and canned cocktails. Since getting his MBA from Babson College, Cooke has founded a number of startups across industry sectors, all designed to complement a wellness-focused lifestyle and a work-hard-play-hard mindset.
Rachel Reilly
Occupation: Reality TV Personality and Actress
Current City: Birmingham, AL
Rachel Reilly is known as the reality TV competition queen, winning three reality shows: "Big Brother", "Fear Factor", and USA/Peacock's "Snake in the Grass". Reilly is a TV host, actress, fashion designer, and content creator. She is best known for being on reality television but has also been in numerous award-winning scripted television and movie productions.
Reza Farahan
Occupation: Reality TV Personality and Real Estate Agent
Current City: Los Angeles, CA
Born in Tehran, Iran and raised in Beverly Hills, CA, Reza Farahan is best known for his role on Bravo's Shahs of Sunset, appeared frequently on Watch What Happens Live with Andy Cohen, and had a role in the cult classic franchise Sharknado 3. Reza is a prominent player in the Los Angeles real estate world, representing clients from the movie industry, star athletes and Middle Eastern royalty. He is the creator of genderless luxury hair care line 'Reza Be Obsessed' and resides with his husband in Beverly Hills with their 4 cats and dog.
Ryan Lochte
Occupation: Olympic Swimmer
Current City: Gainesville, FL
Ryan Lochte is a 12-time Olympic medalist (including five Gold, three Silver, and three Bronze). His seven individual Olympic medals are second all-time in Men's Swimming and he is the current world record holder in the 200 individual medley. Ryan is a University of Florida alumni and was a two-time NCAA Swimmer of the Year, 24-time NCAA All-American, and 7-time NCAA Champion as a Gator. He currently resides in Gainesville with his wife, Kayla, and their two children.
Shelbe Rodriguez
Occupation: Public Affairs Manager
Current City: Beaumont, TX
Hailing from Houston, Shelbe is a 31-year-old public affairs manager and the mom of a sassy five year old. Blessed (or maybe cursed) with the gift of gab, she describes herself as a straight shooter, but it wasn't until after her divorce from her high school sweetheart that she truly found her voice. Now, this fiery Texan is living out loud and is up for any adventure that comes her way.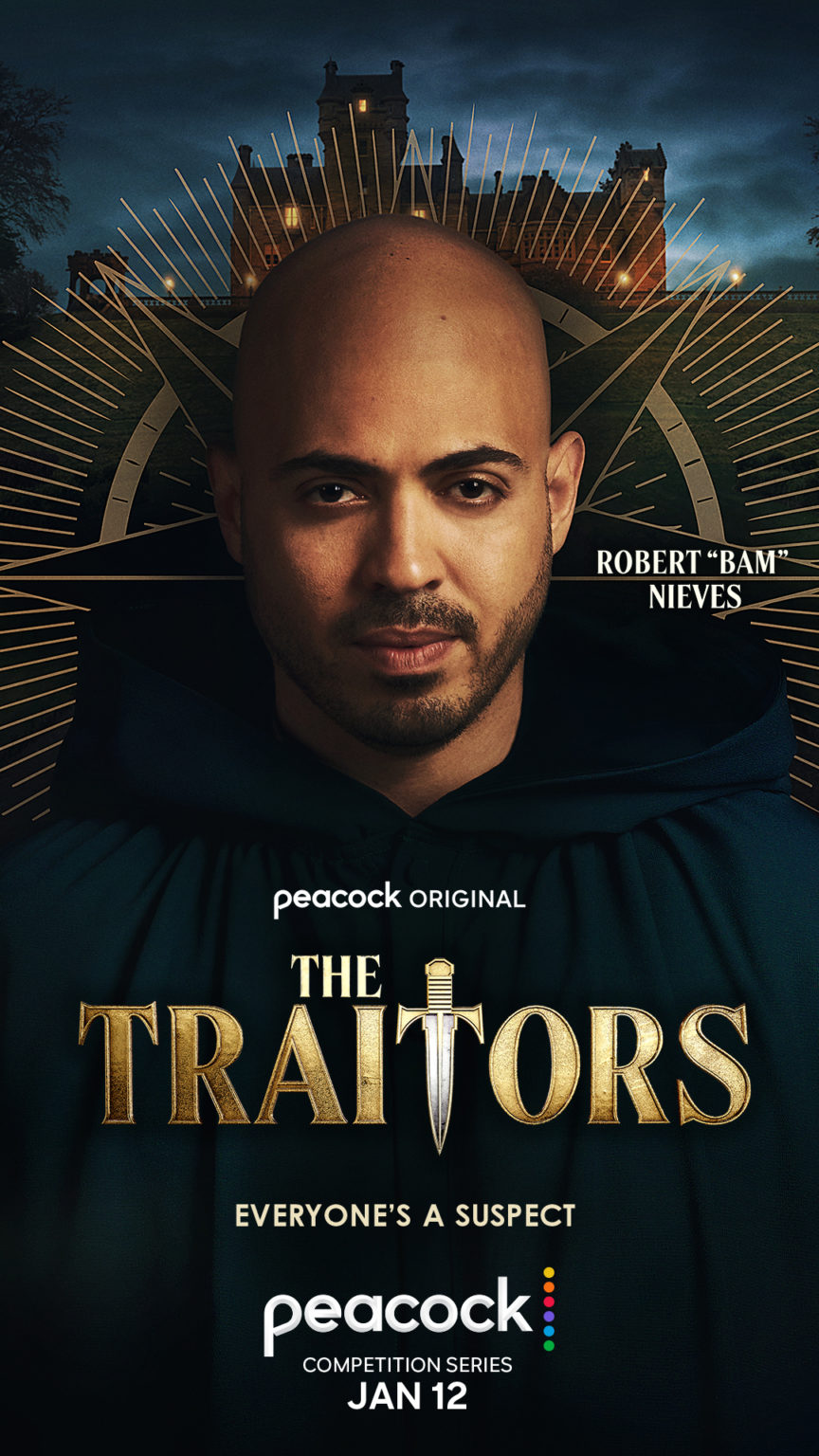 Bam
Occupation: Tech Sales Executive
Current City: Rye, NY
Bam is from a proud Puerto Rican family with three siblings and 12 nieces and nephews. He is a former Syracuse University football player and works as a Tech Sales Executive. This recently engaged social butterfly is an adrenaline junky, enjoying skydiving over volcanoes in Hawaii, scuba diving with the army in the deep sea, and swimming with sharks in the Pacific. There's nothing he wouldn't try at least once!
Quentin R. Jiles
Occupation: Political Analyst
Current City: Houston, TX
Quentin R. Jiles is a charismatic political analyst who has been featured on NBC LX, Black News Channel, TV1's Sister Circle Live, and CBS Affiliate WUSA9's Great Day Washington. His mission is to engage Gen Z and Millennials in the American political process by disseminating information in a fun, entertaining, and relatable way. Thus he created, writes, produces, and stars in the podcast "The Queue with Que." By trade Quentin is a Master Social Worker and has decided to use his degrees in an unconventional way by entering into politics, authorship and illuminating cultural topics that impact us all. Quentin is married and is a proud girl dad!
Michael Davidson
Occupation: DMV Office Manager
Current City: Oneida, KY
Kentucky local Michael Davidson is a single dad with three kids. He has an Australian shepherd and loves hiking, rock climbing, people watching, cooking, traveling, and more. He is a cheer dad and enjoys reality TV or horror movies. As a big advocate for mental health, Michael is active in his church and serves on the hospitality team, helping host community events and outreach ministries.
Geraldine Moreno
Occupation: Actress
Current City: North Hollywood, CA
From the city of angels, Señorita Mexicana Geraldine Moreno is a Latina internet personality star, actress, and social media content creator who considers herself made of hot sauce. Animated, spontaneous, smart, high energy (even without coffee, which she's never had), and extremely competitive, Geraldine is first generation and the oldest of two sisters, graduating with a bachelor's degree in business marketing and management. Geraldine enjoys hiking and dancing during her free time.
Christian De La Torre
Occupation: Veteran
Current City: Los Angeles, CA
Christian De La Torre is an adventure enthusiast, actor, public speaker, and retired Army veteran. After his time in the military, Christian hit the road documenting his travels from hiking the Italian coast to backcountry camping through the U.S. National Parks. Pursuing the life of an explorer, he spends days off-the-grid in remote locations to enrich his connection and appreciation for nature while sharing his journey through his photography and social media. Christian's curiosity and ambition to learn make him a natural socialite, earning him deep connections with anyone he meets on his journeys. As an avid rock climber, hiker, runner, actor and van-lifer, Christian now spends most of the year balancing his acting career and traveling.
Azra Valani
Occupation: Yoga Instructor
Current City: Los Angeles, CA
Azra Valani, who was born in Kenya, raised in Toronto, Canada, now resides in Los Angeles as a yoga instructor and dog mom. This introverted 5"2 vegetarian does magic tricks and taught herself how to code Python. Azra graduated with a degree in applied economics and a minor in women studies and was a finalist for Miss World Canada. Her lifelong dream is to teach yoga at homeless shelters because she believes everyone should have access to yoga without unreasonable costs.
Anjelica Conti
Occupation: Hair Stylist
Current City: Staten Island, NY
Born and raised in Staten Island, Anjelica Conti is a hairstylist from a big Italian family and considers herself dramatic in the best of ways. She wears her heart on her sleeve and her emotional stability allows her to not only form deep connections with friends and family, but to spot a lie through social queues. She is engaged and set to have her wedding in Jamaica this upcoming year.
Andie Vanacore (Thurmond)
Occupation: Director of Music Services
Current City: Reno, Nevada
Raining from Racine, Wisconsin, Andie Vanacore is trans non-binary and lives on a ranch in Reno as a Director of Music Services with their wife Jess. They have a 4 month old baby girl named Milo and they have a degree in history. As a previous college athlete with the competitive nature to win, Andie's biggest passions are music, farming, and fashion.
Amanda Clark
Occupation: Emergency Room Nurse
Current City: Carlisle, PA
Amanda Clark works as an emergency room nurse with a specialty in emergency medicine and has been working on the front lines during the pandemic. In addition to spending time with her husband and three dogs, she loves solving puzzles, murder mysteries, escape rooms, mazes, and more. Amanda and her husband are currently renovating a farm property with the hopes of homesteading. Her next big plan in life is to have children.
---
Written by