Sometimes, I forget that the entire fanbase for Survivor isn't people that listen to podcasts, analyze the edit, and count confessionals. I don't have any legitimate data in front of me, but I'm fairly confident in saying that a significant amount of Survivor's viewership are "casuals."
I use the term "casual" as someone who watches Survivor and doesn't think about it during the other 167 hours in the week. As our fearless leader, Martin Holmes, describes: "Casuals are the ones that have a healthy relationship with the show and don't remember the color of the merge buff in Thailand." Casuals are great. Without them, Survivor wouldn't still be on the air. They make up a huge portion of Survivor's viewership.
Then there are hardcore casuals. Again, to quote Martin, "[Hardcore casuals] can't even remember the title of last season, but can remember Russell and Ozzy…and always will." Personally, I like to imagine hardcore casuals having wallet-sized pictures of Joe Anglim and writing "Mrs. Boston Rob" in all of their notebooks.
This feature is dedicated to the Thursday morning castaway: the hardcore casual. Casual Corner will provide a round-up of the best (and by best, we mean worst) comments from the Survivor Facebook page, the mecca for hilarious comments. Stay tuned every week to see how hardcore casuals cope with losing their favorite castaway, gripe about challenges, and oh, so much more.
Foray into Facebook…
Are you kidding me? If I had the chance to align with FLOTUS Michelle Obama, I'd take a Final 2 deal in a heartbeat.
I'm not going to touch the "meat" of this one with a ten-foot pole. Yes, that entire phrase was meant to rustle some feathers. I'm just going to sit back and imagine a world where we tune in every Wednesday night for a show titled, "Cohabitation."
Speaking of "Rustle"…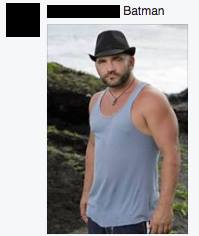 Russell is the Batman? Didn't see that one coming.
[Batman voice] WHERE'S RACHEL?
"Uh, Hantz, she's on the pre-jury trip."
Too soon Hantz…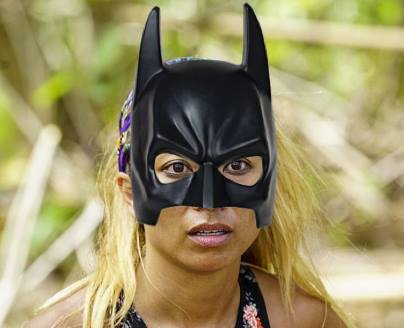 Petition to rename the "Triforce," "Hotties 'R Us," and the "Misfits," "Uglies 'R Them."
Take note, this mother of four might not watch due to the lack of man meat. Fear not, she'll love Game Changers. P.S. As a straight man, I'm comfortable with my sexuality enough to ask this woman: How in the hell do you not find male model Ken a "hunky looking stud"? He can get it.
Clearly, someone has watched a certain Two and a Half Men episode one too many times.

Sia, is that you? (Note: this is not Sia)
This person must be a Gen Xer; those kids with their loud music! But don't worry, we'll register your complaint with the local authority (Jeff) and let him know about this. Vanacore, it's been a fun ride.
Who is Angela?!
And lastly…
Your wish is my command – Joe "Game Changer" Del Campo now confirmed for Season 34. Oh, wait, wrong Joe?
Join us next week for more Casual Corner!
---
Written by