With the recent influx of new blood into MTV's The Challenge, we've seen reality stars from all kinds of shows popping up on the popular competition series. One of those shows is, of course, Survivor. The Challenge is currently in the middle of filming its 37th season and early reports indicate that at least three Survivor US players will be taking part.
Sadly, we've yet to see things go the other way. Sure, we've seen Big Brother players like Hayden Moss and Caleb Reynolds jump over to play Survivor, but no Challenge star has made the crossover yet. That said, there are several players that could perform in the brand-new environment. Let's take a look at eight of the best crossover options available. Of course, it's important to keep in mind that Survivor is a TV show as much as it's a competition. So, this list will try to incorporate all aspects of that in hopes of making the most compelling show possible.
Honorable Mentions: Look, there have been a lot of players on The Challenge over the years. Today, we're only talking about eight of them. That cuts out tons of top-tier competitors and captivating personalities. Unfortunately, that means we won't be talking about players like Johnny Bananas, Laurel Stucky, or Leroy Garrett. Nor will you see confessional stars like Jasmine Reynaud, Jemmeye Carroll, or Kyle Christie.
With that out of the way, here are the eight Challenge competitors I think would make for entertaining Survivor players…
Nelson Thomas
I say this with all the love in my heart, but Nelly T might be the dumbest person to ever play The Challenge. It's safe to say that he's not going to be a strategic mastermind if he makes the crossover to Survivor. However, Nelson does bring one thing that so many Challengers lack: loyalty.
Time and again, Nelson has proven that he's going to ride for his crew even if it means he has to exit the game early. Seeing that kind of selfless gameplay in Survivor is rare in modern seasons, and it makes you wonder how well Nelson's style of gameplay would translate. Can he use his mixture of physical ability and charm to bring together a solid alliance? Or will he be used by a savvier player?
Devyn Simone
Devyn isn't winning Survivor if she makes the jump. In fact, it's hard to imagine her even surviving on the beaches of Fiji. That said, for whatever time she is there, expect absolute hilarity.
Devyn is one of the best confessionals in the history of the show. She's consistently funny, whether coming after her opponents or going the self-deprecating route. Plus, she always has a fun spin when narrating the gameplay. As a threat, she's essentially a zero, but she's going to shine on your screen while she's around.
Cohutta Grindstaff
This might be the most obvious inclusion on this whole list. The good ole boy from Georgia was undersized next to some of the juiced-up giants from The Challenge's middle season; however, he consistently proved he belonged physically.
And since stepping away from the show after Battle of the Bloodlines (though he was an All Stars alternate), he's taken his skills to the world of home-building. Like Wendell Holland, Cohutta is going to stick around just because he can build his island mates an actual house out of essentially nothing.
Nany Gonzalez
We had to bring some of that Challenge drama over. Nany has chilled out a bit over the years, but when things get heated, expect to see her fiery personality come to life quickly. She's the perfect person to spice things up in the middle of a Survivor season with some well-timed drama.
And, it's not like she's completely lost competitively. Her elimination record isn't great, but she does well enough in team competitions. Expect that to carry her to the merge before she blows up on someone and tanks her game.
Wes Bergmann
If this list was made in 2013, Wes would be the first pick. Coming off of his win in Rivals II, Wes was at the height of his powers. He was still one of the dominant physical threats in the game and his eye for strategy was so much sharper than most Challenge players it was almost laughable.
Wes has an uncanny knack for manipulating players. He excels at weaseling his way into alliances, especially with new players. Putting that ability into a situation where every player is technically new could be deadly. That said, as he's aged, he's started to see the game as a television producer. That makes for excellent TV but could hamstring his actual game.
Da'Vonne Rogers
Joining Natalie Anderson (The Amazing Race, Survivor, The Challenge) as one of the few reality stars to appear across multiple competition shows is Da'Vonne. While she struggled at times to get her feet under her in Big Brother, Da'Vonne has proven herself in her limited time in the Challenge house.
Not only has she shown how savvy her political game is, but she owns a 5-2 elimination record. In fact, she was a bad purge away from running the final back at War of the Worlds. On top of all this, she might have the best confessionals in the business. I can only imagine how juicy hers would be if she gets deep into the season.
Chris "CT" Tamburello
It's hard to talk about The Challenge and not mention CT. The super vet started his career as the most-feared competitor on the show. However, his hot head either got him kicked off of seasons for fighting or hurt him in key eliminations.
Unfortunately for all of the other competitors, CT has mostly left those old ways behind since picking up his first win in Rivals II. Since then, he's, at worst, been a major factor in every season he's appeared on and won five seasons (counting spin-offs). So, while he might not be the physical specimen he was in his 20s, dad-bod CT has proven to only get better with age. His chilled-out approach to gameplay could translate well to Survivor.
He should be able to ride a solid physical game to the merge, giving him enough time to build bonds that will carry him through the game. Plus, we all know if a puzzle is involved, it's basically over. CT eats tangrams and word puzzles for breakfast.
Sarah Rice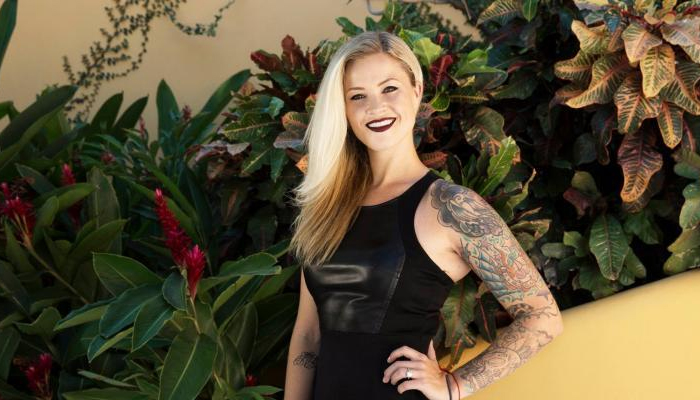 Sarah really does seem to have the perfect package to make it on Survivor. She doesn't mind roughing it, strategizes well, loves physical competition, and has earned her self-appointed "puzzle queen" nickname. The woman has finaled in more than half of her appearances on The Challenge, winning her last two (though the last one is tainted by Johnny Bananas stealing her prize money via a game twist). She's 6-2 in eliminations and has put together 16 daily wins.
That last stat is even more impressive when you consider how bad some of her partners have been over the years. I mean, names like Katelynn Cusanelli, Vinny Foti, and Devyn don't exactly put the fear of God into Challenge competitors. That said, she's proven to be dominant when given a good partner like Jordan Wisely or Johnny Bananas. If she's able to bring in a solid core alliance, she could easily run the game from start to finish.
Her lone issue might be that she's struggled with endurance at times. She'd mostly gotten past that by her last season; however, she hasn't played since 2016. It's entirely possible she could find that tank lacking once she gets on the island. That said, it's hard to imagine any other Challenge woman having more potential than Sarah.
Let us know which Challenge competitors you think would be good on Survivor.
---
Written by