Over the coming months, Inside Survivor is undertaking its biggest list ranking yet, as we count down the 100 best episodes of Survivor ever. As always with these kinds of lists, it's entirely subjective, and we're sure many fans will have different opinions. This is simply Inside Survivor's ranking. Join us each weekday for a new entry.
Season: Millennials vs. Gen-X
Episode: "Million Dollar Gamble (Part 2)" (Episode 11)
Original Air Date: November 23, 2016

Get exclusive content and features by supporting Inside Survivor on Patreon.
OVERVIEW
The first part of "Million Dollar Gamble," culminating in Chris Hammons's blindside, is a pretty strong episode of Survivor in itself. But it's the second hour of this double-feature that takes Survivor: Millennials vs. Gen-X to new heights.
"Million Dollar Gamble" is not only the best episode of the season but one of the show's finest episodes ever, hence why it's placed within the Top 50 of our countdown. It's an episode that includes all the elements that fans love about Survivor: emotional scenes, character depth, humor (the "worm" challenge), and compelling strategy, all topped off with a Tribal Council for the ages.
Obviously, the rock draw is what most people remember, which is perfectly understandable; it's an incredibly shocking moment. But everything leading up to it is entertaining in its own right. The episode is edited as a human chess match between David Wright and Zeke Smith, like the Knight taking on Death in The Seventh Seal. Here are these two strategic masters attempting to one-up the other, amassing their armies for the impending war. Just when you think one side has the advantage, something happens to flip it back to the other's favor.
This episode's reward also features one of the season's stand-out scenes between Bret LaBelle and the aforementioned Zeke. The wise-cracking Boston cop comes out to Zeke, and the two men discuss their respective experiences as gay men and the differences between their generations' attitudes towards homosexuality. Some fans criticize Millennials vs. Gen-X for lacking an emotional, human touch, but scenes like this prove otherwise. This is a really powerful, heartwarming moment that bridges the Millennials and Gen-X gap.
However, the chaotic Tribal Council is the episode's crown jewel. Before Tribal, the two sides put their plans into place. Zeke tries recruiting Hannah Shapiro into his ambush against David. But when Hannah shows reluctance (plus knowing David has an idol), Zeke decides to flip the vote on her, convincing Bret, Jay Starrett, Will Wahl, and Sunday Burquest to come aboard.
Meanwhile, Hannah and David aim their target at Zeke, bringing onboard Adam Klein, Ken McNickle, and Jessica Lewis. With five numbers apiece, both alliances march into the battleground of Tribal Council prepared for an epic standoff.
At Tribal, the two sides engage in a brilliant game of "smoke and mirrors," as Bret refers to it in the episode. It's high stakes performance art, as each player holds their position, hoping to fool their opponents into making the wrong move or flipping their vote. Except, nobody budges; everybody holds their ground. What follows is pure and utter chaos.
There is an intense discussion, paranoid whispering, an incorrect idol play from David on Ken, two tied votes, and eventually, the dreaded rock draw, which sends a tearful Jessica out of the game. Having only happened twice before, the rock draw is always shocking to see, and here it makes for the perfect conclusion to an enthralling episode of Survivor.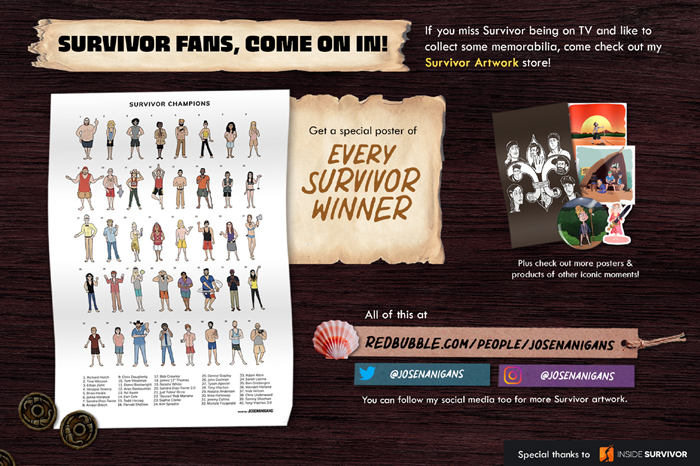 Check back on Monday when we reveal which episode placed at number 47. You can check out the previous entries here.
---
Written by