The Inside Survivor team recently came together to give our initial thoughts on each Survivor: Millennials vs. Gen X cast member and our predictions on how they will do in the game. These opinions are formed mainly from the CBS cast bios and videos, as well as pre-season press interviews conducted by Gordon Holmes and Josh Wigler. Over the next several days, we will post our thoughts on each Millennials vs. Gen X castaway.
Yesterday we looked at Gen X tribe member Bret LaBelle, today we assess…
HANNAH SHAPIRO
24, Los Angeles, CA, Barista, (Vanua aka Millennials tribe)
MARTIN:
First Impression: Came second in an Aubry look-a-like contest. Received a participation award.
Deeper Thoughts: Survivor really seems to have a thing for the "intelligent, quirky female" archetype these days. She attended Max Dawson's Survivor class at Northwestern. I just hope he taught her about the mechanics of TV and not Survivor gameplay. Her CBS bio came across a little try-hard in my opinion. She compared herself to Cochran who is the go-to Survivor nerd answer now. If she is like Cochran, I think it'll be Cochran 1.0 rather than challenge beast Caramoan Cochran. She might just be a little too awkward to fit into a majority. Her challenge skills will probably determine whether she survives the early game or not.
Potential Allies: She will probably click with the quirkier players and the superfans. So perhaps Adam and Zeke, and maybe Mari. It's how she interacts with the bros and Figgy that will decide her fate.
Prediction: I hope she proves me wrong and is super social and a challenge badass. But I see her going pre-merge.
ALICE:
First impression: Goofy. Low key clever.
Deeper thoughts: I find she is putting a little bit too much emphasis on the goofy and not enough on the playing the game. She self-describes as a neurotic Jew and talks about how awkward and goofy she is and how she'll make connections with people by making fun of herself. I think she could become annoying quickly. She is certainly a quirky personality which could mix in well with other oddball contestants particularly if she makes the merge. She might just be playing up the goofy/awkward side and have some serious game chops that will come out on day one, but that might just be the Aubry fangirl in me talking. She may just be goofy. Nothing in her makes me think she'll do very well, very little challenge prowess to be noted. I'm waiting to see her social game to make a final judgement. She likes Cochran, and I think she's more Cochran South Pacific than Caramoan.
Potential Allies: On her tribe, possibly Zeke unless each other's quirkiness threatens them. She could be a number if a strong women's alliance comes out. I'm not convinced she'll make strong bonds with anyone, though.
Prediction: If Millennials go to tribal I think her name could be on the chopping block. Out pre-merge, I think.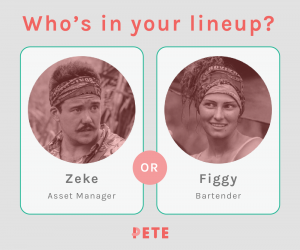 SHAWN:
First Impressions: Complete try-hard. The literal personification of "Millennial" in my mind…and that's not a compliment.
Deeper Thoughts: I'm sure she's a nice person, but I'm not sure I could spend more than 5 minutes with her before going full Brandon Hantz. Her bio is a complete testament to this notion. I respect the fact that she knows she's entirely in over her head, but the over-the-top nature of all of her statements makes me think she's going to be the one cracking stupid jokes at night when the rest of her tribe is trying to sleep. She also seems like the type to laugh at her own jokes, which perturbs me greatly. I'm sure I have something to say about her in regards to strategy, but I just can't get over everything else.
Potential Allies: She will gravitate towards those that are overtly different (Zeke) and seem nice enough to give her the time of day (Adam).
Prediction: For the love of all that is holy, please let her go early or be a complete 180 from how she came off in her video/bio.
JACOB:
First Impression: I absolutely feel like I know Hannah. She reminds me of a Jewish sleep away camp kid from MA. (Note: we do have a mutual friend from Jewish sleep away camp lol.)
Deeper Thoughts: She's gonna need to filter herself big time to keep herself from annoying people who don't share her sense of humor. I think the self-deprecating attitude is funny, but maybe too boisterous and loud for people who don't get it. I think there are enough people in the game with commonalities to Hannah to keep her in the general loop. Between comedy and being from the northeast – there will be ways for her to relate with people. Her game will likely rely on her keeping up in the early stages. If she isn't able to fit in or becomes a liability in challenges, she could be out quickly. If she makes it to the merge and is well-liked and viewed as non-threatening, she has a good shot at going all the way. She is very smart, just might need to tone down the quirkiness.
Potential Allies: I want nothing more than for her and David to create an Indoor Kids alliance.
Placement: As I said, early out or all the way. I think she's mid-to-late merge.

Outlook for Hannah is not that positive according to the Inside Survivor team, with all of us having her pre-merge except for Jacob. How do you think Hannah will do? Let us know in the comments below.
Survivor: Millennials vs. Gen X premieres Wednesday 21 September at 8:00 pm on CBS.
---
Written by