For those of you who aren't long-term fans of The Challenge, there was a point in time where episodes would end just before elimination. Some seasons (Battle of the Exes II) had four or five-episode streaks where eliminations would occur in the first five minutes of the next show, and the tension would be dead from that point on.
To compare it to Survivor, this would roughly be the equivalent of an episode ending just before Tribal Council. The tension of the show is based on an elimination occurring at the end. Throughout each episode, you have various crises that occur and build until the climax is reached in the final minutes. Eliminations are meant to be the most climactic part of your elimination-based reality show, thus work best when at the end.
Either way, I'm hoping The Challenge can right itself in the next episode, whether it's through this "Security Breach" or getting through the next round and elimination quickly.
The Bobsledder
The biggest event that occurs this week is Lolo Jones quitting the season. The stated reason is to train for the upcoming Olympic games (a smart move, as Lolo won the World Bobsled Championships roughly three weeks ago). However, there are a lot of rumours flying around the internet about why she actually quit. I find it improper to speculate on mental health, but as a whole, I think that Lolo prefers an environment where she has to continually fight her way to stay in the house, rather than attempting to politic her way to be sent into an elimination.
Hypothetically, Lolo would have had a good chance to go into elimination. If I were in her position, I would be cutting deals with every weaker male in the house that if they sent me into elimination, I would pick them as my partner for the final, giving them an actual shot of winning. The big issue is that Lolo is so abrasive that none of the men thought she would make a good partner, regardless of her sprinting and bobsled accolades.
That said, I still think Lolo could've seen elimination if she waited in the game long enough—especially considering the number of women who've been evacuated from the season. This problem has only been exacerbated by Lolo's quit, as it leaves seven women on the season, four of which currently have Golden Skulls. This means the next girls' elimination, one of the three women without Skulls (Big T, Nany, Gabby), will eliminate another, leaving only one woman without a Skull.
Considering the relative strength of the four women with Golden Skulls, I have to imagine all four of them know they are guaranteed to be in the final at this point. That makes the game for most of these women to be about jockeying for partners. But because they won't be allowed to go into elimination and pick their partner, the men effectively have full control over the women's fates.
This speaks to how well Kam and Leroy have played because I really can't see a scenario where Kam or Kaycee lose this season. Aneesa and Nany have shown not to be the best in finals, while Amber, Big T, and Gabby are rookies who haven't run a final before. If I were any other woman on this season, I'd be attempting to take them out. However, due to the Golden Skull twist and the number of medical evacuations and quits this season, that simply won't happen.
The Hawk and The Bunny
The most entertaining portion of the episode is Big T and CT. I believe that CT has the best character arc in all of reality television, which, when combined with Big T's sweetness and infectious charm, makes them impossible not to root for, especially in this challenge where both team members are tested physically.
Big T dominating this challenge might genuinely be one of the best moments in The Challenge history. CT said early in the season that this was a breakthrough season for Big T, and after what we've seen so far, I'm almost 100% positive that Big T will be getting an invite back for every single season.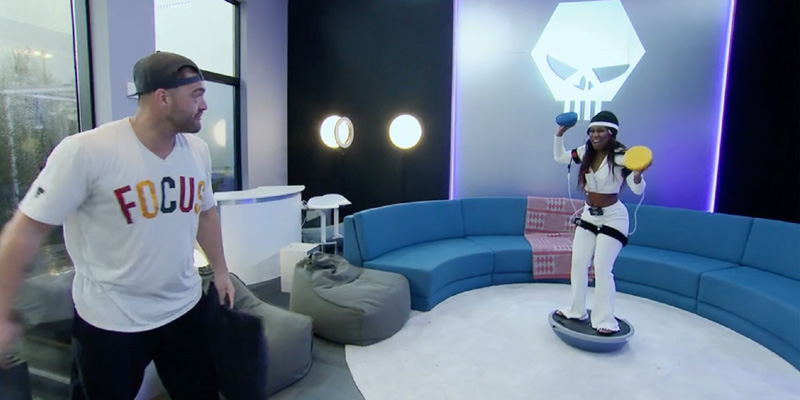 I haven't rooted for a duo as hard as I have for Big T and CT for a while now on a reality show. And it's hard to see anybody pass them any time soon. If they manage to win this season together, for all the criticism I've had of the format, this is probably one of the best reality tv seasons of all time. I just hope they manage to pull it off.
The Goof
If this season has anybody it wants to portray negatively, it's Josh, who already isn't particularly liked by fans of either Big Brother 19 or The Challenge. Pairing him with a longtime troll and serial aggravator Devin brings out the worst in both of them, dominating episodes in the worst way possible.
This episode is another big moment for their "feud" as both Devin and Josh are the two weakest men in the game with Golden Skulls, meaning that the remaining four male contestants are all required to target them.
However, unfortunately for Devin, the Big Brother Alliance (and their partners) control most votes in the game, meaning Devin's attempts to flip Kam and Leroy in the previous episode were fruitless.
When combined with his poor reign as Double Agent in the previous episode and his social game, which is mostly based on antagonism, Devin has no real shot of making it out of this round. I imagine without any shenanigans from the "Security Breach" cliffhanger, CT sends himself to the Crater and earns a Golden Skull by eliminating Devin.
Luckily for Devin, production is entirely on his side. He is currently the confessional leader of the season. The show has taken every opportunity to make a fool out of Josh, literally subtitling him "the goof" during the episode. I'm not sure if this edit is revenge for initially turning down The Challenge for Big Brother 22, but either way, I'm not a fan of Josh, so I find it funny that the edit is making fun of him constantly.
---
Written by