As this is the finale episode, rather than ranking the remaining players based on simply who is Hot and who is Not, we will be ranking them from Hottest to Nottest.
Go ahead, hit us with your best shot. We're probably wrong anyway, but that's why it's fun!
WARNING: This segment uses content from the "Next Time On" preview. If you are someone who doesn't like watching those segments prior to the show, do not read further. You've been warned.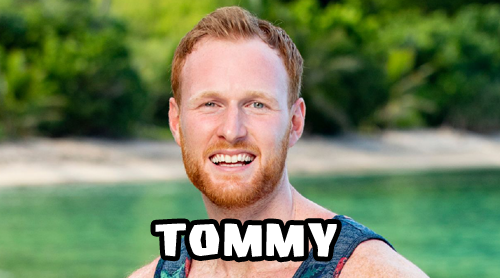 GUS – HOTTER
I don't want to repeat myself too much, so I'll be as brief as I can be here. Tommy is playing a terrific social game. Janet ran up to him and told him she's got an idol. Dean ran up to him and told him he's got an idol nullifier. Lauren views him as her closest ally and seems oblivious to the very solid suggestion from others that Tommy will make her make fire. Noura is Noura. I just don't see anyone targeting Tommy before it's too late for them to target Tommy. Janet is viewed as a much larger jury threat, and so is Lauren. It's possible that both of these things are true, and that taking out Lauren and Janet is a smarter move than taking out Tommy for Dean and Noura. Regardless, there are very few situations that end with Tommy not in the final three, and I'm fairly certain he wins just about all of them.
ALI – HOTTER
Tommy is probably going to be at the top of everyone's pack. The entire cast seems to line up to help Tommy get to the end. Now, it's unclear if the edit is making him out to be a bigger threat than he was perceived, or if he really had this much clear winner upside while on the island. Either way, Tommy inspires loyalty.
I see a lot of similarities between Tommy's game and Wendell's in that everyone has been making some rather baffling choices in the interest of keeping him as a close ally. On top of that, Tommy knows about both Janet's idol and Dean's idol nullifier. It's really up to Tommy whether he's going to direct Dean to take the shot, and I think that he definitely will. To me, Janet has the best chance of beating Tommy in the end, and with her gone, Tommy either has to win an immunity challenge or beat one of the other three in fire-making. Though I wouldn't put it past some of the other players to also just take him to the finals.
GUS – HOT
Lauren has played a really good game: she's been social, she's been close with everyone, and she's been on the ball about most of the moves that others would make. But she's also been completely out of the loop about a couple of things, she's been quietly dismissive of other players, and she's been targeted more than a few times. I believe she'll be targeted before Tommy is—most likely, Tommy will have her make fire, which continues a trend of tight partnerships going to the end because of the new fire-making twist. Domenick made Wendell make fire in Ghost Island, and Nick made Mike make fire in David vs. Goliath. (I'm not counting Edge of Extinction, because none of what happened in the Edge of Extinction finale made sense or can be applied to any other season of Survivor in terms of relative strategy discussion until they bring EoE back again… which they would never do… right? [season 40 spoilers: not right]).
ALI – HOT
There's been a lot of buzz recently about Lauren being a threat, which I think has largely been a decoy for Tommy's win, but there's definitely some merit to that. Lauren has exhibited a great social game, and I think there's a good chance that Missy and her buddies would vote for her in the end.
Should Tommy be knocked out in a surprising manner, Lauren could go on to beat the others in the finals. She has the resume to clinch a win, but I worry that she may not be willing or able to cut Tommy at the opportune moment. Furthermore, if she's sitting next to Janet, I fear her chances of winning are slim.
However, her path to the end is a lot clearer than Janet's. Janet is an obvious threat and will likely get knocked out next vote when Dean plays his idol nullifier. Lauren will likely get to at least the final four, and then time will tell if she'll be able to close. Dean and Noura make tempting goats for the final tribal, so I don't know if Tommy would take Lauren to the end. In the long run, Lauren does have more longevity in the game than Janet (though it breaks my heart) and thus has a better chance of pleading her case at final tribal.
Lauren has a really good chance of winning if she makes it to the end, but I think she's made too many enemies in the game and has set off too many alarm bells in her tribemates' heads to make it there. If Janet wins immunity at 5 (and I really hope she does), Lauren seems like the logical next boot (since nobody is targeting Tommy anymore, I guess). I'm not sure who'd win in a head-to-head between Lauren and Tommy, but I also don't think we'll have to see that situation play out.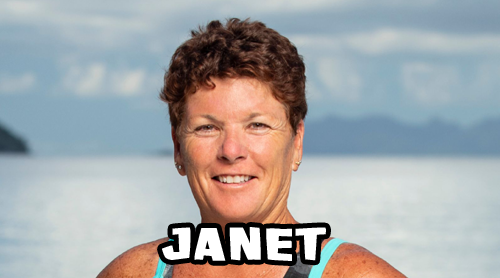 GUS – MEH
Let me start by saying that Janet is my favorite this season, and I'm OVER THE MOON that she's made it to the finale. If it weren't for one little thing, I'd also say she's more or less got the season in the bag. She's VERY well-liked, she's terrific at making fire, and she's got an idol to push her through to F4. What could go wrong?
Oh, right. Dean flipped a coin and got an idol nullifier. Which he told Tommy about. And Tommy already knew about Janet's idol, because Janet showed it to him. And Tommy has identified Janet as a big threat in the late game. And Dean is doing everything he's ordered to by Tommy.
*sigh*
If somehow Janet makes it past this next vote and into the final four, I think she's got the game all but in the bag. She's terrific at making fire (as we saw from her in the premiere), she's very amiable and extremely well-liked, and she's got a terrific story. But short of her winning immunity or Dean making a ridiculously big swing with respect to his alliance, I just don't see her making it there. I hate to say that I think this season was decided by Rob Mariano flipping an oversized coin, but… I think this season was decided by Rob Mariano flipping an oversized coin.
I'll be fair: Janet could have kept her idol to herself. That was a mistake. And there's a precedent for an Idol Nullifier existing in the game since DvG had one, so Janet really should have kept her idol to herself. But IGNORING ALL OF THAT, Janet is likely going home next because Rob Mariano flipped an oversized coin, and it came up heads (or Yes, I guess, but, you know).
ALI – MEH
This is painful for me, but Janet screwed herself in telling Tommy about the idol. She should have kept that to herself. Everyone views Tommy as their number one, which is what makes him such a dangerous player. There's no way that Tommy, or anyone for that matter, wants to sit next to the lovable mom lifeguard at the end. As I said above, I think Janet is out next vote, and it makes me horribly sad.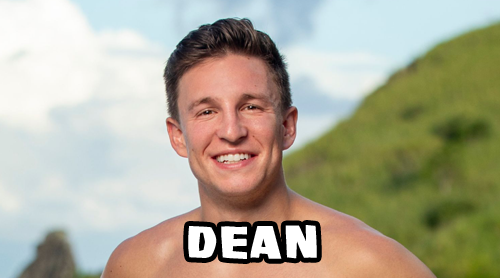 GUS – NOT
Dean really came out of nowhere this week, but I think it's too little too late. His incredibly brave coin flip (which I'm sure will shock the socks off the jury) will likely go down as one of the most incredible, bravest moments in the history of Survivor. And his immunity win easily cemented his status as the Number One Challenge GOAT. Sorry, I just realized that none of you can see my constant sarcasm finger-quotes.
I love Dean, and I've really enjoyed everything he's provided for us this season, but, let's face it: the guy's not gonna win. Tommy seems concerned about him as a possible threat, but for him to really be a possible threat, more people than Tommy would have to see him as one because, in all likelihood, Tommy won't be on the jury to vote for him. As it stands, Dean's jury speech consists of:
I made a fake fake advantage

I played a fake fake advantage

I ruined a plan to vote out Tommy

I flipped a coin

I was thinking of a way to play a real fake advantage, but I got screwed out of it by someone being ejected
And that's about it. He's all but cemented himself as Tommy's little helper in the endgame, and it's all but impossible for him to recover from that at this point. With respect to his Idol nullifier, I'm hopeful that it WON'T be used to eliminate Janet. Still, I really don't wanna get my hopes up too high about that, so it's a really lukewarm kind of hopeful, like the kind of hopeful I had about Rick not winning Edge of Extinction.
ALI – NOT
Dean is drawing pretty dead at this point unless he can pull off some Chris Underwood level flashiness and sit next to Noura in a final two… I could maybe see him beating Lauren if he makes some flashy moves, but even that is a long shot because it doesn't seem like anyone is bitter at her. Based on all of the exit interviews and Boston Rob's commentary, Dean's perceived as a pretty face on the beach. Whether or not this is true, perception on Survivor is reality. Frankly, the finale is too late to start putting in the work Dean needs in order to gain respect.
GUS – NOTTER
I am so happy that Noura made it this far into the show. She's a genuine goofball, a truly entertaining character, and one heck of a wild card to keep around this deep into the game. That being said, her game has been a joke for 95% of the season. She's consistently irritated people, and she's widely regarded as a goat by the cast. I don't know that she has any moves she can point to in the (likely) event she makes it into the final tribal council. And I worry that she'd cave to admitting her bad gameplay in the same way that she's been caving to revealing her constant plotting (or 'considering') against others within her tribe. I suppose it's possible the jury might reward her for the sheer bizarre nature of her gameplay, and the fact that she managed to make it to the end despite being such an unpredictable mess half the time, but I don't really see that happening.
For Noura to win, I really think she would have had to go to the end with Dean and Karishma. Even then, I believe Dean or Karishma might have won over her. As much as I would love to see Noura take it home this week (and, really, I would just love that), I don't see any feasible path whereby that can happen.
ALI – NOTTER
As much as I love Noura, she just doesn't have the respect in the game to win. Does she have an argument to win? Absolutely. But that doesn't mean much if you're viewed as a goat by the jury. Sadly, Noura has been drawing dead since before the merge, and she hasn't done much to improve her situation (besides some amazing immunity wins). Noura has only survived this long because everyone wants to sit next to her at the end.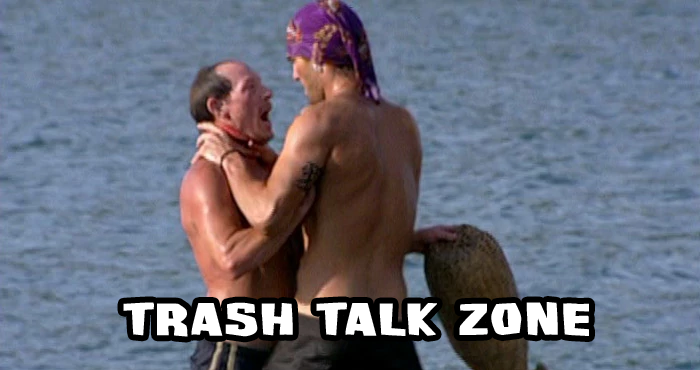 GUS: Come on, two weeks running?!
ALI: Absurd. Or as you're fond of saying, "abzurd."
GUS: We had FIVE RANKINGS to give out. People are going to think we're planning this stuff out in advance. (Also, they're both phonetically correct in American English. Just look at Wiktionary's entry: https://en.wiktionary.org/wiki/absurd#Pronunciation)
ALI: First, I have to say quickly that I was dead on about Elaine going.
GUS: Oh, yes. You were. But I also gave her a Not last week, so we're in that one together.
ALI: True, but I called her going, so that's an extra pat on the back for me. But I think we are both in agreement with pretty much everyone on Reddit that Tommy appears to be the winner of the season. Yes?
GUS: I'm certainly not happy about it, but yes. And not because of anything he did wrong. Just because I want Janet to win, and, as you say, I always hate the front-runner. Except for Nick Wilson. For some reason.
ALI: I think that's true of you and the majority of Reddit. Everyone always seems to hate on the frontrunner, at least in modern seasons. I think people hate obvious winners because they enjoy the surprise, which I understand. But Tommy is playing a good game overall, and his win would be deserved. Is it the most exciting game? Not particularly. But exciting games don't often lead to wins.
GUS: Yep, you're absolutely right. Tommy completely deserves the win, and he's not in charge of how he's being edited. I think the editors just didn't want to make the winner look like a mob boss in a season which is already really dark, which I think is fair to an extent. All right. We agree about who's playing the best and worst game. Let's do this: who's going to speak at the reunion? I'll say:
Definitely:
Tommy

Janet

Noura

Elaine

Boston Rob

Sandra
Maybe:
Dean

Lauren

Missy

Karishma

Jamal

Kellee
No:
Ronnie

Chelsea

Molly

Vince

Tom

Jason

Aaron
Absent:
ALI:
Definitely:
Noura

Tommy

Janet

Elaine

Karishma

Kellee

Boston Rob

Sandra

Someone from season 40 (probably Parvati and Tony)
Maybe:
Not at all:
Dean

Chelsea

Molly

Jason

Tom

Vince

Ronnie
Absent:
GUS: Oh, right. Parvati is coming back. Yaaaaaaaay…
ALI: Who of the season 40 cast do we think will be trotted out on stage during the announcement?
I think:
Sandra

Boston Rob

Tony

Tyson

Parvati

Wendell or Jeremy
GUS:
Ethan (we know he's in LA from his Instagram)

Parvati

Sandra

Boston Rob

Tyson

Nick

Danni
ALI: Forgot about Ethan's Instagram… But there's no way they'd trot out Danni. They'll keep her for the actual show. Production likes to forget about her season, and they don't really like her because she kept hiding her game from them on purpose (allegedly).
GUS: What better person to force out in front of an audience? Also… how excited are you to constantly fight about Parvati next season?
ALI: With you? Or your mom? (Gus's mom and I regularly argue about Parvati's game).
GUS: All of the above.
ALI: Can't wait to defend her against you haters. Anyway, I think it's about time we put this season to bed, don't you?
GUS: Yeah, but if Janet wins, we're coming back and writing a novel about how great she is.
ALI: Later all!
GUS: See you in February!
---
Written by
---