Cast connections always come into play on returnee seasons and that trend is sure to continue on next year's Survivor: Game Changers. In this new multi-part feature we will take a look at all the Survivor: Game Changers connections. Yesterday, we looked at the previous relationship between Andrea Boehlke and Malcolm Freberg, today we examine…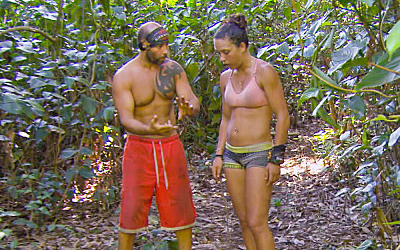 Sarah and Tony
"Cops R Bust"
Then: Sarah Lacina and Tony Vlachos built a relationship on a lie from the very start. Both members of the Aparri (Brawn) tribe on Survivor: Cagayan, Sarah, and Tony shared one crucial thing in common – they were both cops. This facet of their relationship lies smack dab in the middle of their whole Survivor journey.
While Sarah came into the game open about her profession, Tony lied, as he is wont to do, and told his fellow tribe-members he was a construction worker. However, Sarah, using some cop version of Spidey-sense, was able to figure out that Tony was a fellow blue blood. But instead of confessing, Tony continued to keep up the charade, lying to Sarah's face. Only days later did he reveal the truth to her. Instead of being put off by his initial lie, Sarah decided to trust Tony for coming clean, and they formed the Cops R Us alliance.
Tony continued to lie to Sarah to bring her closer and enact his plans. He told her that Cliff Robinson and Lindsey Ogle were planning to get rid of her when in actuality Tony was just worried about Cliff's popularity within the tribe. Sarah bought what Tony was selling, and the two of them convinced Trish Hegarty and Woo Hwang to join their alliance and throw the upcoming immunity challenge so that they could vote out Cliff. Unfortunately, the Brains tribe were the Brains tribe and failed to win the challenge, even when Brawn were trying to throw it.
After the failed throw, the tribes were swapped, and Sarah ended up as the lone former Brawn on the new Aparri. Sarah became a significant swing between the old Brains and Beauties who were battling for power on the new Aparri. She eventually stuck with the Brains. Tony meanwhile formed new allies on the Solana tribe, promising Trish, Woo and former Beauties Jefra Bland and LJ McKanas that they'd go to the Top 5 together… something he was very vocal about after winning an immunity challenge, with his screams of "Top 5 baby!" Sarah was put off by the over the top boasts and started to believe Tony no longer had an allegiance to their Cops R Us alliance.
At the merge, Sarah once again found herself in the swing position. But with great power came an even greater ego. Sarah and Kass McQuillen clashed, causing Sarah to lose trust in her new alliance. Tony tried to sway her back to his side, but she refused to swear her loyalty to him. Instead, Sarah decided to stick with new Aparri, believing herself to be in a position to dictate the vote. She wanted to target Tony or LJ, even though her alliance were worried that one of them might have an idol. Sensing tension between Kass and Sarah, Trish worked on bringing Kass over to the Solana alliance, and it worked. In a truly grand tribal council, Tony and LJ both played idols on each other, the Aparris all voted Jefra, the Solanas all voted Sarah… and Kass flipped to vote Sarah, sending her out the game.
Sarah was angry at Tony at Final Tribal Council for going back on his promise never to vote her out. But despite her anger, she still voted for him to win over Woo.
[wp_ad_camp_5]
Now: Like Andrea and Malcolm, Sarah and Tony are starting Survivor: Game Changers on opposite tribes. Even if the two cops have patched things up in real life, we all saw how separation caused their relationship to crumble last time. Tony and Sarah are likely to form allies on their original tribes and might find it hard to trust each other should they meet up at a swap or merge.

It's unclear where their relationship currently stands. Post-show, Sarah was upset at Tony for swearing on his badge and going back on his word. But Tony defended himself, openly on Twitter, stating that Sarah broke the promise first by trying to target him at the merge. It became a back and forth public spat and at the live reunion show, Sarah stated that the two were no longer talking. It's been two years since then, so that is plenty of time to clear the air; for all we know the two could be back on speaking terms.
Tony is the type of player that will work with anyone if he thinks it can benefit him, so for that reason, it is certainly possible he will work with Sarah in Season 34. Sarah also knows how Tony operates this time, and because he is a former winner, she might decide to use him as a shield; although she might get the itch to blindside him in an act of revenge.
Prediction: Unlike Andrea and Malcolm, it's possible that Sarah and Tony work together, reforming that blue blood bond if it proves beneficial to both. It probably won't last the entire game because at least one of them will start to get the itch to remove the other, but it probably has more longevity than the Andrea and Malcolm connection.
Let us know how you think Sarah and Tony will get along on Survivor: Game Changers?
Photo Credit: victorulijn via Compfight cc

---
Written by