Each week, Christine Pallon and Gia Worthy will round up the previous week of Survivor 43 as they list their top moments in various important categories. This includes the most essential information, the stand-out castaways, and the key moments from the week.
Here, Christine and Gia break down all the action from the season premiere.
Get exclusive content and features by supporting Inside Survivor on Patreon.
Top 3 Moments
Savvy or Sweat returns (sort-of)
Christine: Our first returning twist of the season was Savvy or Sweat, which came into play after Cody outsmarted the opening challenge and secured the tribe supplies for Vesi. Baka and Coco were left to choose between the two options for their supplies, with Baka choosing Savvy and Coco choosing Sweat.
Baka, tasked with moving just two lines (well, in this case, fake bones) in a number to make the largest possible whole number, managed to get it right when 19-year-old Sami swept in with the solution. Coco made even quicker work of the Sweat challenge thanks to Ryan's suggestion that he and Geo dig in an X-formation to find their supplies. Savvy or Sweat has been pretty uneventful since it was introduced in Survivor 41, but it's always fun to see how bad I would be at solving the Savvy puzzles.
The Prisoner's Dilemma returns (sort-of)
Gia: Just like Savvy or Sweat, the Prisoner's Dilemma is back, albeit with a few big changes. Karla, Dwight, and Gabler were chosen for this trip, where they had to wade through the ocean to reach their destination. Each player makes a choice between Risk or Not Risk, with those that choose Risk drawing from a bag. One person wins an advantage, and the rest lose their vote. In this variation, Karla chose not to risk her vote, Dwight lost his and Gabler has an idol for his first two tribal councils. I'm excited to see how this shapes all of their games.
Gabler's announcement
Christine: Coming off of their challenge loss, Baka arrived back at camp for an important announcement: Gabler, instead of playing the idol he got from the Prisoner's Dilemma, planned to use his Shot in the Dark at tribal. I, like his tribe, found the whole thing surreal: not only was Gabler publicly announcing his intention to play his Shot, he did it immediately upon arriving back at camp. Gabler ultimately played neither once his tribe told him he wasn't the target, allowing him to both keep his vote and guarantee himself immunity at his second tribal thanks to his idol.
Tribe Breakdown
Baka
Gia: Baka is holding onto their reputation as the kumbaya tribe for dear life, a title that is preventing some of their tribe members from facing the reality of their situation. Even Jeff himself couldn't hold back his disbelief at some of their answers at tribal. That being said, if they are able to win a few immunities before the merge, I could see this group being the most loyal to one another — until it's time to cut one another, that is.
Coco
Christine: Our blue tribe wasn't the center of the action this week, but we still got a good feel for their tribe dynamics. We saw Karla and Geo connect as a potential duo due to their shared experiences, and Karla, Cassidy, and Lindsay team up for a women's alliance, pulling in James as their fourth to secure a majority. Time will tell if the Coco women will stay together after all — which certainly isn't a given after what we saw this week — but if they do, it seems like Geo or Ryan will end up in the hot seat.
Vesi
Christine: After Cody came through with his suggestion for the reward challenge, he secured an alliance with himself, Nneka, and Jesse as the three oldest members of their tribe. On the other side, Justine and Noelle also bonded, leaving young Dwight in the middle. Cody, lying about his own status as a salesperson, put the target on Justine by playing up how manipulative salespeople can be. With Dwight losing his vote in the Prisoner's Dilemma, Cody/Jesse/Nneka will have the majority whenever Vesi has their first Tribal Council, unless someone flips.
Top 3 Players
Elie
Christine: With the most confessionals in the premiere, Elie was undoubtedly one of the "stars" of the episode. We learned a lot about her on a personal level, particularly regarding her work as a therapist and the loss of her sister to an overdose in 2020. On the other hand, she was also presented as a ruthless strategist who ran Baka's first trip to tribal like the navy. Her rationale for targeting Morriah to preserve tribe strength didn't make much sense given what we saw in the challenges, but Elie ultimately got her way. She's one of the obvious power players moving forward, but time will tell if voting out a trusting ally like Morriah was a good call.
Cody
Gia: From his first confessional, Cody knew how to leave an impression. What else can we expect from the guy whose butt tattoo was the episode title. And while the tattoo itself does not live up to the hype, Cody as a player, certainly did. His advice in the reward challenge secured Vesi's victory, and he appears to be building a solid alliance with the likes of Nneka and Jesse. Other players on his tribe are seen as much bigger targets right now, so I'm not too worried about Cody's safety in the next episode, despite what the "Next Time On" segment wants us to believe.
Sami
Gia: I'll be the first to admit that I was one to immediately dismiss Sami as a winner contender due to his age. However, I found myself eating my words while watching him in the premiere. While I wouldn't say he is in control at Baka, he is certainly proving his worth to his team. My one concern is that he may become a bigger threat down the road, but that's another problem for another day.
Fallen Comrades
Christine: Morriah will go down as one of the most robbed first boots ever, and for a good reason. She was poised to potentially become a big character on the season, only to be targeted for poor challenge performance. Baka's decision to vote Morriah out due to "tribe strength" doesn't make a lot of sense given what we saw in the challenge footage. There were plenty of problems with Baka's challenge performance, but none of them had anything to do with Morriah.
It seems likely that Morriah was targeted for her perceived or assumed challenge ability rather than a concrete example from the two challenges thus far. O that she was voted out over Owen for a primarily social or strategic reason, and the "tribe strength" line was just a convenient excuse. Either way, Morriah had potential to be a unique, positive character on this season, and it's a tragedy that we only got to meet her for one episode.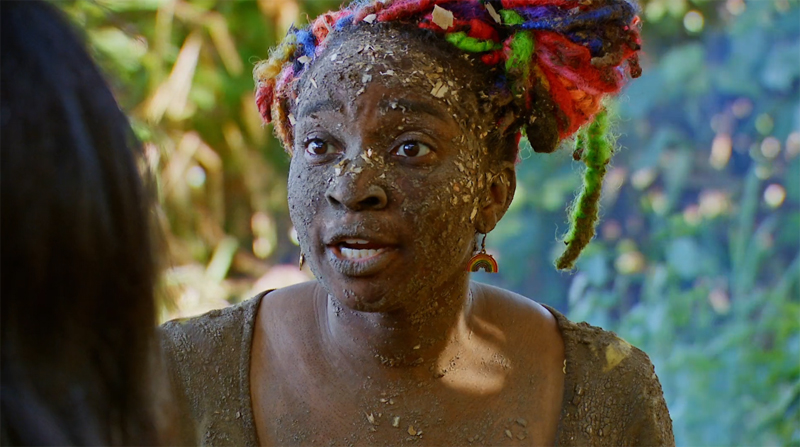 Gia: Oh Morriah, you deserved so much better. The rainbow queen seemed to be a beacon of positivity, but it just wasn't enough for her allies to protect her. The first half of the premiere had us convinced that Elie, Jeanine, and Morriah would be the ruling trio on Baka. But that wasn't the alliance that Elie felt the most confident in.
I'm wondering if there is a world where Morriah could've pulled in Sami and Jeanine's votes at the very least, but the edit we got showed that Morriah didn't do a whole lot wrong. The claim was that they voted her out for challenge strength, but she was one of the few that actually performed well on Baka. I guess Morriah was treated as the fall guy for the dominating alliances, but it hurts to see her go out so soon.
---
Written by
---