The highly anticipated second season of Australian Survivor is mere months away and things are beginning to heat up. After recently revealing the first eight new castaways, Network Ten have now unveiled all 24 Aussies who will be competing on the islands of Samoa in a battle for $500,000 and the title of Sole Survivor.
The new castaways include an Olympic water polo champion, a professional poker player, a wedding DJ, and a chief financial officer of the South Australian Parliament.
Get to know these 16 new faces a little better below. For the previously announced eight newbies click here.
AARON "AK" KNIGHT, 29, WEDDING DJ, SOUTH AUSTRALIA
Full-time wedding DJ and self-confessed reality television addict, Aaron is ready to take on Australian Survivor. A mad sports fan, Aaron will play to win and knows that sitting around idly is not the way to get ahead in the game. Previously a fence installer, he thinks his experience working in the heat and lifting heavy objects will prepare him well for island life. He wants to make his parents and his partner, Bec, proud. His biggest fear is coming second.
ADAM PARKIN, 40, PROFESSIONAL POKER PLAYER, QUEENSLAND
As an international poker player, award-winning salesman and ex-SES volunteer, Adam is a force to with which be reckoned. At over 198 centimetres tall, Adam plans to dominate the game and become a player to remember. As an SES volunteer, Adam has helped with search and rescue operations and that puts him in good stead for the rugged way of life on Australian Survivor. He is also a husband and father-of-two with a strategic mind and the ability to read people and situations. His poker success saw him play in the World Series in Las Vegas last year.
ANNELIESE WILSON, 23, STUDENT, VICTORIA
Obsessed and strategic, Anneliese is a super-fan of Survivor who lists Jeff Probst as her celebrity crush. A journalism student in Melbourne, Anneliese is quite the academic. After winning a scholarship to an exclusive school, she knows that she can achieve anything to which she sets her mind. After recently losing 35 kilograms, Anneliese plans to fly under the radar and is ready to play the game as soon as she sets foot on the island.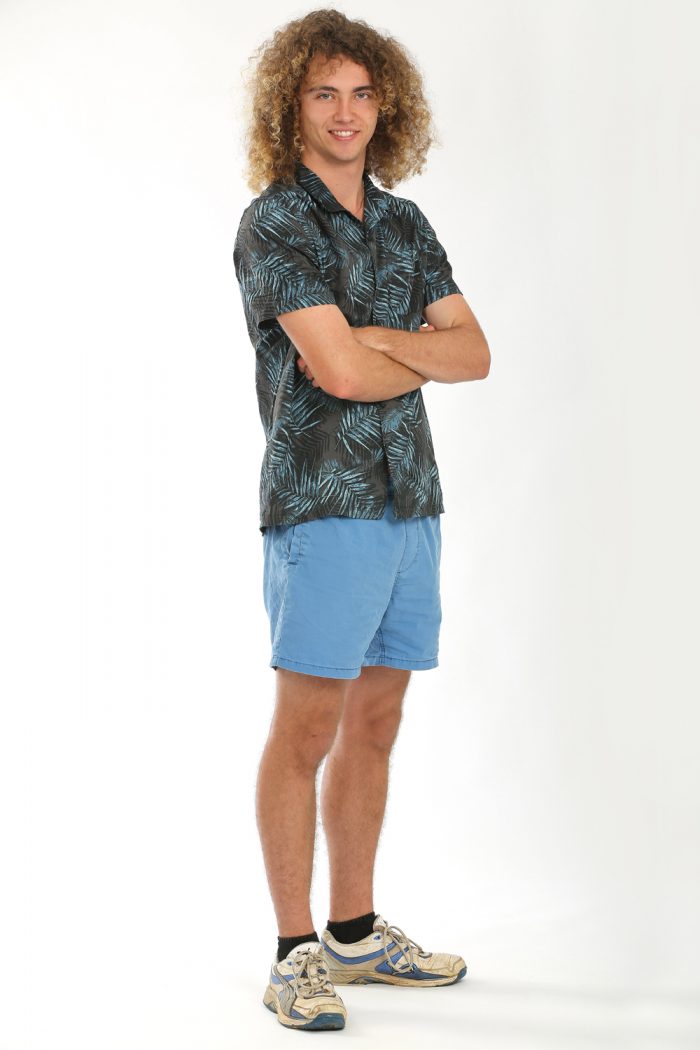 BEN MORGAN, 20, FAST FOOD ATTENDANT, WESTERN AUSTRALIA
The youngest of this year's contestants, Ben works as a fast food attendant and lives at home with his parents. Describing himself as odd, Ben is currently single and thinks his lack of flirting skills are to blame. A unique character with distinctive blonde locks, Ben is a super-fan of the series and watched last year's Australian Survivor with a keen eye. He is hoping to make it to the final merge and play the game as an individual.
HENRY NICHOLSON, 26, LABOURER, SOUTH AUSTRALIA
Henry's game plan is to deceive his peers by playing the role of a laid-back yoga instructor. Little do they know he is actually a labourer and a small business owner with a degree in Marketing and Accounting. Henry works in the building industry and owns an online food delivery business, which his late mother helped him establish. He recently put his life on hold to care for his mum as she battled pancreatic cancer and sadly passed away. He applied for Australian Survivor in honour of his mum, who told him to chase his dreams.
JACQUI PATTERSON, 50, WEDDING CELEBRANT, NEW SOUTH WALES
A self-confessed straight-shooter, Jacqui is one of the oldest contestants on season two of Australian Survivor, but she is not going to let that get in her way. She has something to prove and wants to demonstrate to other women that life doesn't end at 30. A lover of life and the odd glass of champagne, Jacqui is a wedding celebrant on the NSW North Coast. Married with two kids, she is super-fit and loves running, riding and surfing with her husband Gaz.
JERICHO MALABONGA, 25, FLIGHT ATTENDANT, VICTORIA
From the Philippines to Auckland and now Melbourne, Jericho is used to being the new kid in town. But instead of letting his guard down quickly, on Australian Survivor he will be pretending to be someone else entirely. A mega-fan of Survivor, Jericho has his game plan mapped out and is not afraid to show his darker, more competitive side. After studying anthropology, Jericho followed his dream of becoming a flight attendant. Starting as a cabin cleaner and working his way up the ranks, he now works for a major airline, flying internationally.
KATE TEMBY, 47, FINANCIAL EXECUTIVE, VICTORIA
Kate is a successful businesswoman who has lived all over the world, including Västervik in Sweden, Toronto, New York and now Melbourne. After recently resigning from a 17-year career with a global investment bank, where she managed and led teams of over 50 people, Kate is now looking for her next career opportunity and thought she would give Australian Survivor a crack in the meantime. Kate wants to be a role model for young women, especially her children, who helped her apply for the series.
KENT NELSON, 51, CHIEF FINANCIAL OFFICER, SOUTH AUSTRALIA
A devoted father of three, Kent is no stranger to taking on new challenges and Australian Survivor is no different. At 39, Kent decided to take up swimming and competed in the world-famous Rottnest Island swim in Western Australia. At the age of 50, he swam the English Channel, which was a 13-hour non-stop swim. Working for the past 10 years as Chief Financial Officer at Parliament House in South Australia, Kent says he is good at reading people's personalities.
LUKE TOKI, 30, MINING TECHNICIAN, WESTERN AUSTRALIA
Luke may be a joker but he takes some things very seriously, including his family, his job and reality television. A drilling operator in a Western Australian mine, Luke has recently taken on a desk job to spend more time at home with his two sons and wife, Mary. After growing up with a difficult home life, Luke appreciates his family more than anything and wants to make them proud. He looks forward to having some fun in Samoa and is playing to win.
MICHELLE DOUGAN, 33, NANNY, NEW SOUTH WALES
Michelle is a woman who knows what she wants and is not afraid to tell people how she is going to get it. A professional nanny in Sydney, she loves going to the races, the beach and catching up with friends. While she admits she is not used to roughing it, Michelle is out to prove that she has what it takes to win. She will use whatever assets she needs to make connections and alliances. Her father passed away in 2008 and she wants to make him proud.
ODETTE BLACKLOCK, 32, PODIATRIST, NEW SOUTH WALES
Single mum Odette is a podiatrist in Sydney who has had to push herself every day to be the hero she wants to be for her son. Growing up with an absent father, she was raised by her mother, who sadly passed away when she was 14. Following her mother's death, Odette worked hard at school and attained a Master's degree in Podiatric Medicine while attending university during the day, working nights and also looking after her son. Odette is here to play an honest and moral game.
SAMANTHA GASH, 32, ENDURANCE ATHLETE, VICTORIA
She stands just under 152 centimetres tall, but don not let Sam's size fool you. She took up running in 2008 as a break from studying law and after just 16 weeks training, she completed the Melbourne marathon. Her next challenge? The 4 Deserts Grand Slam: four ultra-marathons across Chile, China, Sahara and Antarctica. She made history by becoming the first woman and the youngest person ever to complete the race, which is known as one of the toughest endurance events on the planet.
TARA PITT, 32, BARREL RACER, QUEENSLAND
Mum of three Tara is a barrel racer from Queensland. The job requires serious manoeuvring and concentration and is something she plans to keep a secret from her fellow contestants. Currently studying full-time for a Bachelor of Education majoring in Drama and History, Tara wants to prove that she is much more than just a stay-at-home mum.
TESSA O'HALLORAN, 29, DOCTOR, VICTORIA
Always underestimated by her work colleagues and patients because of her age and gender, Tessa is highly intelligent and ready to compete. Studying to become a doctor, Tessa worked under high-pressure conditions while attending lectures and studying to pass her physician's exam. She is now one of the youngest doctors at her place of work. Her strategy is to form an all-girl alliance and to work her magic when their backs are turned. She is not afraid to lie, cheat and steal to win Australian Survivor.
NICOLA "ZIGGY" ZAGAME, 26, OLYMPIAN, NEW SOUTH WALES
A two-time Olympic athlete and two-time Olympic medallist, Ziggy (real name: Nicola) thinks she has what it takes to survive in Samoa. Ziggy represented Australia in water polo at the London and Rio Olympic Games. She has recently retired from the pool and is working as a radiologist in Sydney. The daughter of a triathlete, Ziggy has tried every sport under the sun and stays fit by running, surfing, yoga and lifting weights. A former lifesaver and iron-woman, Ziggy says her water polo experience will also help her strategise and play the game.
Let us know what you think about the new cast in the comments below. Stay tuned to Inside Survivor for a full cast assessment from Australian Survivor Season 1 contestants Kat Dumont and Matt Tarrant. Australian Survivor Season 2 is schedule to air later this year on Network Ten.
---
Written by