Over the coming months, Inside Survivor is undertaking its biggest list ranking yet, as we count down the 100 best episodes of Survivor ever. As always with these kinds of lists, it's entirely subjective, and we're sure many fans will have different opinions. This is simply Inside Survivor's ranking. Join us each weekday for a new entry.
Season: Blood vs. Water
Episode: "Big Bad Wolf" (Episode 10)
Originally Aired: November 20, 2013
Get exclusive content and features by supporting Inside Survivor on Patreon.
OVERVIEW
When the concept for Survivor: Blood vs. Water was first announced, it raised a lot of eyebrows. Returning players bringing along their loved ones, plus the return of Redemption Island, had a lot of fans feeling skeptical about if this season could ever work. And, with all of the new format changes, one obvious question came to mind: would a player ever really vote out their loved one?
Surely nobody would ever vote out another person from their daily lives, somebody whom they love and cherish and could depend on in the high stakes game of Survivor. Well, it happens. It's a moment that's been talked about to death, but it's one that still delivers even on a rewatch. Ciera Eastin voting out her mother, Laura Morett, is the moment that instantly justifies the whole concept of the season and realizes the big "what if" that everybody had been thinking of (and secretly wanting).
However, what makes this moment—and this episode—so good is not the "WOW! SHE VOTED OUT HER OWN MOM!" shock-factor of it all. In fact, Ciera's decision is not really the #BigMove spectacle that the show retconned it as in future seasons. The appeal of the move comes in the emotional toll it takes on its participants. From the opening heart-to-heart between mother and daughter, the episode does a great job highlighting the internal struggle and building the will it/won't it happen suspense until the final vote for Laura (Mom) is flipped over.
Both women play their part to perfection throughout the episode. Ciera is the reluctant child who doesn't want to vote her mother out but also wants to play to win and knows she stands a better chance if her mom is gone. On the opposite side, as a highly-competitive player, Laura isn't exactly thrilled about being voted out, but she admires her daughter's growth and individuality. In a frank discussion between the pair, Laura essentially gives Ciera approval, showing she is a proud mom who admires her daughter for doing the difficult but right thing for her game.
Perhaps the best moment of the episode, though, and one far less remembered in the height of the mom/daughter dilemma, is Ciera's idol lie. This is the move that cements Ciera as a crafty player with a keen ability to read an opponent. She quickly surmises that Katie Collins is lying about having an idol and gets her to admit her lie by confidently pretending to have the idol herself. Katie quickly folds, and Ciera earns her credentials as a cunning Survivor player willing to make moves.
Unfortunately, the idol lie doesn't amount to anything substantial. While Ciera tries to use this knowledge to flip the vote onto Katie and thereby save Laura, it's too little too late, and Ciera still faces the heartbreak of having to vote out her mom. But it highlights Ciera's willingness to make a move, which foreshadows what is to come in a couple of episodes' time.
There is more subtle foreshadowing in a small scene where the tribemates play a game with rocks in the shelter, with Ciera gleefully covering a rock in her hands. Given Ciera's part in the later rock draw, it's a cool little moment that stands out in a rewatch.
This episode isn't all family melodrama; there is also a healthy dose of Tyson Apostol levity to balance things out. It's also an episode that does a great job of showing the evolution of Tyson as a player. He delicately tackles the Ciera/Laura problem from a position of power, all while showcasing that trademark Tyson wit fans have come to expect. Stalking around the island as the titular "big bad wolf," Tyson manages to blow Laura out of the game while deftly avoiding any potential blowback from Ciera and proceeding to play the best game of his Survivor career.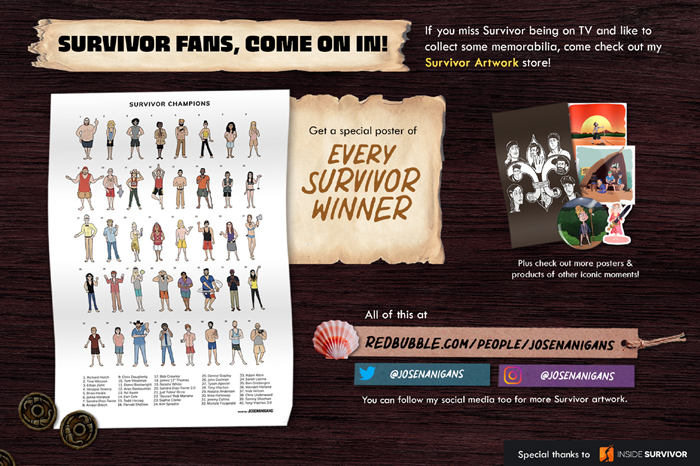 Check back tomorrow when we reveal which episode placed at number 63. You can check out the previous entries here.
---
Written by
---