Over the coming months, Inside Survivor is undertaking its biggest list ranking yet, as we count down the 100 best episodes of Survivor ever. As always with these kinds of lists, it's entirely subjective, and we're sure many fans will have different opinions. This is simply Inside Survivor's ranking. Join us each weekday for a new entry.
Season: Game Changers
Episode: "Dirty Deed" (Episode 5)
Original Air Date: March 29, 2017

Get exclusive content and features by supporting Inside Survivor on Patreon.
OVERVIEW
As noted previously, Game Changers is not a highly regarded season, but it does have its moments. In fact, the first few episodes of the season are very promising, and that is primarily thanks to Sandra Diaz-Twine, who essentially owns the pre-merge. And it's this fifth episode that sees the Queen at the height of her powers, which helps create not just the best episode of the season but an absolute all-time classic.
Having already won the war against Cagayan champion Tony Vlachos at the second Tribal Council, Sandra now has her sights set on the only other former winner besides herself still in the game—JT Thomas. What makes JT's downfall in this episode so sweet is not just the method in which it happens, but it's the instant karma it serves for his underhanded actions at the previous Tribal Council.
In the previous episode, JT made a monumental goof by fraternizing with the enemy during the controversial 2-Tribes-1-Tribal twist. By providing his former tribemates with a heads-up, JT accidentally caused the shock early exit of fan-favorite Malcolm Freberg. Losing Malcolm so early and in such shocking fashion wasn't just a blow to fans but to the Nuku tribe (which contained the most entertaining characters) as a whole. And so now Sandra is relishing the opportunity for revenge.
JT tries to defend his actions upon returning to camp, yet his tribemates still have their doubts. Feeling at risk, JT heads out to look for the hidden immunity idol, which he finds. This idol gives JT newfound confidence, and he has no problem asserting himself around camp, particularly when it comes to sugar rations. JT thinks that Michaela Bradshaw is consuming too much sugar, and he takes particular offense when she half-jokingly requests "seven drips of coffee and a scoop of sugar."
Sensing this tension and spotting an opportunity, Sandra stirs (or scoops) the pot by sneakily finishing off the remaining sugar herself, knowing full-well that JT will place the blame on Michaela. What follows is a hilarious scene of Sandra mugging for the camera and then stoking the flames as she encourages JT's frustration with the falsely-accused sugar thief. But this is all part of Sandra's plan.
JT's obsession with Michaela and the sugar drama takes his eye completely off the prize and lowers his guard. He becomes so sure that everyone is sending Michaela home, but that's exactly what Sandra wants him to think. In reality, Sandra lets Michaela know that she wants JT out in the name of revenge, and despite Jeff Varner being presented as the swing vote (with Aubry Bracco siding with JT), it's quite clear he is swayed by Sandra.
Tribal Council is a doozy, with Michaela playing the part perfectly and lulling JT further into a false sense of security. When it comes to the vote, JT is blindsided (with his idol sitting back at camp!), and to sweeten the send-off, Michaela takes out her water bottle and a coffee mug to reenact the Kermit tea-sipping meme. Meanwhile, Sandra confesses to being the real sugar fiend, much to the shock and amusement of her surviving tribemates.
I should mention this episode also contains the disturbing Debbie Wanner breakdown and her volatile argument with Brad Culpepper, a moment I'm sure we'd all like to forget. But even that downer is not enough to take away from what is otherwise a deliciously entertaining episode of Survivor.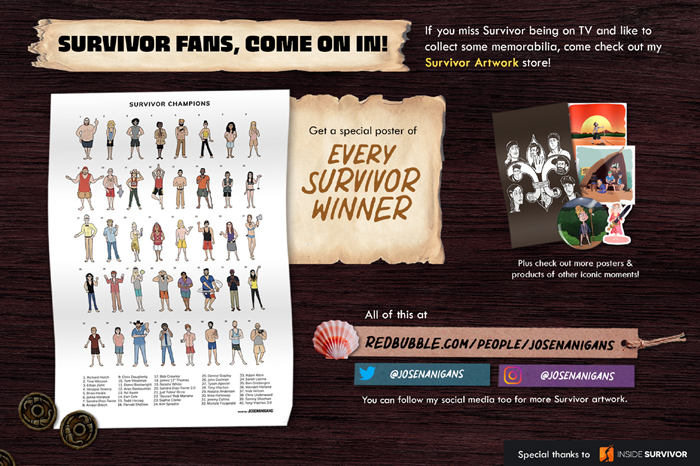 Check back tomorrow when we reveal which episode placed at number 16. You can check out the previous entries here.
---
Written by