A version of this post originally appeared on the Inside Survivor Patreon. Become a Patron today for all the latest news plus other perks and features.
CREW
Members of the Survivor production crew are still arriving in Fiji. Some have already completed their quarantine and are now working on pre-production on the island(s).
What's interesting is that some of the Australian crew that works on Survivor US have made it to Fiji. There was some concern a while back that the Aussies might not be able to make it, given how strict Australia is with its COVID-19 rules and restrictions. But it seems some sort of agreement was made because members of the Aussie crew are now in Fiji.
All crew members are quarantining for 14 days upon arrival. There are at least a couple of hotels/resorts in Fiji being used to house crew members—each of them restricted to their own rooms for 14 days.
This staggered approach of flying in crew means that once the 14 days are up for the crew already in Fiji, another set of crew can then join the hotel and begin their quarantine.
CASTING
A couple of interesting casting tidbits. The season 41 and 42 casts are now officially confirmed barring any last-minute drop-outs or replacements. But the casts have received the "you're officially on the show" call. They are currently going through things like wardrobe and other last-minute business.
The S41 cast isn't scheduled to fly out to Fiji until mid-to-late-March. This gives time for all the crew to finish their quarantine first and put finishing touches to pre-production, making sure everything is set up for filming.
As with the crew, the S41 cast will begin a 14-day quarantine upon arrival in Fiji, with filming expected to start early April and finish mid-May. S42 will begin filming in late May.
Another interesting note is that Survivor casting has essentially taken over Big Brother casting. Jesse Tannenbaum, the head casting director for Survivor/The Amazing Race, has officially taken over from Robyn Kass as the head casting director for Big Brother. And there are also other long-time Survivor casting producers working on Big Brother.
Casting for Big Brother 23 officially started last month. So if you're interested in applying for that show, now is the time to do so!
Get exclusive content and features by supporting Inside Survivor on Patreon.
RUMORS
Lastly, I just wanted to address some of the rumors flying around. I don't usually address these things directly because so many people just make crap up that it isn't worth the time going through each one.
However, a few people have brought this to my attention, so let's clear it up. There are no returnees in the mix for S41/42 (unless anything drastically changes last-minute). Before and during the pandemic, the plan has always been for newbies. This nonsense about Survivor changing their plans because of returnees demanding too much money is simply not true. The plan has been newbies from the start.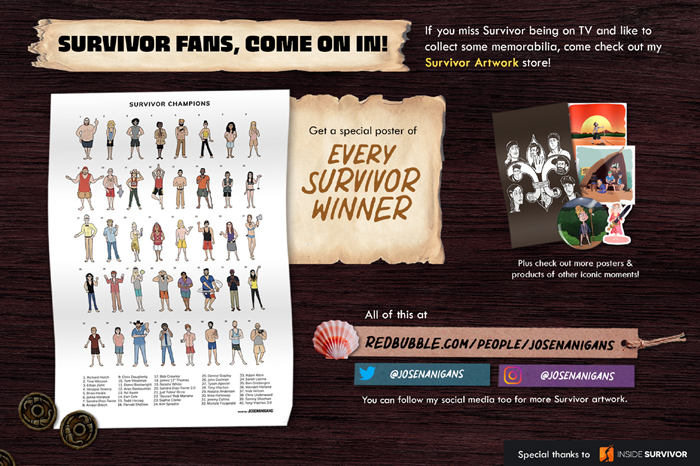 ---
Written by