After a surprising mission win for Devin and Gabby, the majority holds together to vote Amber M and Cory into elimination. Unsure if it was a girls elimination day, Devin talks Gabby out of sending themselves into battle, opting instead for Amber B and Darrell. However, when TJ reveals that it is a women's elimination day, Amber B demolishes Amber M in a Hall Brawl, eliminating Amber M from The Challenge.
Amber M's blowout defeat in the Hall Brawl should probably signal to Gabby that deferring to Devin is never the best move. While there still is one female Golden Skull on the line and plenty of smaller girls that Gabby could probably beat in an elimination, this is not true on the men's side.
This running out of Skulls makes Devin a potentially massive target, as most of the men in the competition are confident about their ability to eliminate him and take his Skull, giving Gabby the means to trade for a new partner.
Define Foreshadowing
In typical Challenge editing, the main plot of the episode is foreshadowed immediately. Devin says that he controls Gabby's vote and will use it to further his own best interests, while Gabby continues her flirtmance with Devin's enemy Fessy.
Another pair struggling to get on the same page is Lolo and Nam, as Lolo wants to get a Golden Skull as soon as possible while Nam wants to wait it out.
For the final set-up of the episode, Amber M and Cory also mention how their partners keep getting eliminated, making this a test to see who's "partner curse" is stronger than the others.
If You Want To Win, You Gotta Win
The mission this round is "Black Sand Ops," a very Amazing Race or Survivor-like challenge, where teams need to dig in the sand looking for puzzle pieces, first to find and build their puzzle wins.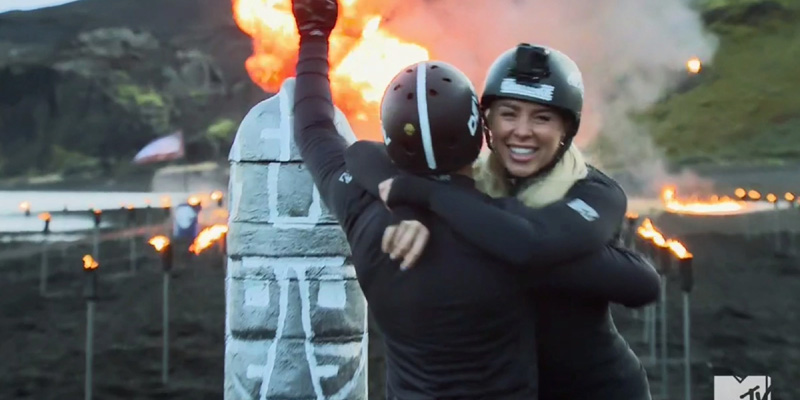 Unsurprisingly, this is a relatively uneventful mission, where CT and Big T make a small mistake in their puzzle, letting Gabby and Devin complete it, making them the Double Agents.
So Many Types of Different Pages
After the challenge, Devin, CT, and Nam immediately plot for Devin to send CT or Nam against Josh to give one of his alliance members a Golden Skull and eliminate his enemy.
On the other hand, Gabby wants the house vote to be Amber M and Cory, the weakest team, so Gabby can send herself into elimination and secure a Golden Skull.
The conflicting plans lead to both Gabby and Devin pitching their targets to the majority of the house. Devin uses this opportunity to get into fights for no reason, leading to Devin squandering most of his temporary power.
Lolo then blows up at Nam, leading to both her and Nam asking the house to make her the vote so they can break up their partnership.
At the vote, Kam and Leroy continue their alliance's domination of the season, deciding to side with Gabby as Amber M and Cory get voted into elimination by a vote of 12-2-2.
It may be a bit early to say, but at this point, I think Kam and Leroy have played one of the top strategic games in The Challenge so far. Between them, they've effectively decided the outcome of every week while barely being targeted and cementing both Golden Skulls and strong partners to give them the best chance of winning the final.
Jedi Mind Tricked
After the Vote Reveal, Devin loses his cool and declares revenge against half the house, while Gabby insists that she still wants to send herself against Amber M. At the Crater, Gabby eventually decides to relent and sends in Darrel and Amber B, for Amber's betrayal of the rookie girls in the previous episode.
TJ then reveals that it's both a Hall Brawl and a women's elimination. In this iteration of Hall Brawl, each competitor needs to transport three balls from one side of the hall to the other, with the winner being the first to do so.
When the elimination round starts, it's clear that Amber M has no idea what to expect as Amber B makes quick work of her, winning the elimination 3-0. Amber B elects to stay partnered with Darrell, ending the episode with Cory becoming the Rogue Agent (again).
Random Format Thoughts
The next episode seems to be where the strategy starts to shift towards targeting people with Golden Skulls. I'm personally awaiting this change, as while I have been enjoying the season as a whole so far, I think the outcomes have become extremely predictable.
While one part of this is due to Kam's stellar political game positioning her in a place where she picks the elimination every week, I would say a lot of this is due to the format. I've appreciated the partner-stealing aspect of Double Agents so far, but where the format makes the episodes more predictable is with the Golden Skulls.
Golden Skulls force the cast to think more strategically and discourages usual dominant strategies on The Challenge, which is a positive. However, this also incentivizes the people in power to create one-sided elimination matchups to make Safe Skulls for their allies as opposed to competitive elimination rounds for the viewer.
Furthermore, it's been frustrating to watch some of the biggest elimination threats on the season (Nam, Lolo, CT) effectively being blocked from competing. Considering the amount of money and effort production probably had to go through to cast an Olympian on the season, it's ridiculous that the most likely outcome is for Lolo Jones to be sent home without a chance to compete.
I'm personally hoping that We Want OGs (the old-school season that's currently filming) and The Challenge 37 decide to give up on trying to make the Skull twist work and come up with another way to force the cast to think more strategically.
Side-note: I'm hosting a Survivor-themed game of Only Connect (the UK quiz game show); if you're interested in getting involved, feel free to DM me on Twitter @josephhadaway.
---
Written by