Up next we have the Shii Ann Huang Award for Most Likely To Place Higher Than Before.
Most of the players coming into an all returnee season have some sort of reputation. Whether that reputation is positive or negative is irrelevant; simply having a reputation of any sort can have huge consequences. Just look at how the returning winners were treated in Survivor: All-Stars. Or how super strategists like Rob Cesternino and Cirie Fields were targetted in their all returnee seasons. When it comes to returning players, it is often better to be an unknown and untested quantity; someone that didn't have a significant impact in their first season, or received minimal screen time (ie Amber Mariano, Jenna Lewis etc).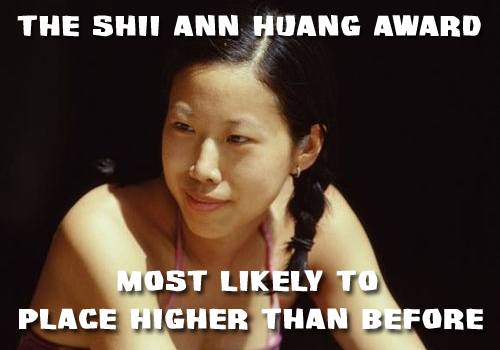 Shii Ann Huang is a great example of this. While Shii Ann certainly made herself known in Survivor: Thailand, she wasn't viewed as a smart strategic player or a strong physical threat. She made a crucial error at the assumed merge and was voted off in 10th place (out of 16), failing to make jury. With all the big, star-studded names in Survivor: All-Stars, Shii Ann wasn't at the top of anyone's hitlist. She made it to 6th place (out of 18), which was quite an accomplishment for someone that played the majority of the season with no real, solid alliance.
Survivor: Cambodia – Second Chance doesn't have any returning winners but it does have plenty of players with big time reputations. Players like Ciera and Kass are coming in with reputations of being unpredictable. Spencer and Stephen are percieved as shifty strategists. Joe and Tasha are viewed as big physical threats. All of those players made it at least to the jury, and in the case of Stephen, to the Final Tribal Council. It will be very hard for those players to place higher than before. But there are Shii Ann's amongst the group that have an excellent chance of topping their previous effort. I have nominated the top two men and women I think are most likely to place higher than before.
And the nominees are…
Jeremy Collins – Jeremy was voted out in 10th place (out of 18) in Survivor: San Juan Del Sur and that is the best thing that could have happened to him in relation to this season. Jeremy has all the tools to be a good Survivor player: strong, smart, strategic etc. But because he got ahead of himself the first time around and was blindsided, he never truly got to show off what he was capable of. And that is great for his chances in Cambodia. In terms of physical threats, he won't be as feared as the likes of Joe or Woo. When it comes to strategic smarts, he won't be as feared as Spencer and Stephen. Jeremy should be able to hide his potential until the merge and this time make a deep run.
Andrew Savage – Another 10th place finisher, Savage is someone who I believe is set up very well on his tribe. He is still in great shape so won't be a liability in challenges, but he is older now, so won't be deemed an immediate physical threat like Joe, for example, who is also on the Bayon tribe. Savage is someone that preaches about loyalty and he should be able to form a solid, trustworthy alliance early. With unpredictable wildcards like Ciera and Kass on his tribe, as well as perceived strategic threats like Stephen, there should be plenty of easy targets to put in front of Savage. Bearing an Outcast style twist, I see no reason why Savage shouldn't be able to place higher than last time.
Kelley Wentworth – Kelley is an obvious choice as she only has to finish in 13th place to finish higher than she did in Survivor: San Juan Del Sur. Kelley was set up relatively well on her original tribe and if it wasn't for an unfortunate tribe swap it looked very likely that she would have at least made the merge. But tribe swaps are a part of the game and Kelley ended up on the wrong side of the numbers. Kelly fits the Shii Ann mould perfectly – she is a mostly untested quantity that won't be perceived as a huge threat coming in. That gives her a great chance to vastly improve on her original placement.
Kimmi Kappenberg – like Kelley, Kimmi only has to last one episode longer than last time to place higher than before. Unfortunately, Kimmi might find that task a little harder than Kelley. While Kimmi may have only survived five episodes in Survivor: The Australian Outback, she wasn't exactly quiet and unassuming. Kimmi can be very outspoken and this has the tendency to rub people the wrong way. Her saving grace is that this is an all returnee season where most people will be playing strategically. That means even if Kimmi is annoying to live with, she still won't be a target because she won't be considered a threat.
Vote below for which of these four nominees you think is Most Likely to Place Higher Than Before in Survivor: Cambodia. Results will be announced in September.
THIS POLL IS NOW CLOSED!
Check out our Survivor Second Chance interviews here and Second Chance Cast Retrospectives.

ATTENTION SURVIVOR FANS – You can SAVE 10% on the purchase of any past Survivor Buff courtesy of PlanetBuff.com when you use the exclusive coupon code: INSIDESURVPAST
Photo Credit: Rosmarie Voegtli via Compfight cc
---
Written by