In May, CBS officially announced the pool of 32 players that would be campaigning for viewer votes to return on Survivor: Cambodia – Second Chance. Before that selection of 32 was decided, Jeff Probst stated that the initial list of potential returnees was said to feature around 100 past players. That list was then whittled down to 50, and then to 40, and eventually settled on the 32 that we saw.
We know the 11 players that didn't receive enough votes to make it back on: Brad Culpepper (S27), Carolyn Rivera (S30), Jim Rice (S23), Max Dawson (S30), Mikayla Wingle (S23), Natalie Tenerelli (S22), Sabrina Thompson (S24), Stephanie Valencia (S22), Shane Powers (S12), Teresa "T-Bird" Cooper (S3), and Troyzan Robertson (S24). And then, of course, there was Mike Holloway, who did receive enough votes, but was ineligible due to winning Survivor: Worlds Apart.
But who else was on CBS's radar? Who came close but was cut last minute? And who turned the offer down?
Inside Survivor compiled a list of players that we know was contacted about potentially appearing on Survivor: Cambodia – Second Chance. These are what we like to call Survivor Second Chance Missed Opportunities.
Name: Greg Buis | Previous Season: Survivor: Borneo | Previous Placing: 9th
Greg appeared on Survivor in its very first season 15 years ago and is still to this day one of the most original, unique characters to ever appear on the show. The entire experience was one big joke to Greg. While players today are often scared to break the rules or insult the show, nobody was safe from Greg. From the producers to the players to the overly-dramatic Tribal Council set-up; even Jeff Probst himself couldn't escape Greg's acerbic mocking. Greg came on Survivor for the adventure, and to live in the wild with a bunch of strangers. He was funny, witty, smart, and a little bit bonkers. He is perhaps most remembered for making a coconut phone and for his flirt-mance with Colleen Haskell.
I don't think there has been one season including returnees where Greg hasn't been contacted, and Survivor Second Chance was no different. Jeff Probst himself admitted that Greg was contacted but was unable to participate due to work commitments. As unfortunate as that is, the positive to take from this situation is that both Greg and the Survivor producers are open to his return. There was an extended period where Greg seemingly disappeared off the face of the earth, perhaps hiding the same place Colleen Haskell is still hiding. But in recent years Greg has made it public knowledge, like on his Survivor Oz interview, that he would be willing to give Survivor another shot. We hope that day will come eventually.
Buy Survivor: Borneo on DVD and see what we missed out on with Greg:
Name: Ian Rosenberger | Previous Season: Survivor: Palau | Previous Placing: 3rd
When you think of the concept of Second Chance you think about players that could have potentially won but made that one big mistake that cost them. There is perhaps nobody that fits that description better than Ian Rosenberger. Ian was a member of the dominant Koror tribe that won every single pre-merge Immunity challenge. He had a solid alliance with eventual winner Tom Westman that controlled the game from very early on. At the Final Immunity challenge, which ran for 12 hours, one of the most epic challenges in Survivor history, Ian stepped down and asked the challenge winner Tom to vote him out. Ian felt that he had lost the friendships he had built with Katie and Tom throughout the season due to his deceptions, and in order to amend those wounds sacrificed his own game. Ian is only one of two players that was voted out outside of a Tribal Council (the other is Brandon Hantz but lets not dwell on that).
Ian played a great game and should not have felt guilt-tripped into giving up Immunity and allowing himself to be voted out. He definitely deserves a second shot, and he is someone I believe has the skill to pull off another impressive run and this time win the game. Ian was contacted to appear on Survivor Second Chance but like Greg; he turned the offer down due to other commitments.
Buy Survivor: Palau on DVD and see what we missed out on with Ian:
Name: Natalie Bolton | Previous Season: Survivor: Micronesia | Previous Placing: 4th
One of the very few stand-outs from the Fans tribe on Survivor: Micronesia, Natalie Bolton, shone in the latter half of the game when she proved herself to be a cut-throat, manipulative vixen. Natalie was part of the all-female Black Widow Brigade along with Alexis, Amanda, Cirie, and Parvati, and used her powers of persuasion to convince fellow fan Erik to give up his Immunity Necklace to her at Tribal Council; after which Natalie and the Black Widow Brigade voted him out. Natalie made it the furthest out of all the Fans on her season but was eventually voted out by Amanda, Cirie, and Parvati at the Final 4 due to their earlier deal.
Natalie was contacted and offered an opportunity to take part in Survivor Second Chance but turned down the opportunity due to other commitments.
Name: Shambo Waters | Previous Season: Survivor: Samoa | Previous Placing: 6th
She had a mullet. She had presentiment dreams about chickens. She had an unexplained vendetta against Laura Morett. She is Shambo Waters. Where do you even start with Shambo? On Survivor: Samoa she was the only other player besides Russell Hantz to get a decent edit. She was a hard worker but completely eccentric. She hated her own tribe Galu and at the merge took the opportunity to join the outnumbered Foa Foa alliance. While initially, this flip seemed to have paid off, Shambo was eventually voted out when the Foa Foa alliance no longer needed her votes.
Shambo was contacted by the producers regarding Survivor Second Chance, and she has been for previous returnee seasons too, but once again turned the opportunity down for reasons unknown.
Name: Chelsea Meissner | Previous Season: Survivor: One World | Previous Placing: 3rd
Chelsea Meissner played alongside one of the best, most dominating players in Survivor history – eventual winner Kim Spradlin. When you're aligned with someone that is as good as Kim, it will always be difficult to step out of her shadow. Chelsea played a good game in Survivor: One World, but was criticized by the jury at the Final Tribal Council for being Kim's main pawn and not having enough of a social game. Chelsea's mistake was not attempting to figure out a way to get rid of Kim.
Chelsea was not only contacted to participate on Survivor Second Chance, but she made the short-list of 40 and went through medical and psych tests in Los Angeles. It's possible that Chelsea even recorded an official campaign video while at the casting session in LA. For whatever reason, Chelsea was cut late into the process and didn't make the final 32. Maybe with Sabrina and Troyzan already on the list the producers thought there were too many One World representatives- particularly since Colton, Kat, and Monica had already returned from that season four seasons earlier.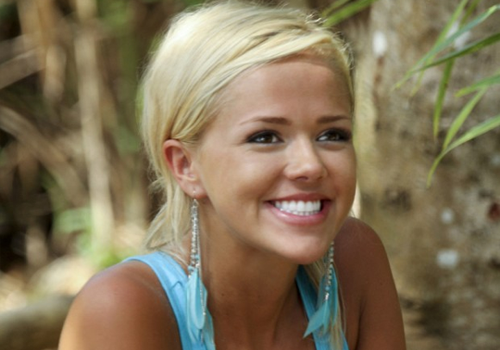 Name: Angie Layton | Previous Season: Survivor: Philippines | Previous Placing: 16th
Angie Layton didn't last long enough on Survivor: Philippines to make a lasting impression. She is perhaps best remembered for flirting with eventual fan favorite Malcolm, and answering "Cookies" when Jeff Probst asked her at Tribal Council what she would change about camp. Angie was on the ever losing Matsing tribe and was voted out in 16th place to keep the tribe strong.
While Angie "Cookies" Layton may not have done enough to be remembered by the wider Survivor audience, she clearly did enough for the producers to contact her regarding Survivor Second Chance. Angie actually made it to the short-list of 40 and participated in the pre-show assessment in LA. I'm not sure why she was eventually cut; it seems she was battling with Kelley Wentworth for that pretty, blonde pre-merge boot, and Wentworth won out.
Name: RC Saint-Amour | Previous Season: Survivor: Philippines | Previous Placing: 11th
RC Saint-Amour also competed on Survivor: Philippines and faired a little better than Angie. She made it to the merge due her tribe Tandang's impressive tribal challenge performances, and she never had to face a pre-merge Tribal Council. She made an early alliance with Abi and Pete, and later Michael, but her relationship with Abi broke down after Pete planted an idol clue in RC's bag causing distrust. Abi and RC became bitter enemies, and at the merge, Abi and Pete had formed a counter-alliance and split the votes between Jonathan and RC, sending RC home at the first Tribal Council she attended.
RC was previously cast for Survivor: Blood vs. Water with her dad, and she actually flew out to the location, but was unable to compete after her father failed the medical test. RC was contacted again to take part in Survivor Second Chance but declined the offer. Nobody quite knows the exact reasons why RC turned down the opportunity.
Name: Hayden Moss | Previous Season: Survivor: Blood vs Water | Previous Placing: 7th
Former Big Brother champion Hayden Moss came on Survivor two years ago and almost repeated his success. Despite his loved one, Kat, getting voted out pre-merge, Hayden was able to make it deep into the game with his stellar social skills. At the start of the game Hayden was part of an all male alliance, just like how he was in Big Brother, and also like on Big Brother, he was the last man standing of that alliance.
He managed to reach the Final 6 without ever having a vote cast against him – a testament to his incredible social game. Also at the Final 6 he became only the second player in history to successfully convince a fellow player to draw rocks (Kathy Vavrick-O'Brien was the first in Survivor: Marquesas); in a bold move Hayden convinced Ciera to force a rock draw tie breaker, in effect making himself safe, and putting his own allies at risk. The move could have won Hayden the game had the rock draw gone his way; unfortunately his ally Katie pulled the bad rock and therefore Hayden's alliance was outnumbered.
Like Angie and Chelsea before him, Hayden was contacted and made the short-list of 40. He completed the pre-show assessment in LA, and possibly even recorded an official campaign video. He was cut at the last minute. The reasons haven't been explicitly stated, but one can assume that with his time on Big Brother and Survivor, this would be more of a third chance than a second, and therefore he didn't quite meet the theme.
Name: John Cody | Previous Season: Survivor: Blood vs Water | Previous Placing: 13th
John Cody may not have had quite as successful a stint on Survivor: Blood vs Water as Hayden Moss, but he had a pretty good run for a guy that was voted out in Episode 3. John spent the majority of his time on Redemption Island, after he was blindsided by Brad and the all guys alliance he was initially a part of. John was voted out due to the fear of his wife Candice winning her way back into the game and aligning with John at the merge; the guys thought that John would be more loyal to Candice than to them. At Redemption Island, John went on a winning streak, winning every duel until he finally lost to Laura Morett at the final duel before the merge.
John was contacted early by the producers regarding Survivor Second Chance, and while John apparently showed interest, the producers cut him before drawing up their short-lists.
Name: Cliff Robinson | Previous Season: Survivor: Cagayan | Previous Placing: 14th
Former retired NBA star Cliff Robinson competed on Survivor: Cagayan as a member of the Brawn tribe. He was instantly recognized for his sporting accomplishments by fellow tribemate Woo. The Brawn never lost a tribal challenge, and therefore Cliff avoided Tribal Council. But when the tribes were shuffled, Cliff became a target of Tony and Trish who aligned with former Beauty tribe members Jefra and LJ to vote out Cliff.
Cliff was contacted to participate in Survivor Second Chance and made the short-list of 40 having complete his pre-show assessment in LA. Cliff possibly recorded an official campaign video. He was cut late in the process. While the reasons for Cliff's exclusion haven't been revealed, it could be due to four other Survivor: Cagayan contestants already making the cut, and also because another retired NBA star will be appearing on the upcoming Season 32.
Name: J'Tia Taylor | Previous Season: Survivor: Cagayan | Previous Placing: 15th
J'Tia Taylor may have only lasted for four episodes on Survivor: Cagayan, but she made one hell of an impression. If she wasn't failing epically in challenges, then she was destroying her tribe's rice supply. She was certifiably crazy. Despite her antics, she survived two Tribal Councils due to the blindsides of David and Garrett. If the Brains tribe weren't so inept in challenges, then J'Tia could have survived until the tribe shuffle, and if that happened who knows how long she would have lasted. Instead, the Brains lost their third pre-tribe shuffle Immunity challenge, and J'Tia was voted out.
Like Cliff, J'Tia also made the short-list of 40 and went through the pre-show assessment in LA. She was cut before the list was whittled down to 32. Again, this was likely a case of too many Cagayan representatives already in the pool.
Name: Jon Misch | Previous Season: Survivor: San Juan Del Sur | Previous Placing: 6th
Jon Misch had a decent run on Survivor: San Juan Del Sur. He and his girlfriend Jaclyn are the only male/female loved one pair to make it to the merge phase of a Blood vs. Water season. Jon was in control from the pre-merge tribe shuffle up until late in the merge, with his alliance which consisted of Jaclyn, Baylor, Missy, and Natalie. But when Jon blindsided Jeremy, Natalie held a grudge and began plotting Jon's downfall behind the scenes. Jon was a pretty good player but a little too trusting, and this allowed his enemies to outwit him later in the game. He was eventually voted out after a 2-2-2 tie-breaker at the Final 6.
The story of Jon and his Survivor Second Chance missed opportunity is perhaps the funniest of all. His girlfriend Jaclyn revealed on social media that Jon was indeed contacted by the producers to participate in the season, but he missed the call and never listened to the voice-mail messages they left. Jon was then cut due to his apparent lack of interest.
Name: Josh Canfield | Previous Season: San Juan Del Sur | Previous Placing: 11th
Josh was set up from the start of Survivor: San Juan Del Sur as one of the very few people that were playing a strategic game. He got into an all guys alliance on his Coyopa tribe and was able to dictate the first few vote-offs after his tribe's rather weak challenge efforts.
At the merge he formed an alliance with his loved one Reed, fellow loved one pair Keith and Wes, and the lone Alec. Their plan was to use the swing-votes, Jaclyn and Jon, to take out Jeremy who was perceived as the leader of the opposing alliance. But those plans were halted when Julie quit the game meaning that night's Tribal Council was cancelled. In this extra time, Jaclyn became upset with the way Alec and Wes treated her, and she convinced Jon that they should switch their allegiances to Jeremy's alliance. Josh was considered the head of his alliance and was blindsided in a 6-5 vote.
Josh was contacted by casting to appear on Survivor Second Chance but had to turn down the invite due to his Broadway commitments.
That is the 13 people that Inside Survivor knows of that were at least considered for Survivor: Cambodia – Second Chance. Obviously, that still only takes us to a total of 45, so there is still at least five more people that made the short-list of 50, and countless others who may have received an initial call of interest. If any more information comes to light, I will update the list for the Survivor Second Chance Missed Opportunities.
---
Written by