Welcome to Give Me Five! Each week, Brent Sullivan will look at the top five moments from the latest episode that could influence the rest of the season.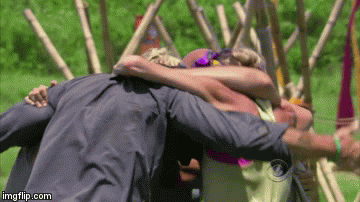 1. Will thinking that he was now the kingpin. We can call this one an instant impact or even foreshadowing, but the episode starts out with Will coming back to camp feeling pretty good about himself and thinking that he's now in control of this game. He wants to swing back to the other side and take out David. Sure enough, his time on the top was short-lived when both sides voted together (except for Jay) and knocked Will out of the game. Jay is now all alone and becomes a major threat with a jury of people that could all vote for him.
2. The Adam and Jay saga. What a funny relationship these two have. First Jay likes Adam and then he doesn't. Then Adam gets Jay back on his side again, then betrays him. Then Jay is forced to work with him, and Adam plays along. Jay is torn between really liking Adam and really hating him. The whole time, it appears that Adam is just toying with him, and Jay keeps following along, mostly because he has no one left and feels like he has to, but also because he keeps thinking that they can work together and make it to the end. I am really curious to see how this plays out. Will they both make it to the end? Will they vote for each other if one is in the final three and the other is on the jury? We will find out very soon.
3. Hannah's decision to go for Sunday over Bret. I am still struggling to figure this one out. Hannah wants to take out the goat now? Does she think that people are going to vote her off instead of Sunday because they want to drag her to the end? Does Hannah want to be the goat? Why she didn't just team up with her and Bret to go to the final three with them is beyond me. I think that she beats them both in the end, but she obviously has a different plan in mind. My second thought on this is that the foursome of Hannah, Adam, David, and Ken is tighter than we have seen and it was always going to be them, but that still leaves the question of why go for Sunday over Bret at that moment? Can't wait to hear her exit interviews and find out what was going on in her head.
4. There are no more hidden idols left in the game. Well, because of Adam tricking Jay so well, Jay had no choice but to play his idol. He didn't want to and ultimately didn't need to, but at final seven on Day 35 he most likely made the correct choice at the moment not knowing what was going to happen. After all, he may end up winning the next two or three immunity challenges. Now at this point, there are no hidden idols left in the game. Unless they end up hiding one more, which is unlikely, from here on out we are idol free! This should mean a few more straight forward votes without trying to flush idols or split votes. Should make for an exciting end either way.
5. Ken made it to Day 36. With Ken winning immunity on Day 35, that guarantees Ken will get to use the legacy advantage. We finally get to see what it is. I for one am excited to see it come into action. Since it looks like the reward steal isn't going to get played, we at least get to see another advantage played.
There you go. Only one episode left, what moments from this week do you think made an impact? We will see how many of these that I got right next week.
---
Written by