The Inside Survivor team recently came together to give our initial thoughts on each Survivor: Millennials vs. Gen X cast member and our predictions on how they will do in the game. These opinions are formed mainly from the CBS cast bios and videos, as well as pre-season press interviews conducted by Gordon Holmes and Josh Wigler. Over the next several days, we will post our thoughts on each Millennials vs. Gen X castaway.
Yesterday we looked at Gen X tribe member Chris Hammons, today we assess…
JESSICA "FIGGY" FIGUEROA
23, Nashville, TN, Bartender, (Vanua aka Millennials tribe)
MARTIN:
First Impression: We all want some Figgy pudding…
Deeper Thoughts: Like Adam, she seems very easy-going and likable. Plus she's a bartender, and we all know bartenders are now capable of winning (time-out to remind you all that I picked Michele in last year's assessment). Jessica's don't tend to have a good track record on Survivor, whether they go by their given name or their nickname (Flicka, Sugar, Chicken…. wait, one of those isn't right.) She's a country music fan, which automatically knocks her down a peg or two. She compares herself to Stephenie LaGrossa, which I can see; she has a tough tomboy appeal that will probably endear her to men and women alike.
Potential Allies: Jay seems obvious; she is open to flirting, so that could be a potential pair unless he becomes a clinger. She talks a lot about her mother, much like Adam, Hannah, and Jay mentioned above – all potential allies. There are a bunch of mommy's kids on this tribe, staying true to their Millennial status. She will probably get along with everyone.
Prediction: My only worry with Figgy is that she says she wants to lead her tribe. Putting yourself in that position is dangerous should something go wrong. You don't want the finger of blame pointed at you. With that said, I think she's going to be a strong challenge performer and social enough to survive the early game. A swap could screw her, but I see her making the merge. Maybe even Final Tribal.
ALICE:
First Impression: You let people call you that? Figgy? Stephenie LaGross vibes.
Deeper Thoughts: Apart from the name, Figgy seems pretty cool. She does boxing. She's about working hard and having fun while doing it. She says she's more than just beauty. She has that blank canvas of a job title in Bartender. There was something about her expression in her cast picture that screamed Stephenie to me and funnily enough that's who she thinks she is like. I think Figgy might have a better social game than Steph though; she seems very personable. I think she'll be a good contributor to the tribe, not sure if she'll go looking for an alliance, etc. But could be very dangerous if she gets to the merge and can start throwing down in competitions. I like her. I think she'll do well.
Potential Allies: I can see Figgy tagging onto a guys alliance, wanting to be with other strong physical competitors. I'm not sure she would have strong ties to the women on her tribe except for possibly Mari. I think she's another blank puzzle piece that could get included in many places.
Prediction: She'll get to the merge but can't see her getting past Final 5.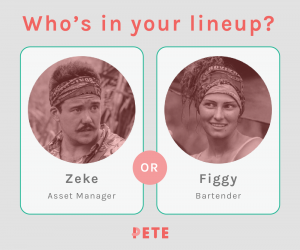 SHAWN:
First Thought: Seems stereotypical, but will turn heads.
Deeper Thoughts: I feel like a larger majority of people are going to write Figgy off. I'm not going to be one of those people. There are very few of the "younger, more attractive female" archetypes on this season, so I think we expect her to play a game in a similar vain. This is entirely possible, but I think she'll prove to be a competitive player and loyal ally. She will probably get frazzled by a swap, but if she can make it back to her original allies, she'll be in a good position.
Potential Allies: Jay, Taylor.
Placement: Mid to late jury.
JACOB:
First Impression: Not a fan, but she'll probably do well.
Deeper Thoughts: She doesn't exactly have layers. She's pretty, she's flirtatious, she's stronger than she looks, yada yada yada. Chances are she'll grab onto one or two of the pretty boys on her original tribe and try to run things by controlling their blood flows. I don't see that type of alliance lasting particularly long, but it should be enough to get her to the merge and probably a few steps beyond.
Potential Allies: Jay, Taylor, maybe Ken later.
Prediction: I expect to see her go to the top six or so.

The Inside Survivor team all have Figgy reaching the merge, with Martin seeing her as a possibly reaching Final Tribal Council. How do you think Figgy will do? Let us know in the comments below.
Survivor: Millennials vs. Gen X premieres Wednesday 21 September at 8:00 pm on CBS.
---
Written by