The Inside Survivor team recently came together to give our initial thoughts on each Survivor: Millennials vs. Gen X cast member and our predictions on how they will do in the game. These opinions are formed mainly from the CBS cast bios and videos, as well as pre-season press interviews conducted by Gordon Holmes and Josh Wigler. Over the next several days, we will post our thoughts on each Millennials vs. Gen X castaway.
Yesterday we looked at Millennial tribe member Hannah Shapiro, today we assess…
CHRIS HAMMONS
38, Oklahoma City, OK, Trial Lawyer, (Takali aka Gen X tribe)
JACOB:
First Impression: Chris could win this thing. He's a guy's guy and a leader, but he seems to know the game well enough to know how to take a backseat when necessary.
Deeper Thoughts: Chris is going to quietly gather up people and launch rebellions. Gives off a sweet vibe though he clearly has an agenda. My only concern is that he wants to be Boston Rob. If you try to control everyone, everyone fights back. I don't think he has the presence to do exactly what he wants to. That said, I think he's got a great shot if he just moves with the tides of the game instead of trying to punch water.
Potential Allies: I feel like the older members of the Millennial tribe will want to work with him when that time comes, as well as Gen X players like Lucy, Ken, Bret and Jessica.
Prediction: I think we'll see him at the final tribal.
MARTIN:
First Impression: Normal, boring jock type…woah…medicine pouch!
Deeper Thoughts: Chris didn't jump out to me. He seems super competitive and is clearly successful in life. He is likable enough, but he doesn't look like he'll be an interesting TV character. The most interesting part of his bio was the talk about the medicine pouch he got from an Indian Chief, and only because it was so unexpected based on the rest of his personality. Sounds like he had a tough upbringing so he can probably deal with s**t easily. I feel that he'll be thrust into a leader position on his tribe given his football background. I get a very slight Andrew Savage vibe from him- although I think Chris is more down to earth.
Potential Allies: The other lawyer on the Gen X tribe, Jessica, seems an obvious fit. He'll probably click with Bret too. A couple of people spoke about Chris in their videos, not by name but by description, and they talked about wanting to work with him. Zeke was one of those people. I think he'll do okay for allies.
Prediction: Even though I don't think Chris will be compelling TV, I think she's got a decent shot of going far. He'll make the merge but be taken out as a threat before he gets too deep.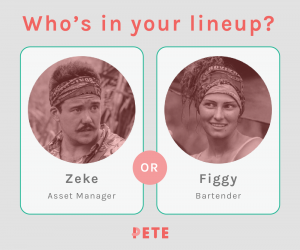 SHAWN:
First Impressions: He's the Alpha come hell or high water.
Deeper Thoughts: When we first revealed the cast, I really liked what Chris had to offer in terms of a paper resume: smart, athletic, seemingly sociable. As I watched his video and read his bio, I got one overwhelming notion- he will live and die by challenges, not the actual game. Chris is very much the Tyrone (Nicaragua) of Gen X (very strong; will be called on for the clutch moments). I'm worried about his social game, but I think that people would be stupid not to drag him along. His placement in the game relies on how long it takes to realize that he's a meat shield (regardless of how smart he is) and play up to that fact. Then again, he could easily go full Westman and win out.
Potential Allies: Again, another iron sharpens iron type person. I don't seem him going lawyer buddies like Caryn/Willard, so no go to Jessica. I'd say that he aligns with Lucy, Ken, and David. Bret will either be his best friend or biggest rival.
Prediction: Directly after the merge. But could win it all if he plays every card right.
ALICE:
First Impressions: Serious Southerner.
Deeper Thoughts: So this is the guy the other cast members are mistaking as a pro football player. He is pretty bulky to be fair, and he did play football at college. What I was reading in bios and interviews made me think highly of him- a trial attorney with a spiritual side and a tough upbringing. Watching his video, though, he just didn't jump off the screen. He's got the thinking style you need for Survivor, and I think he could do quite well, but I just can't get off the fence to love him as a character. He self-compares to Boston Rob because he was so dominant on Redemption Island and can draw in the oddball. He also says he can fit in with jocks or with 'off the radar' nerds. I think he could do quite well, but I'm not sure he's very entertaining.
Potential Allies: Chris says he's a guy's guy, so I could see him working with Bret or Ken. He also talked about pulling in a "weirdo" so we could see him work with anyone really- maybe CeCe or Sunday.
Prediction: I think he's going to be great, I just don't think I'll be invested in him as a character. He'll make the merge.

The Inside Survivor team is expecting Chris to make a deep run, with all of us having him at the merge and Jacob going so far to put him at final tribal council. How do you think Chris will do? Let us know in the comments below.
Survivor: Millennials vs. Gen X premieres Wednesday 21 September at 8:00 pm on CBS.
---
Written by