The Inside Survivor team recently came together to give our initial thoughts on each Survivor: Millennials vs. Gen X cast member and our predictions on how they will do in the game. These opinions are formed mainly from the CBS cast bios and videos, as well as pre-season press interviews conducted by Gordon Holmes and Josh Wigler. Over the next several days, we will post our thoughts on each Millennials vs. Gen X castaway.
Last time we looked at Millennials tribe member Jessica "Figgy" Figueroa, today we assess…
CIANDRE "CECE" TAYLOR
39, Los Angeles, CA, Insurance Adjuster, (Takali aka Gen X tribe)
JACOB:
First Impression: I can't exactly tell whether she's actually good with people, like her job might imply, or if she requires a script to get by. Maybe it's the awful b-roll, I don't know. I'm not sure if she can manage a natural chemistry with all these people under these conditions.
Deeper Thoughts: I feel like she's just saying the same stuff everyone without much to say, says. She's a fighter, she strives to overcome adversity, she's reaching for her dreams, etc. I don't know what she brings to the table that will give her a better chance at winning this game.
Potential Allies: She's probably going to get along fine with the other women on her tribe, but I see her clashing with folks like Paul and Chris.
Prediction: Really uncertain. Could be late pre-merge? Maybe?
MARTIN:
First Impression: Strong independent woman.
Deeper Thoughts: She seems strong-willed and determined. And she works in injury claims, so if a Caleb heat stroke situation happens, then CBS better have their lawyers at the ready. She talks a lot about how she comes from a family of strong women. I can see her rallying the women on her tribe and trying to take down the alphas. I'm just not sure how the other women on her tribe will take to her. I think she'd have more chance with the younger women; Figgy and Michaela who are equally strong-minded, and Michelle who wants to be the downfall of men. She also looks pretty strong physically.
Potential Allies: I touched on this above, I think an early swap could benefit her as I just see her clicking more with the younger crowd. I'm not sure your Bret, Chris and Paul's will want to take direction from her, and they might see her as a threat.
Prediction: I hope CeCe does well, but when I look at the Gen X tribe, I just see her being an early casualty. Not quite the first boot, but somewhere pre-merge.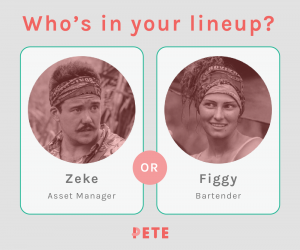 SHAWN:
First Thoughts: She seems incredibly genuine and could surprise everyone.
Deeper Thoughts: CeCe looks like she knows what she wants and how to get it. Except for that she only listed two things to bring to the island instead of three? Why can't this cast count?!?! Seriously, though, I really think that CeCe will turn some heads this season. She seems like the type of person to grind and never give up. I think that many on her tribe will see CeCe as weak until she gets a chance to prove herself. She'll work her way into an alliance of like-minded people.
Potential Allies: Lucy, Chris.
Prediction: Post-merge.
ALICE:
First Impressions: Seems smart and strong
Deeper Thoughts: When I originally saw CeCe and everything about CeCe she really didn't jump out at me as someone with potential. I watched her video and didn't feel compelled by her. Then I read a few magic words in her Josh Wigler interview – she wants to "take it easy in the beginning…play the middle." I was sold. Her saying this convinces me that she is a Survivor fan and can see how to be successful playing the game. She's had a tough upbringing and has a lot of emphasis on hard work from a young age, so I think she'll have that a strong 'never quit' quality to her. Like many others, she says she can read people and adjust depending on who she is dealing with. Like everyone else, I'll believe it when I see it. My concern with CeCe is whether she'll be an asset in challenges and how that will affect her value within her tribe.
Potential Allies: CeCe wants to align with someone who wants to play the game, so I'm looking at other fans David, Bret, Paul, etc. She's got her pick of fans from the younger tribe too – she could be a great complement to Adam, I'd love to see a Zeke and CeCe power alliance too.
Prediction: If she can carry her weight in challenges I think she'll be a strong player and get deep in the game. Merge at the very least.

The Inside Survivor team is split down the middle with CeCe, with Jacob and Martin placing her pre-merge and Alice and Shawn having her post-merge. How do you think CeCe will do? Let us know in the comments below.
Survivor: Millennials vs. Gen X premieres Wednesday 21 September at 8:00 pm on CBS.
---
Written by