With the season premiere of Survivor: Island of the Idols almost upon us, six of Inside Survivor's contributors got together to draft their teams and assess the 20 castaways about to battle it out for the $1 million prize and the title of Sole Survivor.
The contributors taking part in the draft assessment are:
Ali & Gus: recently engaged couple Ali & Gus write the weekly Hot or Not feature where they analyze the players and bicker about each other's picks.
Austin Smith: multiple time draft champion, Austin recaps the episodes of Survivor US and Australian Survivor.
Rob Brodeur: our resident Stat man, Rob will once again be on hand this season to deliver all the latest statistics following each episode.
Stephanie Lauw: Steph writes the weekly Next Time On Survivor feature, the same feature originally started by Survivor castaway Jacob Derwin.
Martin Holmes: that's me! Owner of Inside Survivor.
Taking turns in a snake draft, decided by random draw, Ali/Gus, Austin, Rob, Stephanie, and Martin picked their winner candidates, big characters and personal favorites to assemble their teams. Read on to hear their first impressions and predictions for each castaway…
ALI & GUS' FIRST PICK
DEAN KOWALSKI
LAIRO TRIBE
TECH SALES | 28 | NEW YORK, NY
Our first pick for the draft is Dean Kowalski, the 28-year-old tech salesman, because he seems neat. We're being facetious, but that's sort of the origin of our pick. Dean comes across as a friendly, easygoing guy with good physical abilities. He's athletic and outgoing; he's friendly and seemingly laid back. A lot of these are characteristics we've seen in other recent winners—Wendell (his favorite) and Chris Underwood to name a couple. In his interviews, Dean just seems like a friendly guy that you'd want to keep around, so we're hoping that combined with decent challenge chops will provide him with a mist.
AUSTIN'S FIRST PICK
JASON LINDEN
VOKAI TRIBE
PERSONAL INJURY LAWYER | 32 | NEW YORK, NY

The Rob Cesternino comparisons write themselves on looks alone, and at first glance, Jason hits a lot of those notes you'd expect. He's got the love of Survivor down, he's got the Long Island vibe and a sarcastic sense of humour, and, for better or worse, he's confident in his capabilities. Having drafted our teams before being able to see or hear much more than the contestants' CBS bios, I picked Jason because he seems like the type who finds success on Survivor these days—he's in a sweet spot demographically, he's successful, driven and determined without appearing arrogant and he knows what to expect from the game ahead. Having now been privy to his interviews with Josh Wigler and Mike Bloom, that prediction is only supported with further evidence. He's smart, ambitious, adaptable and seems poised for success.
My main concern with Jason is that his confidence in his plans could get him in trouble. He has clear plans of how he wants to approach the game, such as championing the "vote out the weak" strategy, but in a very physically adept cast, I worry that he could find himself then becoming a victim of his own mantra by appearances alone. He also acknowledges his Achilles' heel as being too talkative and neurotic, which has doomed many in the past. But I like that he is self-aware enough to have concocted a counter-strategy bluntly titled "The Shut the F*** Up Strategy," so I'm hoping he'll be able to surpass some of the dangers in his path and make the deep run he seems well-suited to.
ROB'S FIRST PICK
ELIZABETH BEISEL
LAIRO TRIBE
OLYMPIC MEDALIST | 26 | SAUNDERSTOWN, RI
I chose Elizabeth first for a few different reasons. First, she's an Olympic gold medalist, so not only is she super athletic, but she knows how to work well with other people in a competitive environment. Another reason is that she's from Rhode Island, and I needed to have some New England representation on my team! She seems like she'll be a fun, positive energy on the season, and I'm very excited to see how well she's able to do. Her athleticism alone should take her pretty far into the game, but I think she'll also be able to make really good connections with her fellow players.
STEPH'S FIRST PICK
LAUREN BECK
VOKAI TRIBE
NANNY | 28 | GLENDALE, CA

Lauren was my first pick because I was instantly drawn towards her chirpy and bubbly personality. From the pre-season press, the 28-year old seems to be an approachable and extroverted character, which is important and definitely helpful when connecting with new groups of people. As a nanny and a journalism graduate, I feel like her experience would have given her the street smarts, as well as the flexibility and adaptability to play Survivor. On top of this, I'd like to believe that Lauren's natural sense of humour would be an immediate asset for her in the game—I see her as a social hub that others might be attracted to work with. Overall, Lauren comes across to me as a competent force to be reckoned with this season, and I'll be rooting for her!
MARTIN'S FIRST PICK
MOLLY BYMAN
VOKAI TRIBE
LAW STUDENT | 27 | DURHAM, NC
It doesn't take much to win me over. You make a Freaks & Geeks reference, and you're in my good books. But I'm not just picking Molly because her pop-culture tastes are on point. I think she has a good head on her shoulders… and even greater head of hair. Her bio reads Law student, but she's not some wide-eyed freshman with no life experience. She graduated from Boston College in 2013, she's studied abroad, and she taught Middle School for five years. What better way to prepare for Survivor than dealing with 400+ unruly school kids?
Molly's also a Survivor superfan but doesn't come across as the type where that will be a hindrance. Some superfans find hard it hard to contain themselves and end up making major blunders, but Molly comes across level-headed and down to earth. Even her plan to lie about what she does for a living—something that usually makes me roll my eyes—makes sense. She's going to tell everyone she is an English teacher, not a Law student, and given that she taught for five years, it's not going to be difficult for her to maintain that white lie. "I even dress like [an English teacher]," she told Josh Wigler.
There are certainly more boisterous personalities on this cast than Molly, so in terms of screen-time, I'm not sure how much she'll be featured. But when it comes to a smart, logical player with the potential to make a deep run, I'm all in on Molly.
MARTIN'S SECOND PICK
KELLEE KIM
VOKAI TRIBE
MBA STUDENT | 29 | PHILADELPHIA, PA
Kellee might be a recent convert to Survivor, but she's clearly prepared to do whatever it takes to win this game if her story about wearing a tie-dye cat t-shirt to throw off the competition is anything to go by. I think this MBA student could be a real triple threat: she's smart, attractive, and judging by her interview with Josh Wigler, has a great sense of humor. Some people will no doubt be intimidated by her intelligence, and given Survivor's recent track record, she's right to be worried about being perceived with Asian-American stereotypes. But I think and hope her humor and positive demeanor will be disarming.
I also like how Kellee talks about making authentic relationships with people and using her insecurities and vulnerabilities to connect on a deeper level. That can sometimes be a risky strategy, as people take betrayals much worse if you've connected on such a real level (just look at how Spencer was treated at the Cambodia Final Tribal Council), but if you can pull it off without burning those bridges, it can be a path to the $1 million. I can really see Kellee's fellow tribemates gravitating towards her personality, and that should allow her to make strong bonds that will take her far in the game. I just hope the cold she had in pre-game doesn't make her a target—imagine getting voted out for having the sniffles?
STEPH'S SECOND PICK
VINCE MOUA
LAIRO TRIBE
ADMISSIONS COUNSELOR | 27 | PALO ALTO, CA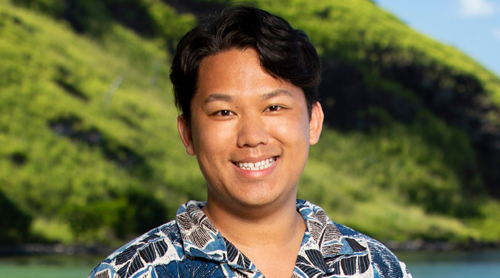 The 27-year-old Admissions counselor/Shaman master-in-the-making is my second pick from the season 39 cast. Vince is no short of life experiences, which he describes in his CBS bio to have provided him "accumulated grit." I'm sure this will contribute to his tenacity to play and hopefully succeed on Survivor. I was most surprised when he mentioned Shii Ann as one of the Survivor contestants he's most like—you don't hear old school players mentioned that often. To me, this indicates that Vince knows his Survivor history, which is always a plus point even if the game has evolved many times over.
There's a great sense of eagerness I'm getting from Vince's bubbly, slightly verbose interview responses that I'm hoping will surface in the game in a distilled manner. I'm a little worried that Vince ends up being portrayed as too much of a personality and we don't get to see him as a player, but all in all, I'm super excited to see him play. (Also, Southeast Asia represent!)
ROB'S SECOND PICK
TOMMY SHEEHAN
VOKAI TRIBE
TEACHER | 26 | LONG BEACH, NY
If you were to ask me to pick a winner for the season right now, it would be Tommy. He's probably one of the most well-rounded players this season. He's got a big personality (but not on the obnoxious side), he's charming, physically fit, smart, and the fact that he's also a teacher will help him deal with some of the more taxing people personality-wise. My wife is an elementary school teacher like Tommy and knowing the kind of patience she needs to have on a daily basis makes me think that Tommy will bode well in that aspect. I think he'll be able to make some solid connections early on and stick with them, while also making connections with other people along the way.
AUSTIN'S SECOND PICK
ELAINE STOTT
LAIRO TRIBE
FACTORY WORKER | 41 | ROCKHOLDS, NJ

Elaine's bio didn't grab me initially but hearing her interview with Josh Wigler changed my mind. There is something so incredibly genuine about Elaine, and as she recounted her story of her tough life with a practical and optimistic outlook, she was an instant winner for me. She might not be the one to take out the title of Sole Survivor, but she is almost certainly destined to be an audience favourite. Elaine has both the hard edge of a tough exterior and grit and strength but also a softer side of a wry personality and a willingness to be a little vulnerable, and I feel like she could ride the middle between those sides of her personality to endear herself to her tribemates. She acknowledges that others tend to feel comfortable opening up to her as well, and she's baked that into her strategic approach to the game to be the Cal to Ricky Bobby and Shake-and-Bake her way to the end by playing sidekick until it matters.
I see Elaine's biggest hurdle being the very beginning of the game where she'll need to work to overcome any hesitant first impressions. But if she can bring the strength in challenges, the hard work around camp and the affable personality that can break down those barriers, I think she could find herself well-insulated and make a Lauren Rimmer-esque run at it. I also love that she is an unabashed fan and that her relationship with her godmother—who would have been her family visit if not for a recent stroke—is what is fuelling her drive to play this game for both of them. Elaine has heart for days, but she's out there to play, and I wouldn't underestimate her.
ALI & GUS' SECOND PICK
KARISHMA PATEL
LAIRO TRIBE
PERSONAL INJURY LAWYER | 37 | HOUSTON, TX
We're stoked to have Karishma on our team, and not only because the 37-year-old personal injury lawyer is the inspiration of my favorite Survivor-related meme to come out of Season 39 so far:

(NB: she did not actually say that) Karishma is really exciting to us in part because she falls outside of a lot of the dusty old Survivor casting tropes. As she states in her interviews, she catches a lot of flak for being a 37-year-old Indian woman who has not 'settled down and had some kids'. But instead of caving to that pressure, Karishma decided, "Yeah, no, forget that; I'm gonna go play Survivor because *I* want to." Her personal drive and unwillingness to cave to other's demands should serve her well on the island.
ALI & GUS' THIRD PICK
JANET CARBIN
VOKAI TRIBE
CHIEF LIFEGUARD | 59 | PALM BAY, FL

For our next pick, we couldn't resist going with the one and only Janet Carbin (or as Ali refers to her, "Stanet"). We were hooked on Janet the moment we saw her, as our drafts tend to revolve around a mix of traditional picks and "THAT LADY LOOKS LIKE A BADASS" (see: Natalie Cole, Reem Daly, and Julie Rosenberg), and we couldn't pass up the chance to add Janet to our list. Having now learned more about her than just her name and her picture, we're even more excited. We think her lifeguarding experience will set her up well both in terms of challenges, where we expect her to thrive in the water, and in the social game, as she consistently works closely with folks younger and older than her.
AUSTIN'S THIRD PICK
RONNIE BARDAH
LAIRO TRIBE
PRO POKER PLAYER | 35 | HENDERSON, NV

I was not expecting to like Ronnie's chances—at this point, poker players on Survivor have carved out a pretty unfortunate reputation as unsuccessful players whose skill with the mindgames of cards proved unable to transfer to the complex game of Survivor. But Ronnie's interviews caught me off guard in some respects; there was an unexpected edge of humility to his answers that surprised me, and I felt like he wasn't resting on his poker skills alone as proof of his capability as a Survivor player. Ronnie had a rough upbringing but came out of it and found immense success as he hustled his way up in his career, and I like his chances to bring an unexpectedly polished approach to Survivor.
It's apparent that he's done his research and has been following the show for a time. He's heading into the game having prepared physically and strategically, and there is an affability to his approach to play an adaptable game. It is apparent, though, that Ronnie is a talker and could grind against his tribemates if he falls into the trap of focusing on himself over opening up to others. Nevertheless, as a fit guy with brains to back it up, I could see him doing well, and I thought picking him for my team was a worthwhile gamble.
ROB'S THIRD PICK
MISSY BYRD
LAIRO TRIBE
AIR FORCE VETERAN | 24 | TACOMA, WA

This girl has been through some s**t. It's made her a strong, tough person, and she's got everything that it takes to make it far on Survivor. Just looking at Missy's face in the tribe photo, she looks SO EXCITED to be playing Survivor, and I think that her personality is going to be such a welcome addition to the Lairo tribe (which already seems like the more upbeat, fun tribe compared to Vokai). On top of that, she is FIT. She's an Air Force veteran, which tells you that she's got a lot of determination, and she'll be able to do well in the physically demanding challenges.
STEPH'S THIRD PICK
DAN SPILO
VOKAI TRIBE
TALENT MANAGER | 48 | LOS ANGELES, CA
In an era of relatively young casts, my first impression of Dan was, inevitably, his age. The 48-year-old (un)fortunately stands out in that aspect, but I do feel like it won't be a problem once he gets past the initial encounter. As a talent manager, Dan literally works with people on a daily basis as his career, so I believe he would know how to control and collaborate with different personalities, and as he says, "make [himself] critical in their success." Dan seems to be pretty sure of himself, striking me as someone who will be realistic of his position in the game. Apart from these, his personality is still quite a mystery to me, so we'll see when season 39 airs!
MARTIN'S THIRD PICK
JACK NICHTING
VOKAI TRIBE
GRAD STUDENT | 23 | NEWPORT NEWS, VA
Between Molly and now Jack, I think I'll have to dub my crew #TeamHair. I've also just realized I'm building a squad of students. Jack isn't the usual Survivor archetype I pick in these drafts, but I thought I'd shake things up a bit this season. I remember seeing his audition video on YouTube and thinking he had the potential to make it on the show—fast-forward a couple of years and here we are. I'm following that gut instinct again and hoping the young grad student has what it takes to make a deep run on the Island of the Idols.
He acknowledges that he looks like a "Little Joe" and how that could be an obstacle to overcome. But he seems self-aware enough to work on changing those perceptions. "I think something I have that Joe doesn't is I'm a very genuine person," he told Parade's Mike Bloom. Jack wants to put his personality above his survival skills and potential challenge prowess. I certainly think he's capable of connecting with people. He's worked with kids, so there is a possible connection with the likes of pretend teacher Molly and real teacher Tommy. If he can get into a solid alliance early on, I think he'd be the type to stay loyal to it.
My main worry is that he's not going to be able to help but expose his inner Joe. In his interviews, he says he wants to play down his survival skills, but at the same time, he talks about how excited he is to climb a coconut tree and go spearfishing. This could be what ultimately leads to his downfall.
MARTIN'S FINAL PICK
CHELSEA WALKER
LAIRO TRIBE
VIDEO CONTENT CREATOR | 27 | LOS ANGELES, CA
Speaking of YouTube audition videos, Chelsea has been applying to get on Survivor for years and finally her dream has come true. She's probably the biggest fan on the cast, which says a lot given the number of superfans on this season. That super-fandom makes me somewhat apprehensive for Chelsea's chances. It could go one of two ways: either she Adam Klein's her way to victory, or she has a Jacob Derwin style meltdown (sorry Jacob, I still love ya). I don't see any middle ground for Chelsea; she'll either be able to channel her superfan energy into a winning game, or she'll let it consume any sense of logic.
The good news is, Chelsea is ready to play down her love for Survivor. She talks in her interviews about playing a low profile, middle of the road game before breaking out the big moves later. "I don't want to make a big move just for the sake of it," she told Mike Bloom. Instead, she wants to focus on building relationships with the members of her tribe. That all sounds good. The problem is, those things are easier said than done. Can Chelsea keep her enthusiasm for the game contained? I think she's cried (happy tears) in every pre-game interview, so that does slightly worry me that she might let her emotions get the best of her. Also, is a person who sent Jeff Probst a drink at a restaurant the kind of player who will sit back and play a quiet game? She won't want to be another Purple Chelsea, so she could soon be itching to make a big move. Whichever way Chelsea's game goes, I think it will be pretty, pretty good TV.
STEPH'S FINAL PICK
JAMAL SHIPMAN
VOKAI TRIBE
ADMISSIONS COUNSELOR | 33 | PROVIDENCE, RI

My final pick was Jamal, the 33-year-old Admissions Counselor from New Jersey. All in all, Jamal comes across as a determined, capable guy, likening himself to past contestants such as Jeremy, Wendell, Sarah, and Christian. This gives me the impression that he's going to have some smart strategy at the fore of his gameplay. I also like the fact that he is into music, on top of his background as a sports athlete. Indeed, Jamal describes himself as a "balanced" individual, which I find is an underrated character trait to centre upon in a high-spirited, unpredictable game such as Survivor. I hope that the sum of his experiences and visions translate well for him this season!
ROB'S FINAL PICK
AARON MEREDITH
LAIRO TRIBE
GYM OWNER | 36 | WARWICK, RI
My final pick was done by process of elimination, as I wasn't too keen on having Tom or Noura on my team. Aaron was quite an enigma to me. His bio makes him come off as somewhat self-involved, while his cast interview with Josh Wigler made him seem like a different person. It'll be interesting to see which Aaron we get on Survivor. If he's bio Aaron, I'm concerned for his position in the game. He's definitely physically fit and will help in challenges but this can also be seen as threatening as he'd be the type to "vote out the weak." There are a lot of savvy players on Lairo, and I feel as if they'll be put off by Aaron. I could, however, be completely wrong about him and he'll end up forming a strong bond with someone on his tribe and making it to the end with them like Domenick did with Wendell in Ghost Island.
AUSTIN'S FINAL PICK
NOURA SALMAN
VOKAI TRIBE
ENTREPRENEUR | 36 | NORTH POTOMAC, NC

I'll be honest, with the draft coming down to Tom and Noura, I was not particularly enthused by either choice, though saw some potential for both, so I literally left my decision down to the roll of a dice. The 20-sided dice rolled a 9, and so the odds meant that Noura was mine, and after hearing more from her in her interviews, I still don't know what to make of her. She's in physically great shape, and as evidenced by her background in finances, she's got the brains too. On the personality front, it's undeniable that Noura is a force of nature, emphatically positive and ambitious with every word and slap of the table, and that could go one of two ways. If she can find the right allies, that positivity and encouragement could help fuel her tribe and her alliance… Or we're potentially looking at the first boot, voted out for simply being "too much"—too talkative or persistent or irritating or even too sunny when everyone else is tired and worn out and not needing the pep talk.
That said, I hope Noura can get a foothold, because driven, positive and confident players can be great characters. I also think there's something to her strategic approach to be "The Disruptor." While it's great to see superfans living the dream, I agree with Noura in that sometimes the best ideas emerge authentically from someone who organically thinks outside the box, simply because they haven't ingrained the "rules" of Survivor into their perspective. I would love nothing more than for Noura to turn the game upside down by making an unconventional play—and regardless of whether it's a brilliant move or a disastrous one, I'd nearly guarantee it would be dynamite TV.
ALI & GUS' FINAL PICK
TOM LAIDLAW
LAIRO TRIBE
FORMER NHL PLAYER | 60 | GREENWICH, CT

Tom was our default last pick, but to be honest, we'd been thinking about taking him as early as when we picked Karishma. Despite his bio being incredibly concise (and hilarious in some ways, e.g. "Q: What's one thing we wouldn't know from seeing a photo of you? A: I don't like heights.), Tom comes across very eloquently in his interviews, telling elaborate stories of his past and even plugging his podcast "True Grit Life" (YouTubing him pulls up some footage of old hockey fights that certainly make that podcast title ring true). Laidlaw might appear at first glance to be the kind of player who would just boss others around and not have any fun on the island, but we think he's going to be an entertaining presence and has potential to go deep in the game so long as he doesn't try too hard to command an alliance. Also, we're hyped to have the first Canadian player on our draft team!
Here are the teams in handy graphic form (courtesy of Austin)…
Let us know who you'd choose for your team in the comments below.
Survivor: Island of the Idols premieres September 25 at 8 pm on CBS. Stay tuned to Inside Survivor for weekly features including Episode Reviews, Edgic, Stats, Next Time On Survivor, Hot or Not, Player of the Week… and more.
---
Written by