The Survivor pre-season is like Christmas to Survivor fans, with a whole new bunch of cast bios and videos to unwrap and dig into. What did we get this year? That dream castaway we've always wanted? Another California recruit (the Survivor equivalent of a pair of socks)? Whatever it is, a new cast is a gift that keeps on giving.
One of the key features of the Survivor pre-season is the official CBS cast bios. These short Q&As are our first insights into the new castaways and their characters. It doesn't give us a full picture of who these people are, but it allows us to form a first impression based on their answers.
The answer that most fans are interested in is the response to the question "Survivor contestant you're most like?" It's a simple question but one that tells us so much. Depending on the answer, it lets us know how much of a fan that person is, their knowledge of the show, how they perceive themselves, how they want to play the game, and it also speaks to the overall impact of individual Survivor players.
With that in mind, Inside Survivor thought it would be interesting to look back at the answers to this question over the past few years and work out not only which Survivor contestant was said the most, but also what other common themes occurred.
We looked at the cast bios of every new player (no returnees) since Heroes vs. Villains (so, from Nicaragua up to Millennials vs. Gen X). These are the results (some people answered with multiple contestants).
Survivor Contestant You're Most Like
89 different names (including "No one") were said between Nicaragua and Millennials vs. Gen X. One person also said, "the winners" (Benry) and one person said, "the pro-athletes" (Scot).
Top Ten most mentioned:
| | |
| --- | --- |
| 1. Parvati | 24 |
| 2. Boston Rob | 16 |
| 2. No one/Myself | 16 |
| 3. Ozzy | 14 |
| 4. Russell Hantz | 12 |
| 5. Stephenie | 11 |
| 6. JT | 10 |
| 7. Rupert | 9 |
| 8. Fabio | 8 |
| 9. Colby | 7 |
| 9. Sandra | 7 |
| 10. Malcolm | 6 |
| 10. Penner | 6 |
It will come as no surprise to most Survivor fans that Parvati came out on top. In recent years it has become a running joke within the Survivor community that Parvati is the stock answer for this question. Usually said by recruits who have only seen a small selection of seasons.
What is interesting though is that the "Parvati phenomenon" didn't really take off until around Caramoan. Between Nicaragua and Philippines, her name came up once or twice in each cast – which is odd as you'd expect her name to come up a lot more after Heroes vs. Villains. Unsurprisingly, Caramoan had a "Fans" tribe made up of a lot of recruits, many of them young women which resulted in a lot more Parvati mentions.
Nine of those Parvati comparisons came from the last two newbie seasons alone, Kaoh Rong and Worlds Apart. Again, mostly from young women: Hali, Sierra, So Kim, Anna, Julia, Liz, and Michele all named Parvati.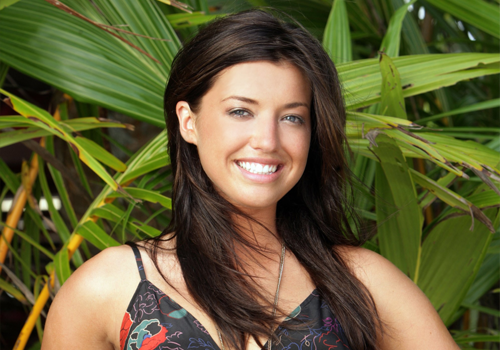 Out of all twenty-four mentions only one person who said Parvati actually ended up winning the game – Michele Fitzgerald.
Nobody from Millennials vs. Gen X said Parvati in their cast bio.
So who was the most commonly named female before the Parvati explosion? It was number five on the list, Stephenie Lagrossa. Her name came up frequently following Heroes vs. Villains, including mentions from winners Kim Spradlin and Denise Stapley. The Stephenie comparisons tailed off after One World, but her name popped back up again this season thanks to Jessica "Figgy" Figueroa.
Boston Rob was second overall, and the most frequently mentioned male. Again, much like Parvati, his mentions didn't start kicking into overkill until more recently. Even after Redemption Island, the Rob mentions were steady. Cagayan onwards is when the ball really got rolling.
Out of the sixteen mentions, only two people who said Boston Rob ended up winning – Tony and Mike. Two castaways from Millennials vs. Gen X compared themselves to Rob – Chris Hammons and Michelle Schubert.
As many people said "No one/Myself" as they did Boston Rob. When a castaway says there is nobody else like them, it is usually a reliable indicator that they've never seen Survivor before.
Here is a handful of people that answered "No one/Myself": Wendy-Jo, NaOnka, Dan Lembo, RC, Joaquin, and Rodney. There is one castaway from Millennials vs. Gen X that answered "myself" – Rachel Ako.
Of the top ten, Ozzy and Russell are the most consistent, in the sense that their names tend to come up every season. There wasn't a particular boom period like with Parvati and Boston Rob. Ozzy and Russell have been named back in Nicaragua right up until Millennials vs. Gen X.
Out of the fourteen people that said Ozzy, two of them went on to win the game – Fabio and Mike.  Out of the twelve people that said Russell, one of them has won the game – Tony.
Two castaways from Millennials vs. Gen X compared themselves to Ozzy – Ken McNickle and Paul Wachter. One of them compared themselves to Russell – Justin "Jay" Starrett.
JT was very much like Stephenie, where his name came up a lot immediately following Heroes vs. Villains – again, odd, seeing as his most memorable move that season was the idol blunder. His mentions tailed off after One World.
Perhaps the most surprising name in the top then is Fabio, but after he had won Nicaragua, he was mentioned a lot. The Fabio mentions stopped after Philippines.
Other winners mentioned:
| | |
| --- | --- |
| Cochran | 5 |
| Tom | 5 |
| Tony | 5 |
| Jenna Morasca | 4 |
| Kim | 4* |
| Tyson | 4 |
| Bob | 3 |
| Danni | 3 |
| Tina | 3 |
| Ethan | 2 |
| Natalie White | 2 |
| Yul | 2 |
| Aras | 1 |
| Denise Stapley | 1 |
| Earl | 1 |
| Jeremy | 1 |
| Natalie Anderson | 1 |
| Richard | 1 |
| Sophie | 1 |
| Todd | 1 |
| Vecepia | 1 |
Only five former winners didn't get a mention: Brian Heidik, Amber Mariano, Chris Daugherty, Mike and Michele (although Millennials vs. Gen X filmed while Kaoh Rong was still airing).
Cochran and Tony are becoming popular answers. Cochran seems to be the new nerdy Survivor superfan answer (said recently by Aubry and Millennials vs. Gen X castaways David Wright and Hannah Shapiro). Tony is the new "big move gameplayer" answer, recently said by winner Natalie Anderson, and Millennials vs. Gen X castaway Zeke Smith.
Kim was mentioned by name three times; however, Jenn Brown said "Kate," who doesn't exist. Jenn later claimed she meant Kim.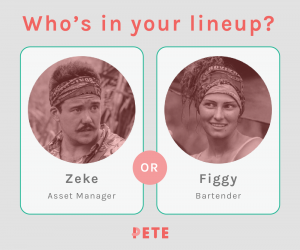 Names we're surprised weren't mentioned more:
| | |
| --- | --- |
| Spencer Bledsoe | 3 |
| Kelley Wentworth | 2 |
| Ciera | 1 |
| Jeremy | 1 |
| Joe Anglim | 1 |
| Natalie Anderson | 1 |
With recency bias being a big factor in Survivor, we're surprised the six names above aren't mentioned more often. Spencer was a big character in Cagayan, yet his first mention didn't come until last season by Tai. Two castaways mentioned him from Millennials vs. Gen X – Adam Klein and Ciandre Taylor. Jeremy was the most recent winner going into the filming of season 33, yet only one person mentioned him – Lucy Huang.
Also, given Kelley Wentworth's game and big idol plays in Cambodia, we expected her name to come up a lot more this season; instead she was only mentioned twice, by Mari Takahashi and Michaela Bradshaw. And Joe being the new golden boy, it surprises that his name hasn't cropped up more in the season 33 bios – Ozzy still seems to be the go to golden boy pick.
Most random and unexpected names:
| | |
| --- | --- |
| Mick | 2 |
| Sue | 2 |
| Ashley Massaro | 1 |
| Colleen | 1 |
| Helen | 1 |
| Kristina Kell | 1 |
| Marcus | 1 |
| Sean Rector | 1 |
Certain names are just expected but then once in a while a castaway will reference a name straight out of left-field – and sometimes it comes from the most unexpected people. Like Julie McGee mentioning Colleen. Or Julie Wolfe dropping Ashley Massaro's name. Maybe it's just the Julie's with unexpected references? Mick coming up twice is a surprise, but then when you realize Edna and John Cody mentioned him, two people also in the medical field, it makes more sense.
Most appropriate comparison:
Coach was referenced three times and the people who said his name are the perfect comparisons. Tarzan, Vince, and Debbie.
The only question left to ask now is – which Survivor contestant are YOU most like?
Survivor: Millennials vs. Gen X premieres September 21 at 8:00 pm on CBS.
---
Written by