Welcome to Season 44's Next Time On Survivor weekly feature on the Inside Survivor site! If you're new around here, this is a tiny space where I give my best attempts at understanding preview trailers and make my predictions for the next episodes of the show. Let's jump right in!
One of the first things that stands out in the NTOS preview is Lauren saying, "I'm the powerful one now." Most likely, this refers to her Bank Your Vote advantage, which she received earlier in the premiere episode. During Ratu's tribal council, she had secretly not cast her vote and kept the parchment to be used as an extra vote at a future tribal council. As the only active and playable advantage in the game at the moment, it certainly is a powerful tool for Lauren!
However, I'm afraid the excitement is going to be short-lived. Matthew was already skeptical of Lauren before tribal council upon receiving information about the circumstances surrounding the advantage from Claire on Soka. As the votes were read and Jeff announced that Maddy was voted out with only one vote, Matthew gave a quizzical look as the numbers did not add up. I feel this would cement his suspicions, and Lauren will be his next target.
What's going to happen on Ratu? Especially after the shared labour in the sweat challenge, I can see Brandon and Matthew working together to get Lauren out. On the other hand, Lauren's going to try to pull Kane and Jaime to her side. My prediction is that although it seems like Lauren has some damage control to do, she'll be able to turn it around for herself as it's still early on in the game.
The next portion of NTOS highlights the potential showmance between Matt and Frannie on Soka. In a voice-over, Matt reveals, "I found an incredible connection, and I think she likes me too." We've seen how showmances play out on Survivor — the couple will be seen as a threat as they are two votes working together. At this very early stage and with the quickened pace of a 26-day season, though, I feel that other players may still wish to work with the couple as it secures them quick numbers amidst other uncertainties. We haven't seen much of Soka yet, but for now, my guess is that Matt and Frannie will be able to navigate the tribe without being targeted if they do actually couple up.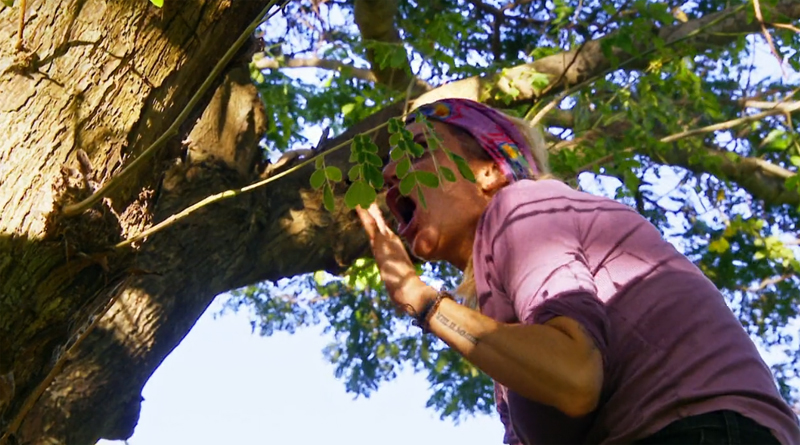 For Tika, most of the tribe's NTOS scenes feature Carolyn's eccentricities. She's definitely a fun character that's going to bring much comic relief to the season. And despite her thinking she may be left out and alone in the game, we see that she's formed a promising connection with Yam Yam. Among the Carolyn vocalisations, there's a scene of most of the tribe walking through camp. I'm wondering if they're searching for the key to unlock the cage holding the hidden immunity idol. I wouldn't be surprised if Carolyn finds it, thus stirring up her exclamations.
Since it's only the premiere episode, I'm going to pick one person from each tribe as my predictions for the boot. For Ratu, I think it's going to be Jaime because of her paranoia. For Soka, I think that Heidi's going to play too hard and be an unwarranted but easy vote. And lastly, for Tika, my wild speculation is that Sarah will be the first to go as collateral damage of something Carson does.
What do you think is going to happen in the next episode? Leave your predictions in the comments below!
---
Written by