This week and next, we're making end-of-year lists to celebrate the best moments of Survivor in 2016. The Inside Survivor team, including former two-time player Shirin Oskooi, discussed and debated the options and separately nominated four choices in each category. We then tallied those votes to determine the final four nominations for each category.
Here are our four nominations for Funniest Moment of Survivor in 2016. Readers can vote below for their favorite.
"Mark the Chicken"
Survivor: Kaôh Rōng, All Episodes
Survivor has had a long history with animals, from Pelican Pete to Balboa the snake to the array of animal corpses in Jan Gentry's pet cemetery. But chickens, in particular, have been a long-held tradition since the early seasons of the show (shout-out to Henrietta from The Australian Outback); there was even a contestant called Chicken (damn!). No Survivor animal, however, has had as much screen time dedicated to it in than Kaôh Rōng's Mark the Chicken. Tai Trang's feathered friend lasted the entire 39 days, was allowed to roam free, survived threats of execution, shared in a Chinese take-out reward, attended final tribal council, and even got his own spot in the title sequence! Most Survivor contestants would kill for the edit Mark received. We felt this humorous little Kaôh Rōng mascot deserved a place in this list.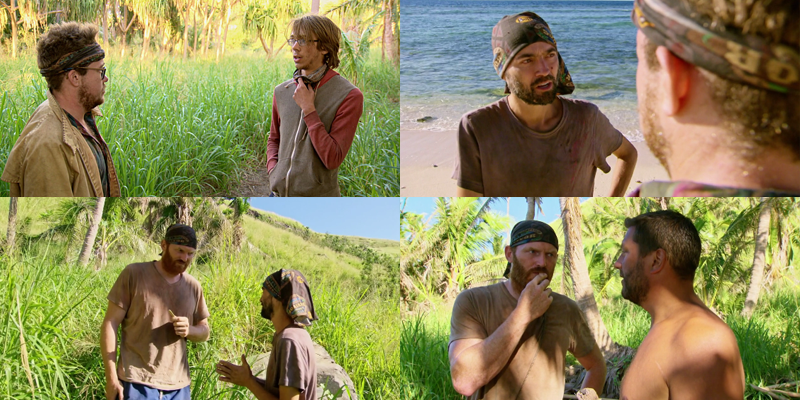 "Jay DOES have an idol"
Survivor: Millennials vs. Gen X, Episode 10, November 23, 2016
Some Survivor moments are funny because of a contestant's witty putdowns or because of a ridiculous situation. Then there are those moments that are hilarious due to masterful editing (like when Russell Swan kept walking by the idol in the Philippines). There was a bunch of these moments in both seasons this year, but the best from Millennials vs. Gen X came in Episode 10 when the world found out Jay DOES have an idol! After informing Zeke Smith of this idol secret, Will Wahl hoped that the information would be kept between the two of them – poor innocent Will. The editors then took great delight highlighting the live-action game of telephone, as Zeke told David, who then told Chris, who then told Bret, and so on. The whole montage was less than a minute long but was by far one of the stand-out, laugh-out-loud moments of the Survivor year.
"Debbie's ever-changing job titles"
Survivor: Kaôh Rōng, Multiple Episodes
Along similar lines to the Jay idol montage, the editors in Kaôh Rōng took enormous pleasure in the editing room when it came to the enigma that is Debbie Wanner. If Coach Ben Wade had a female twin, it would be Debbie, with her worldly skills and War and Peace length resume. Throughout the season she boasted of her many jobs, and the editors jumped on that opportunity, turning her chyron into a superb running gag. Chemist, Civil Air Patrol Captain, Waitress, and perhaps the funniest of all came after her flirting with Nick Maiorano, Part-Time Model. A true Jill-of-all-trades.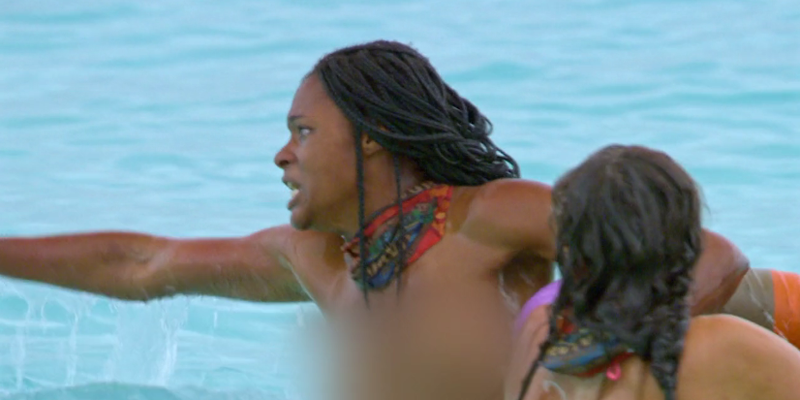 "They about to see some tatas today!"
Survivor: Millennials vs. Gen X, Episode 4, October 12, 2016
Much like how Survivor has a had a long history with animals, it's also had a history with nudity. Ever since season one when Richard Hatch mistook Palau Tiga for a naturist beach, the editors have had plenty of chances to use the blur button (aka the Amanda Kimmel button), from Heidi and Jenna's strip for chocolate and peanut butter to Sugar Kiper's topless, middle-finger salute to the Villains tribe. Michaela Bradshaw provided the show with its latest x-rated moment in a scene which was both epic and funny. After being held back by her bathing suit in a reward challenge, Michaela decided to pull off a Houdini-esque escape, leaving her top behind, and dragging three other contestants single-handedly over to her tribe's post, earning the point in spectacular fashion. The moment was topped off by her confessional back at camp, "You can either lose or let your bathing suit get ripped off and win. So I was like, (shrugs), they about to see some tatas today."
Honorable Mentions: Bret gets drunk on reward (Survivor: Millennials vs. Gen X, Multiple Episodes), Jay finds David's fake idol (Survivor: Millennials vs. Gen X, Episode 14), Cydney's sassy confessionals (Survivor: Kaôh Rōng, Multiple Episodes).

The poll closes Saturday, December 31, 2016.
Check back tomorrow when we will reveal the nominations for Best Move. Vote on the other categories, including Best Episode, here.
---
Written by