Australian Survivor will be returning to our screens in August and to get us hyped up Network Ten have started announcing contestants who will be competing on the brand new season.
The show, which filmed its first two seasons in Samoa, has upped sticks to Fiji, a location very familiar to fans of the U.S. version of the hit reality franchise. It will once again feature 24 castaways battling it out over 50 days for a shot at $500,000 and the title of Sole Survivor.
Unlike the first two seasons, this will be the first themed edition for Australian Survivor, as the castaways are set to be divided into tribes of "Champions" and "Contenders." The premise was previously described as "champions of public life" taking on "everyday Aussies" in the ultimate test.
UPDATE 07/28/18: The full cast has now been released:
Champions:
Damien, Former Special Forces Commando: Damien is an Australian Veteran from the war in Afghanistan where in 2009, an explosion resulted in him losing both legs and suffer other extensive damage to his body. His commitment to recovery and rehabilitation saw him master the use of his prosthetic legs and go on to compete in two Invictus Games in wheelchair basketball, walk the Kokoda Track and compete in numerous sporting competitions. Damien is also a best-selling author, actor and motivational speaker.
Mat R, Dual Code Rugby International: Mat Rogers originally made his mark on rugby league as a standout player for the Cronulla Sharks for six years. After success representing Queensland and Australia, Mat changed codes to Rugby Union in 2001 where he went on to represent Australia with the Wallabies in 45 test matches. In 2007, Mat returned to league to play for the new Gold Coast Titans before retiring from sport in 2011. Mat now devotes his time to another passion – raising money and awareness for children with autism via his foundation, 4 ASD.
Moana, AFLW Marquee Player: A celebrated and powerhouse player for Women's Aussie Rules Football, Moana made a name for herself on the field as one of the leading goal kickers in the league. An accomplished junior sportswoman, Moana represented Victoria in cricket and Australian Rules, but decided to give up the summer sport in order to concentrate on footy. One of 14 kids, Moana's family means everything to her. She is the primary carer for her younger sister, Lavinia, who suffers from Moebius Syndrome, a rare neurological condition.
Shane, Swimming World Record Holder: An Australian legend in the swimming pool, Shane is sporting royalty and one of the world's greatest female swimmers. Between 1971 and 1973, she broke 11 world records in six different events and is the only woman ever to win five individual Olympic medals. Controversially retiring at the age of 17 and at the height of her success, Shane has gone onto raise four children, earn two degrees from the University of Tasmania, become an author and a passionate photographer.
Sam, Astrophysicist: At the age of 26, Sam is already a top astrophysicist, a robotics and software engineer and an astronomer who has won the Bok Prize, a prestigious award for Australian masters students. Sam is currently completing his Doctorate of Philosophy and has had 16 academic works published. He's been invited to universities around the world to lecture and has been impressing professional industry leaders at each destination.
Fitness Specialist Steve Willis, fondly known to Australian television audiences as the Commando, will face his biggest challenge when he becomes a castaway on Australian Survivor: Champions vs. Contenders. The country first came to know Steve as a stern fitness trainer on TEN's family entertainment show, The Biggest Loser. Now the shoe is firmly on the other foot as Steve's body and mind are pushed to their absolute limits in the tropical climes of Savusavu. Joining the tribe of Champions, the former special forces officer will have to have to call on his years of experience in the army and as a trainer in order to outwit, outplay and outlast the 23 other competitors.
Five-time Winter Olympic aerial skier and dual Olympic medal winner, Lydia Lassila will be channelling her trademark determination into surviving 50 days in one of the hardest games on Earth alongside 23 other competitors. A mother of two and successful entrepreneur, Lydia is sacrificing a lot at home to see if she has what it takes to outwit, outplay and outlast the others on her quest to become the Sole Survivor.
Joining the tribe of Champions is World Series Poker Player, Jackie Glazier. Jackie has made a living out of reading people's body language and keeping her cards close to her chest but now her poker face is about to be put to the ultimate test.
Crowned Miss Universe Australia in 2015, Monika Radulovic is out to prove she's more than just a beauty queen when she joins Australian Survivor: Champions vs. Contenders. Putting her successful modelling career on hold to join to the tribe of Champions, Monika is going to use her profession to her advantage on the island and hide the fact that she has also completed a Psychology degree.
An AFL legend, Brian played with the Western Bulldogs for 10 years before moving to Hawthorn where he won three premierships and the Norm Smith medal. Known for his size and strength, Brian was often referred to as a 'defensive monster,' but only time will tell if his skills come in handy in his new role as a Survivor castaway.
If anyone can claim to be ready to address their tribemates in the final Jury, it would be Criminal Barrister Sharn. Her daily life sees her addressing juries in criminal trials and is known in her industry as being one of the best. As one of the top female prosecutors in the country, Sharn can't wait to get in front of the Survivor jury.
Regarded by super fans everywhere as Survivor's greatest villain, Russell is one of the most notorious characters in the US show's history. Considered to be one of the most influential contestants of all time, Russell is ready to take a crack at his Aussie counterparts, making it the fourth time he has played the game. Famous for his stints on Survivor Samoa, Heroes vs Villains and Redemption Island, Russell has made it to the end but never won the title of sole survivor.
Contenders:
Jenna, FIFO Supervisor: Working as a supervisor in the mines in Western Australia for the past six years, Jenna happily embraces adventure. An active NFL and AFL player, Jenna is a typical outdoors girl tearing around the bush on her motorbike or wakeboarding. Besides her passions outdoors, Jenna is also a proud mum and counts her daughter as her greatest motivation to achieve.
Robbie, Construction Manager: Robbie has been determined from a young age, competing at a national level in swimming on top of completing his studies. Since jumping out of the pool, Robbie held down three jobs while completing his Masters in Architecture and has now progressed to Construction Manager after years of putting in the hard work and long hours.
Tegan, Management Consulting: Even though Tegan's hometown of Broome is quite isolated, this WA mum of two is well-travelled including riding down Bolivia's Death Road as one of her most memorable adventures. An experienced camper and fisherwoman, Tegan is looking forward to pushing her outdoor skills to the next level with building shelter and starting fires from scratch.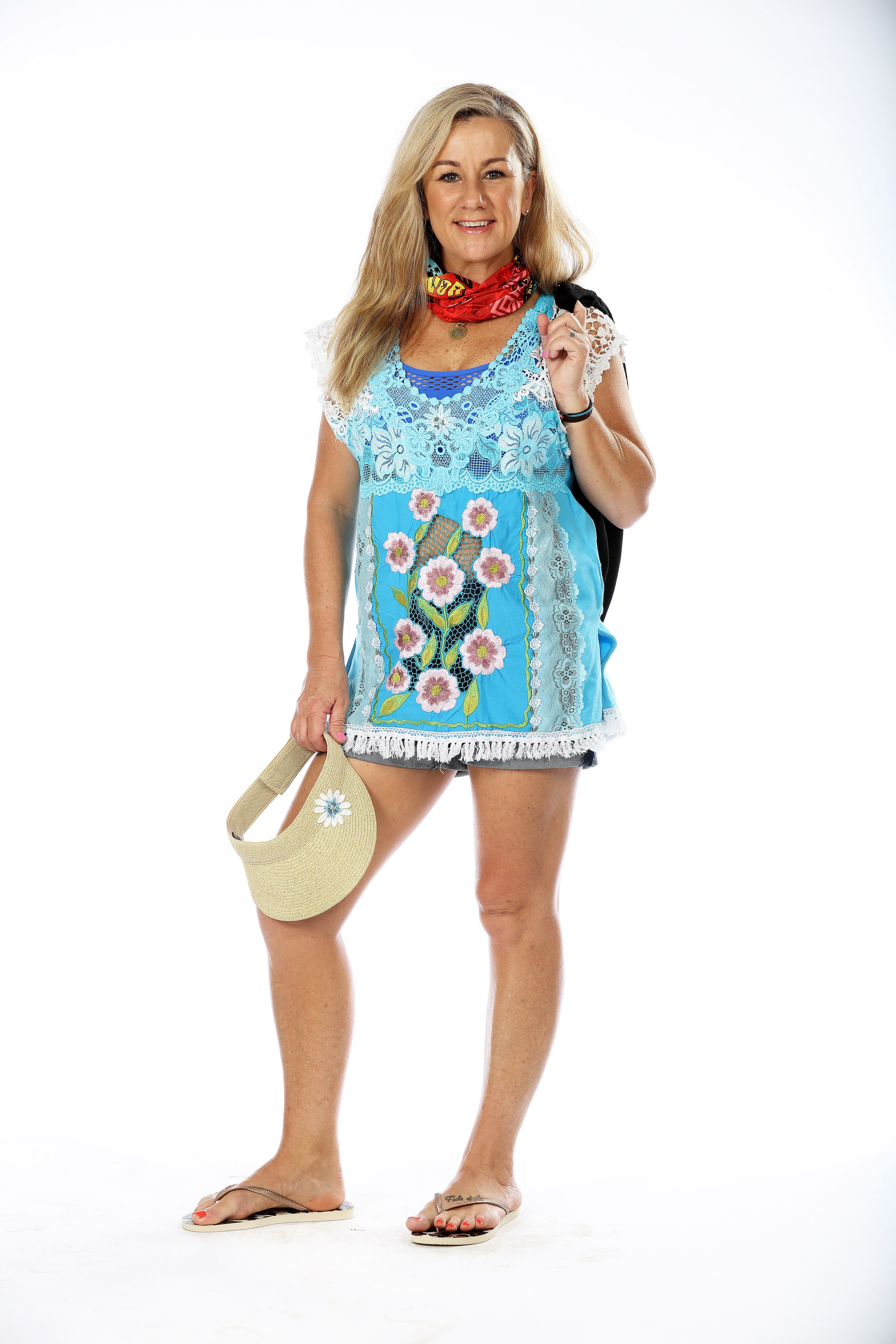 Anita, Sales Rep: Recently celebrating her 50th birthday, Anita is a sales rep and mum of four who is determined to prove to the younger generation she can keep up with anything they throw at her. A Survivor Superfan, getting a place among the castaways was on Anita's bucket list. Now she's out to make her family and friends proud and to show them that anything's possible if you put your mind to it.
Steve K, Take Away Delivery Rider: One of the biggest characters to hit the island, Steve lives by the motto, 'comfort is a wonderful place to be in, but you never grow there.' He lives a diverse life and has had a varied career as a sustainability consultant but has since taken a break from his career and is now working as a takeaway delivery rider because he enjoys the look on people's faces when their food is delivered.
Heath, Builder: Measuring at over 7ft tall, and a proud husband and father to two girls, Heath is the ultimate gentle giant in his day-to-day life, but once he arrives on the island he is playing to win. When asked about his tactics for the game, Heath said: "I don't like to go against my morals but I am playing to win and I will do what I need to in order to get further." A huge Survivor fan, Heath believes his mental strength and his height will prove to be his greatest advantage against the other players. In order to be the final Castaway, Heath will have to outwit, outplay and outlast 23 other competitors who are all fighting for their chance to become the Sole Survivor.
Benji, an Entrepreneur and self-made millionaire, is used to hustling in order to get what he wants and is going into the game happy to be a villain when needed.
Interior Designer Fenella may not look like the average Survivor contestant, but she is here to prove that personality is everything. A character through and through, she is going to do whatever it takes to stay in the game and show the champions that a contender can take it out.
Matt has seen enough episodes of Survivor to know that being honest is not always the way to win. So he is going to do his best to keep secret the fact his occupation back in Brisbane is a policeman.
A huge fan of Survivor, Paige believes her career in Marketing has provided her with the skills of discipline, attention to detail and a strong and passionate drive which will play out on the island.
Now working as a personal trainer, Zach first came to the attention of Australia as Hunter on the family entertainment television show, Gladiators. Zach hopes his fellow castaways will think he's all brawn and no brain giving him an inside edge to win the title of sole survivor.
From partying with The Rolling Stones to holidays in Paris, Shonee is not the typical Survivor player. Married to a famous pro-skater, Shonee spends her life between London and Noosa where she is an HR assistant. With her husband Ben's success as a skater, Shonee is very keen to step out of his shadow and show the world what she's got.
Inside Survivor previously revealed that former three-time Survivor player Russell Hantz will be competing on this season of Australian Survivor.
The new season premieres Wednesday 1 August on TEN.
All cast photos courtesy Nigel Wright/Network TEN.
---
Written by