In the Big Brother house, winning Head of Household means you hold the most power. What happens when that power goes to your head? Well, thanks to the current Head of Household Memphis, we know the answer to that question and more.
We start this episode off with the fall-out from Memphis' "rookie" speech, claiming that former first-boot and now nominee David needed to earn his stripes to keep his place in the game. This attitude towards a fellow player does not bode well with the cast, especially with Memphis' current alliance mates, Daniele and Tyler. Tyler, who says that Memphis' original season was played during the 1940s, is so offended by the comments that he vows to save David just to get revenge on the current HOH.
While David is being comforted by his fellow castmates after the speech, fellow nominee Nicole A feels expendable and upset about the possibility of losing so soon. Janelle tries to comfort her, saying that she is going to stay no matter what. Janelle had no idea that Nicole A was getting nominated and even asked Memphis if he'd consider saving her and putting up Nicole Franzel instead.
If you follow the live feeds, you know that Nicole A blames Janelle and Kaysar for her demise and believes they knew she was going to be nominated in order for them to be safe. In reality, Janelle and Kaysar want Nicole A to stay so they can all go after Daniele, Tyler, Cody, and Nicole F, the alliance currently controlling the game. Janelle and Kaysar hope to convince Memphis that this is the case, but he already knows about it since HE is in the alliance with them.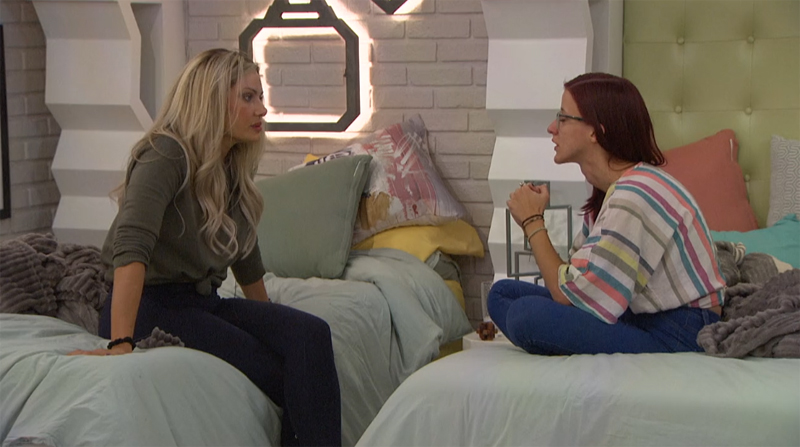 Eventually, Memphis tells Cody what Janelle and Kaysar want to do this round but wants Cody to keep it to himself. Memphis wants to be in both alliances and doesn't want to have to show his cards just yet. However, Cody immediately tells the rest of the alliance about this plan. And it's safe to say the rest of the alliance is not a fan of Memphis' unwillingness to take out Janelle and Kaysar, especially after they figured out the alliance so quickly.
This week has been incredibly complex for what would be a "boring" round on paper. An alliance that has so much control yet is so fragile in social situations is one that will not last long. "The Commission" (the name of the six-person alliance that includes Daniele, Tyler, Memphis, Christmas, Nicole F., and Cody) spend most of their time talking about how they can get rid of Janelle and Kaysar. Fans have even coined the phrase "Janellousy" over how much this bitching occurs. And this entire episode centers around how Janelle is too much of a threat and needs to be evicted.
To lighten the mood, Ian must play the role of "Dirk Spacejammer" as his punishment for being saved by Christmas in the Safety Suite. It's fun to watch the Season 14 winner perform scenes, but unlike his ability to lie in the game, he is not a good actor.
This week's Power of Veto competition is a Survivor-esque ball-balancing game. Whoever can hold their ball up the longest without it or their platform falling wins. Nicole A. and F. drop almost immediately, followed by Ian. David drops next, leaving Tyler to try to save David if he wins, or Memphis keeping the nominations the same if he wins. Ultimately Memphis wins the Veto much to the chagrin of the rest of the cast.
There are some last-minute attempts to get Memphis to use the Veto and put Janelle up, making Memphis even more upset and defensive. He doesn't want his alliance to tell him what to do on his HOH reign, especially in the second week. This really rubs his allies the wrong way, leaving them to believe he may actually put up Nicole F instead. Fortunately for them and Janelle, he decides not to use the Veto, keeping Nicole A and David as the final nominees.
What's my prediction? Nicole A will more than likely be the second person evicted. She has imploded and slandered Janelle's name to everyone. But most of the house still believes Nicole A is working with Janelle anyway due to Janelle herself wanting her to stay. Memphis succeeded in not getting blood on his hands, but his bullheaded approach may get him targeted next week if the power falls into the wrong hands.
Ultimately, you'll have to tune in on Thursday, 8/7c on CBS to see who gets evicted and who will win the next Head of Household.
Want more Big Brother content?
Chrissy & Ovi Week 2 Power Rankings
Week 1 Stats
A Beginner's Guide to Big Brother
---
Written by