Over the coming months, Inside Survivor is undertaking its biggest list ranking yet, as we count down the 100 best episodes of Survivor ever. As always with these kinds of lists, it's entirely subjective, and we're sure many fans will have different opinions. This is simply Inside Survivor's ranking. Join us each weekday for a new entry.
Season: Kaoh Rong
Episode: "The Jocks vs. the Pretty People" (Episode 8)
Originally Aired: April 6, 2016

Get exclusive content and features by supporting Inside Survivor on Patreon.
OVERVIEW
Survivor: Kaoh Rong received very little pre-season hype and had the difficult task of following a highly praised returnee season in Survivor: Second Chance. However, week-by-week, Kaoh Rong smashed expectations. The season brought us outlandish characters, delivered twisty Tribal Councils, and provided some exciting dynamics across the first few episodes, making for an interesting merge.
While the merge episode itself is cut short due to Neal Gottlieb's medical evacuation, the episode that follows is the one that flips the game around. "The Jocks vs. the Pretty People" is the episode that propels Cydney Gillon into a power player position while also being the start of Aubry Bracco's impressive comeback.
For Aubry, it looks like she and her fellow Brains are sitting ducks just waiting to be picked off by the Beauty and Brawn coalition. But, after becoming suspicious of a potential all-girl alliance, the men of the tribe put their foot in it and provoke the ire of Cydney, who is like, "Brrrr!!". In a sweet bit of irony, the men's paranoia about an all-girl alliance, in turn, helps create a women's alliance.
Cydney feels like Nick Maiorano is "getting too big for his britches" and is frustrated when her fellow Brawns, Kyle Jason and Scot Pollard, brush off her concerns. And so, Cydney approaches Debbie Wanner and Aubry with a potential counterstrike. She then brings in Julia Sokolowski and eventual winner Michele Fitzgerald, who has her own back-and-forth with Nick throughout the season. In a masterful bit of gameplay, Cydney gathers the troops and almost single-handedly changes the direction of the game, helping to pull off the biggest blindside of the season up until this point.
What's great about this episode, though, is not just seeing Cydney in action and the beautiful blindside; it's the characters overall. While it's clear who the villains are, the edit doesn't paint them as one-dimensional. Both Jason and Scot are afforded time to talk about their families; Jason reveals what it's like raising an autistic daughter while Scot opens up about his mother's ill health. The richness of character is one of Kaoh Rong's biggest strengths, and it's on full display in this episode.
On top of that, this is also the episode featuring the memorable endurance Immunity challenge with the Tai Trang and Cydney showdown. It includes Tai's amazing bamboo/redwood speech, that great image of Tai and Cydney hugging on the ground afterward, and, of course, Nick's cockiness from the sidelines that a Brain was "for sure" going home.
All of this adds to a stellar episode of Survivor: a classic downfall, a tremendous challenge, some delicious Cydney confessionals, and a huge shift in the game. What more could a Survivor fan ask for?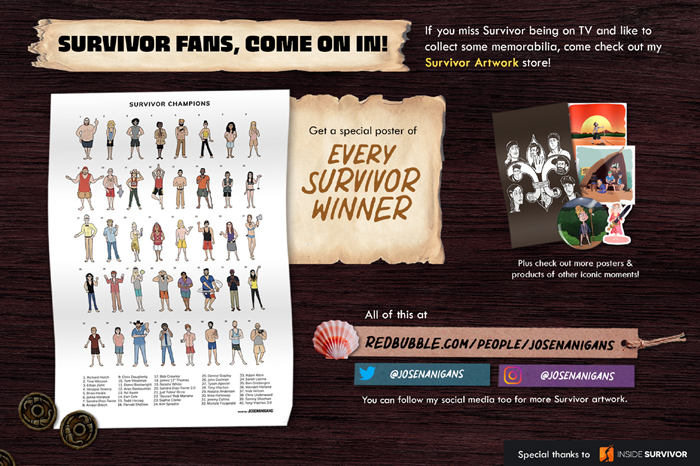 Check back tomorrow when we reveal which episode placed at number 58. You can check out the previous entries here.
---
Written by