Over the coming months, Inside Survivor is undertaking its biggest list ranking yet, as we count down the 100 best episodes of Survivor ever. As always with these kinds of lists, it's entirely subjective, and we're sure many fans will have different opinions. This is simply Inside Survivor's ranking. Join us each weekday for a new entry.
Season: Heroes vs. Healers vs. Hustlers
Episode: "Buy One Get One Free (Part 1)" (Episode 10)
Original Air Date: November 29, 2017

Get exclusive content and features by supporting Inside Survivor on Patreon.
OVERVIEW
Up until this point in the season, Survivor: Heroes vs. Healers vs. Hustlers had been drifting along at a relatively slow pace. And the game looked set to continue its predictable path as the "Round Table" alliance, comprised of the former Heroes and Hustlers, looked to pick off the remaining Healers one-by-one.
However, everything changes in the first part of this stellar double-feature episode, where, during an afternoon reward of hamburgers and fries, Lauren Rimmer suggests a plan that would shake up the game. Suddenly, a new alliance is formed, setting off a domino effect for the remainder of the season.
Lauren's pitch to Ashley Nolan, Ben Driebergen, and Devon Pinto is blunt, straightforward, and makes perfect sense. She correctly points out that the big alliance of seven will crack at some point (as all big alliances do) and that they need to be the ones to make the first move. Lauren had shown signs of being a shrewd gameplayer in previous episodes, but this is the moment she really takes charge.
This scene is contrasted beautifully with Chrissy Hofbeck and Ryan Ulrich back at camp, patting themselves on the back for having the rest of the game and voting order all mapped out. Lauren, though, is one step ahead of them, and her plan is met with great enthusiasm from Ashley, Ben, and Devon, who begin sharing information and toasting cheers to their new-found alliance.
The intricate execution of this scheme is what makes the episode so good. This isn't merely a blindside; it's a covert, undercover mission with various moving pieces. Devon is seeking more than instant gratification and has an idea that would continue to give the new alliance control beyond this Tribal Council. He suggests that Ben votes with Chrissy and Ryan so that he can infiltrate the enemy as a secret spy and pass back information.
In the meantime, Devon, along with Ashley and Lauren, will recruit outsiders Mike Zahalsky and Joe Mena into a fake alliance of five. This means the "Rogue Knights" foursome could pull off a blindside while keeping their options open moving forward. It's a tricky plan, but each person plays their part to perfection, allowing this unlikely alliance of four to blindside JP Hilsabeck in a surprising 5-3-1 vote, leaving Chrissy and Ryan utterly shellshocked.
It's not just the vote-off and strategy that makes this episode one of the best, though; there is also humor and emotion. Ben and Lauren both give heartfelt confessionals about their families and lives back home after reading their loved ones' letters. Meanwhile, Joe and Mike solidify their budding friendship with an alliance name (The Coconutz) and proceed to wind up their fellow tribemates. All of this combined makes for the best episode of the season and one of the most entertaining in Survivor history.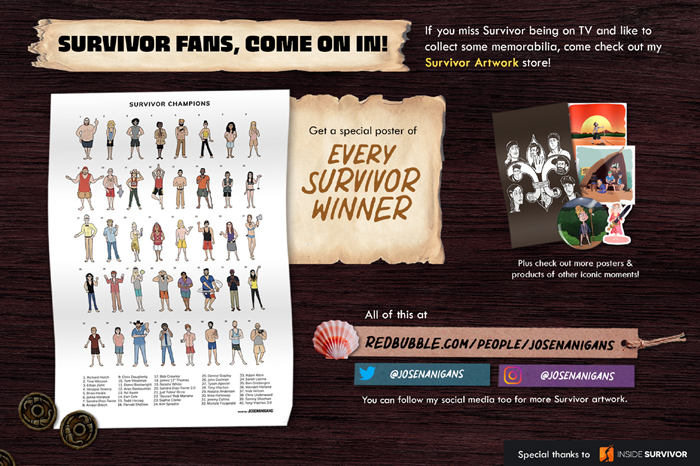 Check back on Monday when we reveal which episode placed at number 52. You can check out the previous entries here.
---
Written by