Over the coming months, Inside Survivor is undertaking its biggest list ranking yet, as we count down the 100 best episodes of Survivor ever. As always with these kinds of lists, it's entirely subjective, and we're sure many fans will have different opinions. This is simply Inside Survivor's ranking. Join us each weekday for a new entry.
Season: David vs. Goliath
Episode: "Jackets and Eggs" (Episode 5)
Original Air Date: October 24, 2018

Get exclusive content and features by supporting Inside Survivor on Patreon.
OVERVIEW
Survivor: David vs. Goliath was a breath of fresh air after a run of bad-to-mediocre seasons. The first four episodes had already received praise from fans for the colorful cast, interesting gameplay, and improved editing. But it's this fifth episode that assured everyone that David vs. Goliath would be an all-time classic season.
Firstly, "Jackets and Eggs" is such an unusual title for an episode that fans were anticipating something a little different even before it aired. And boy, did we get something different here. Undoubtedly one of the funniest installments in the show's 20-year history, "Jackets and Eggs" is an episode that puts its personalities and relationships at the forefront. There are no #BigMovez or flashy idol plays; this is an episode powered entirely by character.
You know this will be a turbulent episode when it begins with another cyclone rocking the camps, causing all three tribes to be evacuated (for only the second time in Survivor history). It sets the tone for a blustery episode, full of clashing personalities and short-tempers. This begins with Kara Kay, who is knocked back following the blindside of Natalia Azoqa at the previous Tribal Council. Kara confronts Alec Merlino about his flip, but despite his assurances that all is good, she doesn't feel safe.
Kara spends the next day throwing Alec under the bus to the former Davids, though it doesn't have the desired effect, as it only makes Elizabeth Olsen warier of Kara. Meanwhile, over on the Jabeni tribe, Lyrsa Torres and Natalie Cole butt heads over when to boil the eggs they won at the Reward challenge. It's a classic, old-school Survivor argument that highlights the differing personalities and the ramshackle nature of the Jabeni tribe.
While tensions rise at the Vuku and Jabeni camps, over on Tiva, there is some serious bro-bonding going down. After being drawn to "The Mayor of Slamtown," Christian Hubicki is sworn in as an honorary Brochacho by John Hennigan and Dan Rengering. It's a funny little scene as Christian is declared the "Head of Awesome Stuff" within the Brochachos hierarchy. But it also foreshadows the Brochacho Blindside to come, especially with Dan's idol find and the shots of Gabby Pascuzzi being left out.
But all of this is just the appetizer before the main course. Jabeni loses the Immunity challenge, and things initially look straightforward. There are three former Goliaths (Natalie, Mike White, and Angelina Keeley) and two former Davids (Nick Wilson and Lyrsa). It's just a matter of deciding which of the bottom two go home, and the threesome settles on Lyrsa, with the expectation that Nick will be a better help in challenges. Then things get a little kooky.
"I want Lyrsa's jacket," Angelina tells Mike and Natalie. Flashing back to the tropical storm that shook the island at the start of the episode, Angelina decides she wants some protection from the rain and cold, and Lyrsa has a pretty sweet jacket. "Having a jacket out here really could be a huge benefit to me," she explains. But, you see, Angelina doesn't want to straight-up ask for the jacket herself, so she has Natalie do her dirty work for her.
The comedy of this attempted jacket heist only picks up from here. Natalie's approach is rather blunt, to say the least. She basically puts a timer on Nick to go and steal Lyrsa's jacket. When Nick tells Natalie that he isn't going to do that, she demands that he hands over his jacket instead. "So the jacket is worth a million?" Natalie asks when Nick refuses to play along. It's a completely preposterous situation but so very Survivor.
Nick uses this opportunity to turn the tide against Natalie, which isn't too difficult, seeing as Mike and Angelina had had their own clashes with Natalie previously. Plus, Nick had formed his "Rock Stars" side alliance with Mike, which comes through for him here. All of this puts Angelina in the middle. Does she take out a fellow Goliath in Natalie? Or does she stick with the original plan of voting for Lyrsa? And, more importantly, how can she get this jacket?
All of this drama leads to a delightfully entertaining Tribal. Firstly, the egg conundrum is brought back up, which kicks-off a discussion centered around Natalie and her tribemates' "issues" with her. Although Natalie and Angelina are quick to correct Jeff Probst—these are not "issues" but just "differences." Nick then brings up the jacket controversy, which leads to Natalie's brilliant response, "Here's a fact, Jeff, I'm in sales," a statement she repeats at least three times.
The crazy thing about all this is that Natalie was basically just the messenger, albeit a rather abrupt and harsh messenger. But the whole jacket ploy came from Angelina; she was the one that wanted the jacket and encouraged Natalie to go ask for it. When this is brought up, Angelina does admit to it but plays it down somewhat. Angelina defends Natalie, saying that her jacket heist came from a place of love. But, as we're about to see, there's a reason Angelina is sweet-talking Natalie.
Natalie is voted out in a 3-2 vote, with that second Lyrsa vote coming from Angelina. But, this was all part of a ploy from Angelina in her continued attempt for extra warmth. She wanted Natalie to believe she had her back for what comes next. Angelina stands up, hugs Natalie, and then asks the now infamous question: "Natalie, is there any way I can have your jacket?" Natalie blanks her and walks away as Angelina's repeated "Natalie?" echoes through Tribal Council. You can't always get what you want.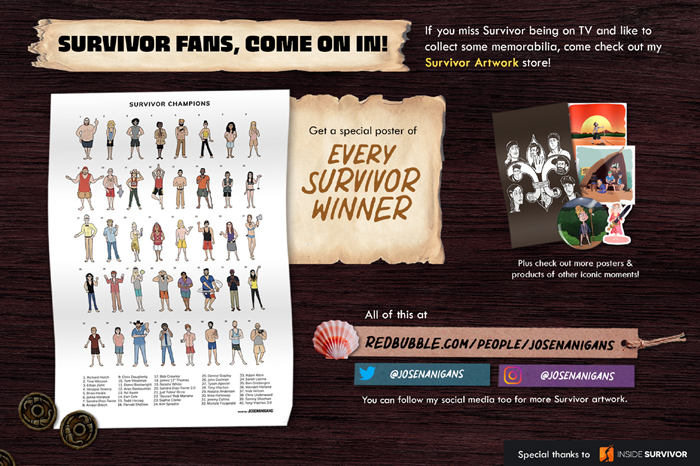 Check back tomorrow when we reveal which episode placed at number 19. You can check out the previous entries here.
---
Written by