Over the coming months, Inside Survivor is undertaking its biggest list ranking yet, as we count down the 100 best episodes of Survivor ever. As always with these kinds of lists, it's entirely subjective, and we're sure many fans will have different opinions. This is simply Inside Survivor's ranking. Join us each weekday for a new entry.
Season: David vs. Goliath
Episode: "You Get What You Give" (Episode 8)
Original Air Date: November 14, 2018

Get exclusive content and features by supporting Inside Survivor on Patreon.
OVERVIEW
There have been great idol play episodes on this countdown already, and this episode of David vs. Goliath is another that fits into that category. However, it's more than just an idol play that makes this episode one of the best. It's everything leading up to that moment that makes it so special, from the character motivations to the gameplay.
Before the Rocky-style comeback of "Breadth-First Search," which featured earlier on the countdown, the Davids were in a precarious position. After Elizabeth Olson's elimination at the first merge vote, the Davids are outnumbered 7-5 and unable to gain traction with the wishy-washy Goliaths, who are unwilling to commit to a cross-tribal alliance. Surviving the impending Goliath-steamroll is going to require some expert cunning and stealthy maneuvering.
The previous episode mentioned a potential Strike Force alliance comprising Alec Merlino, Alison Raybould, and Mike White from the Goliaths and Christian Hubicki, Gabby Pascuzzi, and Nick Wilson from the Davids. However, this episode kills the hopes of that grouping very quickly, as Mike has doubts about Gabby's commitment. He tells Alec that he'd rather just stick with the Goliaths and take out who he deems the biggest threat in the game: Christian.
Mike is completely dismissive of the other Davids here, telling Alec that Davie Rickenbacker and Carl Boudreaux won't be able to mount an insurrection and that Gabby will never be capable of leading anyone into battle. It's one of those brilliantly ironic foreshadowing moments as it's those three players who go on to do exactly what Mike said they couldn't over the next few episodes.
While Mike urges the Goliaths to vote out Christian, which irks Angelina Keeley, who suggested doing precisely that at the last vote and was scoffed at, the Davids prove they are not to be underestimated. Davie and Nick find a clue to an advantage, which Nick finds with Carl's help. This gives the underdogs options, and when Alec informs Nick that Christian is going home, it gives them a chance to form a counterattack.
The move the Davids pull off in this episode is nothing short of miraculous, not only blindsiding one of the strongest Goliaths in the game but shocking the audience in the process. After much debate, Davie plays his idol for Christian, which, in turn, causes Dan Rengering to play his own idol for an extremely paranoid Angelina. After Angelina double-checks to make sure Dan told Jeff Probst who the idol is being played for, it appears we're heading for a deadlock situation.
However, that isn't what happens. The Davids had planned for every possible countermeasure, and, in a Survivor first, the underdogs successfully split the minority vote, delivering a #BrochachoBlindside to John Hennigan, aka, The Mayor of Slamtown. Often blindsides are heavily telegraphed for the viewers at home, but this one comes out of nowhere, with only John's brief confessional offering some subtle foreshadowing.
In terms of shocking but feel-good conclusions to Survivor, this episode is up there with the all-time greatest.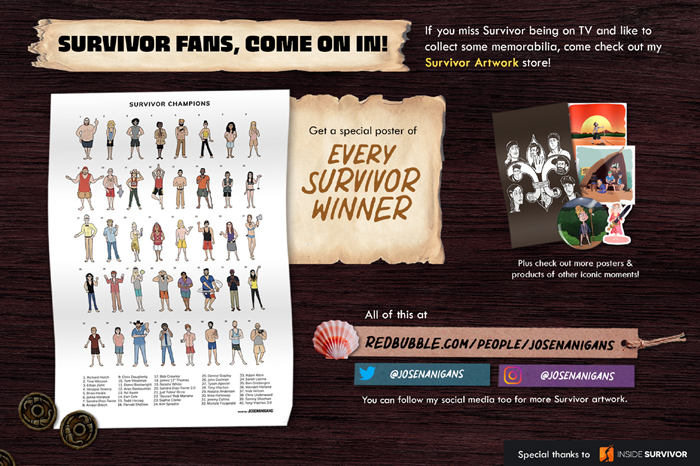 Check back on Monday when we reveal which episode placed at number 27. You can check out the previous entries here.
---
Written by