The Inside Survivor team recently came together to give our initial thoughts on each Survivor: Millennials vs. Gen X cast member and our predictions on how they will do in the game. These opinions are formed mainly from the CBS cast bios and videos, as well as pre-season press interviews conducted by Gordon Holmes and Josh Wigler. Over the next several days, we will post our thoughts on each Millennials vs. Gen X castaway.
Last time we looked at Millennials tribe member Will Wahl, today we assess…
RACHEL AKO
37, Los Angeles, CA, Recruiting Director, (Takali aka Gen X tribe)
JACOB:
First Impression: Honestly? I don't think she has a clue of what she's getting herself into. She talks all about authoring a book, when in reality, she and eight other people probably just recited their inspirational story to an actual writer who compiled the information and made it readable. This is not to minimize whatever struggles Rachel has gone through, but let's make sure we recognize her actual skill set… what's her skill set again?
Deeper Thoughts: It seems like Rachel wants to hold back on her sexiness when that's probably her most useful trait! I mean yeah, it takes more than just modeling on the beach to get further in the game, but being good at making people feel attracted to you – to make them want to work with you – is a major advantage. She needs to play the cards she has. If she doesn't, she'll be gone early.
Potential Allies: I think she and Lucy are going to get along. She could probably pull in people like Paul and Bret if she has a decent pitch. All of this comes down to whether she actually has any game sense, though; is she strategizing with others and thinking about her relationships or just expecting things to work out?
Prediction: I could see Rachel out first. Probably pre-merge unless she gets some tight bonds together quickly and efficiently.
SHAWN:
First Impression: She wants tampons and SPF…clearly a recruit.
Deeper Thoughts: I think that Survivor is just dying to find a strong Asian American female in a culture that remembers players like Brenda. Sure Natalie Anderson provided that, but there are far too many Becky Lee's and Christina Cha's. Rachel clearly has a powerful life story, which is great because I think she'll end up clinging to it as she realizes how difficult of a game Survivor is. People will be drawn to her attractive body and personality, but I don't see Rachel being the one calling the shots.
Potential Allies: Ken, Lucy.
Prediction: Late game for all the wrong reasons.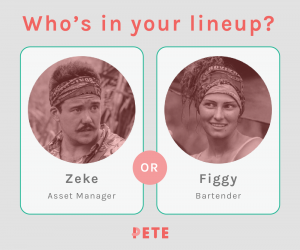 ALICE:
First Impression: Bad hair dye job.
Deeper Thoughts: I know Rachel is 37, but I think she belongs on the Millennials tribe. She could find her twin flame in Taylor and spectacularly burn out of the game. When she talks, I don't really believe what she is saying. Even Rachel doesn't seem to believe what she is saying. She comes across as ditzy. I'm getting a whiff of the model/actor recruit – she likes adventure and being sexy! Rachel could be good in that I think she'll be able to make friendships and have a social game that comes naturally to her.
Potential Allies: I know she dreams of being Amber (before she changed her bio), but I'm feeling more like she could be the Nat Tenerelli to Chris' (or another player's) Rob Mariano.
Prediction: Pre-Jury Fodder.
MARTIN:
First Impression: I wonder if she was moved from Big Brother casting?
Deeper Thoughts: What can we say about Rachel? I don't think she's prepared for how demanding and cutthroat Survivor can be. She talks in her interviews about maybe finding romantic interest on the island and her favorite season is All-Stars because it's where Rob met Amber. Her backstory is heartbreaking, and I respect how she has overcome that and tries to remain positive. But I just don't think Survivor is the game for her. I did like that she brought up that Gen X was considered slackers before Millennials came along.
Potential Allies: While I don't think Rachel will be particularly good at the game, I can see her getting dragged along by an alliance. She could be the Natalie Tenerelli to someone like Chris or Ken.
Deeper Thoughts: Like Julia said in her cast assessment; I think Rachel has great goat upside. I can see her as the zero vote-getter at Final Tribal Council.

The Inside Survivor team are split, Alice and Jacob see Rachel leaving pre-merge, while Martin and Shawn see her getting dragged late into the game. How do you think Rachel will do? Let us know in the comments below.
Survivor: Millennials vs. Gen X premieres Wednesday 21 September at 8:00 pm on CBS.
---
Written by